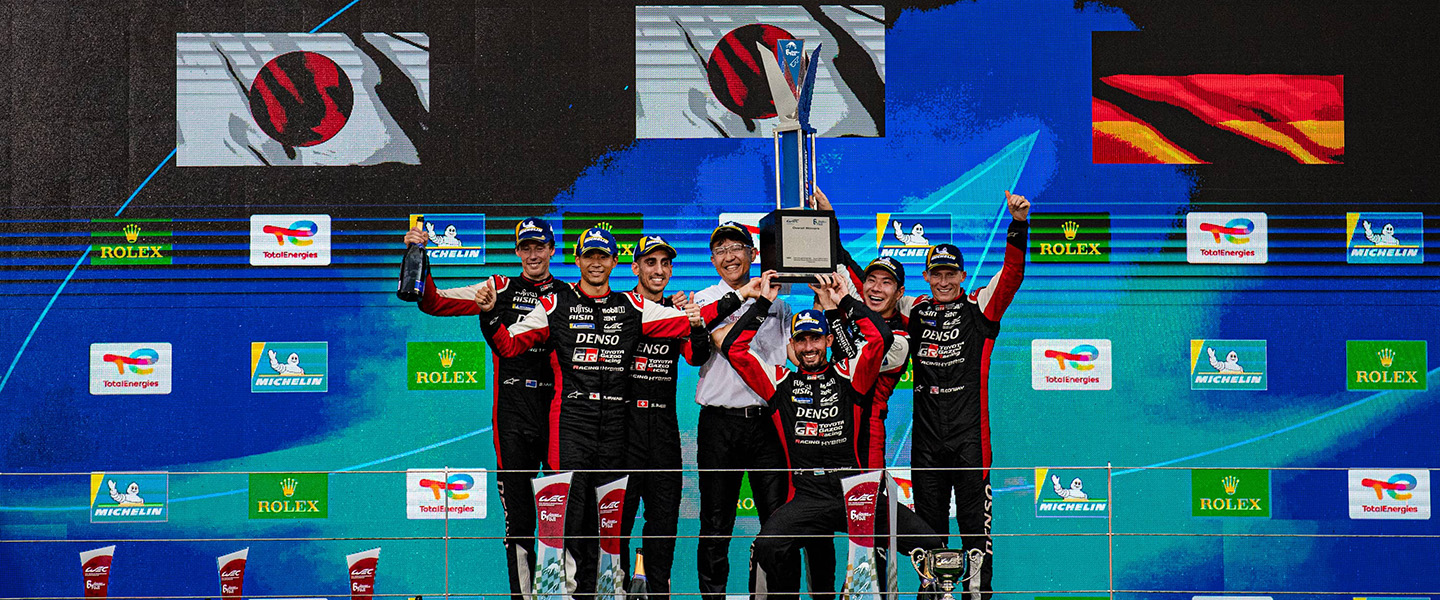 news_4454
GAZOO RACING
15/09/2023
Pastikan Gelar Juara Dunia Pabrikan WEC 2023, TOYOTA GAZOO Racing Raih Podium 1 dan 2 pada 6 Hours of Fuji
Pastikan Gelar Juara Dunia Pabrikan WEC 2023, TOYOTA GAZOO Racing Raih Podium 1 dan 2 pada 6 Hours of Fuji
TOYOTA GAZOO Racing (TGR) meraih kemenangan satu-dua yang mendebarkan di kandang sendiri dalam 6 Hours of Fuji untuk merebut gelar Juara Dunia Manufaktur pada balapan jelang akhir musim FIA World Endurance Championship (WEC) 2023.
Mike Conway, Kamui Kobayashi dan José María López meraih kemenangan dengan GR010 HYBRID #7 setelah pertarungan Hypercar yang epik dengan Porsche, hingga akhirnya mendapatkan poin maksimal dan memastikan manufacturers' World Championship bagi TGR yang kelima berturut-turut.
Di hadapan rekor jumlah penonton 54.700 orang, Sébastien Buemi, Brendon Hartley dan Ryo Hirakawa menyelesaikan hasil sempurna dengan menempati posisi kedua menggunakan GR010 HYBRID #8, hanya tertinggal 39,119 detik. Kemenangan keempat TGR #7 pada tahun 2023 membuat peluang mereka tetap hidup menuju balapan terakhir, di mana kru #8 kini memegang keunggulan 15 poin dan sisa maksimal 39 poin.
Kemenangan satu-dua setelah mengunci barisan depan babak kualifikasi tidak mencerminkan kisah lengkap dari balapan yang sangat ketat di depan. TGR bersama GR010 HYBRID berjuang di lapangan dan berhasil memimpin pada jam kelima lomba.
Pada awalnya, Mike terdorong ke posisi ketiga dan Sébastien turun ke posisi keenam. Dia ditabrak oleh Ferrari #50 di tikungan pertama yang kacau. Ketika balapan dilanjutkan setelah safety car putaran pertama, Mike kemudian keluar jalur saat berjuang untuk posisi kedua dan turun ke posisi keempat, sementara Sébastien menyalip Cadillac #2 untuk posisi kelima.
Pertarungan seru antara TOYOTA GAZOO Racing dan Ferrari menghasilkan GR010 HYBRID sebagai pemenang. Mike dan Sébastien sama-sama berjuang untuk melewati kedua Ferrari tersebut. Ketika Porsche #6 terdepan masuk pit untuk mengisi bahan bakar, #7 memimpin dari #8 setelah satu jam pertama.
Tekanan di depan meningkat setelah pergantian pengemudi pertama yang terjadi sekitar dua jam. José segera mencatatkan lap tercepat dalam balapan dan mendekati Porsche #6 selama menjalankan tugas pengisian daya, dengan Ryo juga menutup jarak di posisi ketiga.
José tanpa henti mencari cara untuk melewati sang pemimpin. Tak lama kemudian, tiga teratas hanya terpaut satu detik setelah catatan putaran tercepat dari Ryo yang akhirnya melewati José sebelum melakukan overtake dengan berani untuk memimpin pada akhir jam keempat.
Beberapa menit kemudian, pergantian pembalap terakhir membuat Brendon mengambil alih keunggulan, dan Kamui berada di urutan kedua. Kamui menjadi mobil tercepat di lintasan dan segera memimpin, memperluas keunggulannya saat Brendon menahan tekanan singkat dari Porsche #6 hingga jam terakhir balapan.
Kamui mengendalikan tahap akhir dan finish setelah 229 lap untuk meraih kemenangan kesembilan TOYOTA GAZOO Racing dalam 10 balapan di Fuji Speedway. Ia memperpanjang rekor tak terkalahkan tim sejak tahun 2016. Brendon melewati garis finish di posisi kedua untuk kru #8.
Setelah memimpin tim sepanjang akhir pekan, Toyota President dan TOYOTA GAZOO Racing Europe Chairman Koji Sato bergabung dengan para pembalap untuk merayakan kemenangan yang diperoleh dengan susah payah bersama gelar Juara Dunia Pabrikan WEC 2023 di podium. Musim ini akan diakhiri dengan 8 Hours of Bahrain pada 4 November 2023.
---