Discover Your All New Raize 1.2 G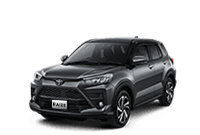 1.0T GR Sport Type
New GR Front Grille
New GR Side Visor
New Black Outer Mirror
New GR Push Start Button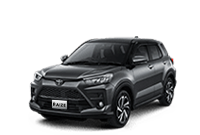 1.0T G Type
Stylish Interior Design
Digital A/C
LED Rear Combi Lamp
Silver Dual Tone 17" Black Wheels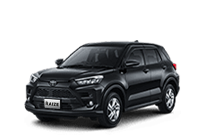 1.2 G Type
Body Color Door Outside Handle
16" silver Wheels
Digital A/C
Interactive 8" Head Unit
Unit Spot Order, Indent Time minimal 3 bulan (timing dapat berubah sewaktu-waktu tergantung keadaan Pabrik)
Harga OTR DKI Jakarta, Bekasi, Banten per 10 Agustus 2023
Harga jual ditetapkan masing-masing dealer
Untuk informasi harga terkini dapat menghubungi Dealer Toyota terdekat Anda
---
Color Options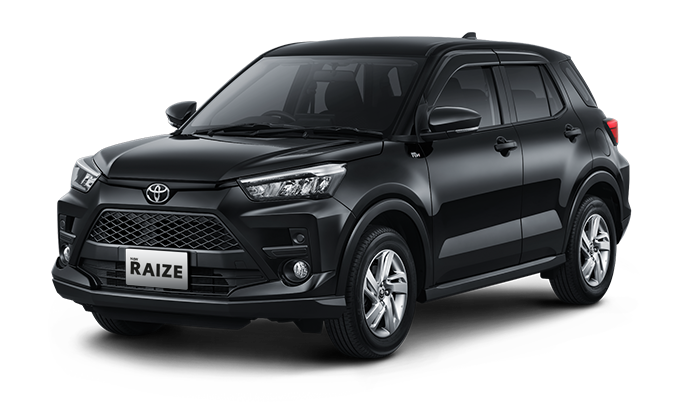 Black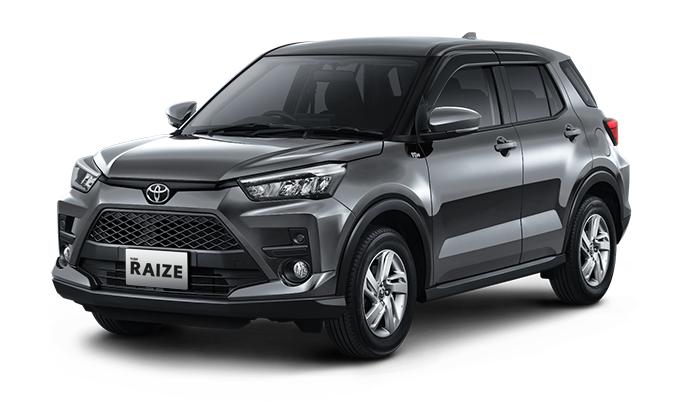 Gray Metallic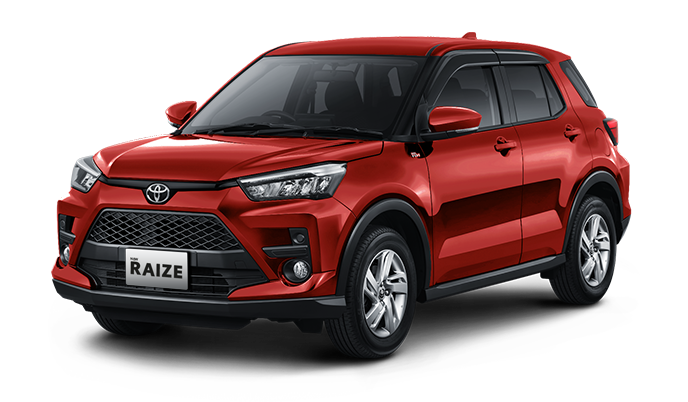 Red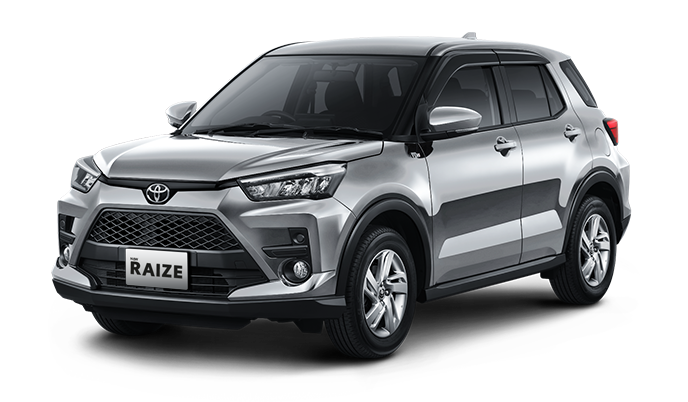 Silver Metallic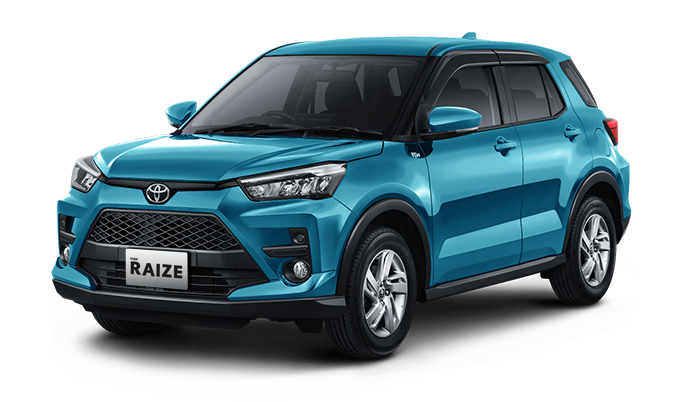 Turquoise MM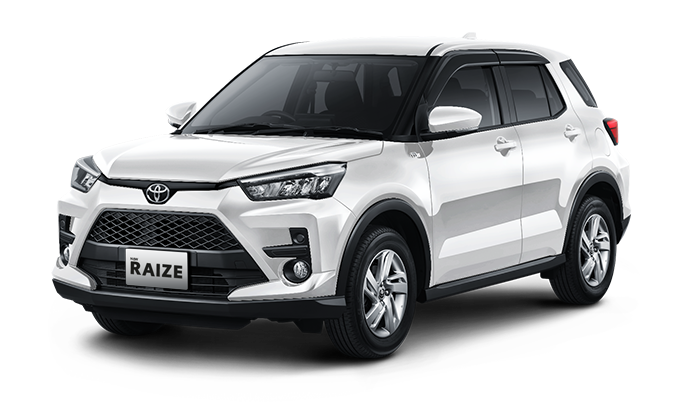 White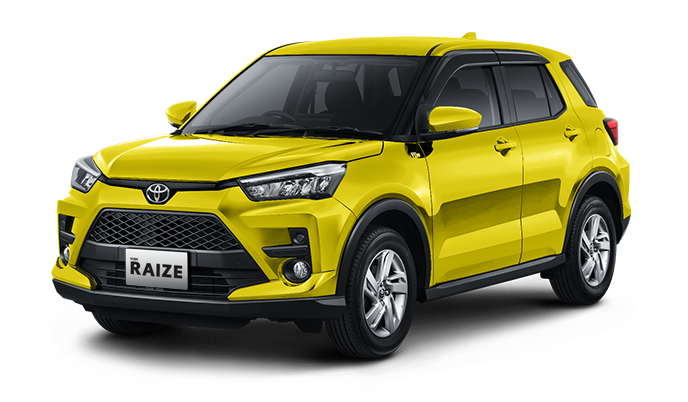 Yellow (Spot Order*)
360º Visualizations
360º Exterior
360º Interior

*The exterior preview may differ slightly from actual car shape
360º Visualizations
360º Exterior
360º Interior

Type
*The interior preview may differ slightly from actual car shape
Beyond Exterior
Feel more power enjoy more moments.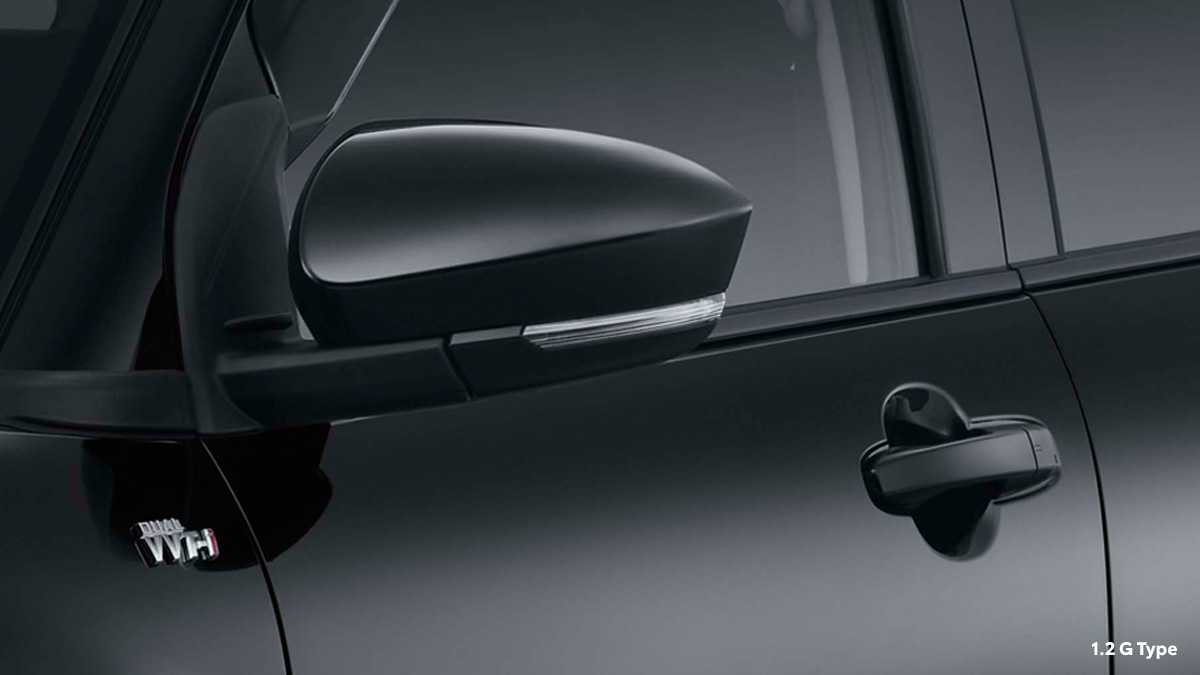 Body Color Door Outside Handle
With a similar color with the body giving the exterior a harmonious look.
(1.2 G Type)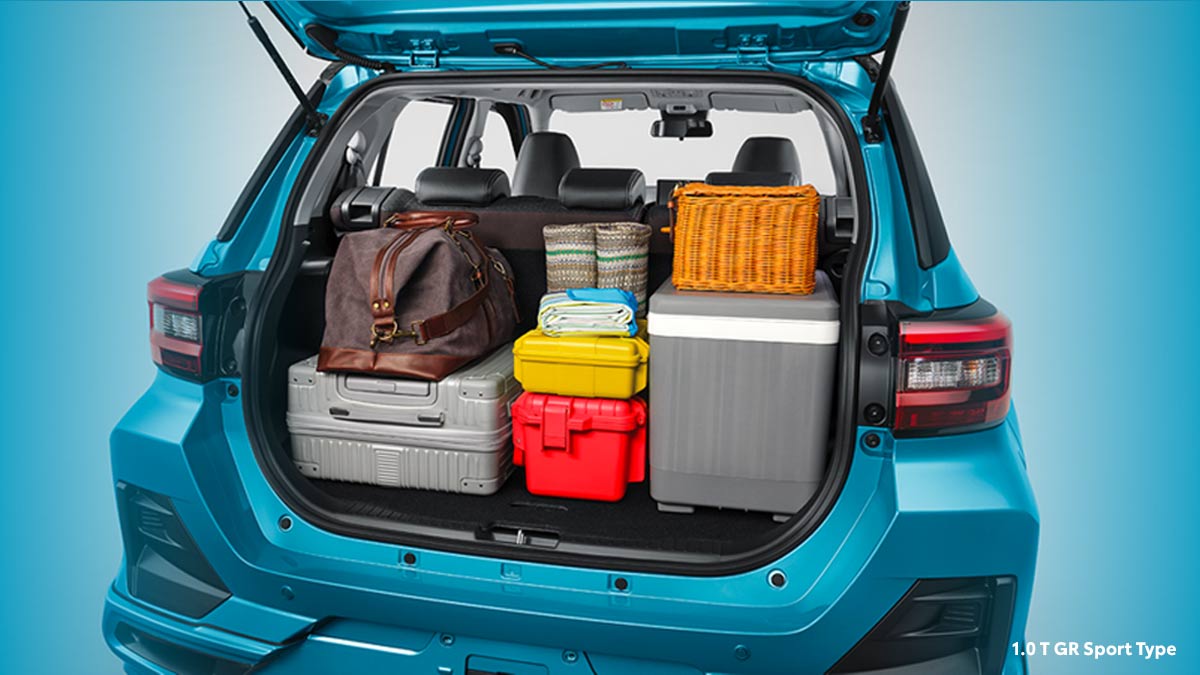 Extra Spacious Baggage
A wide trunk space for each and every one of your stuffs, from daily to recreational.
(All Type)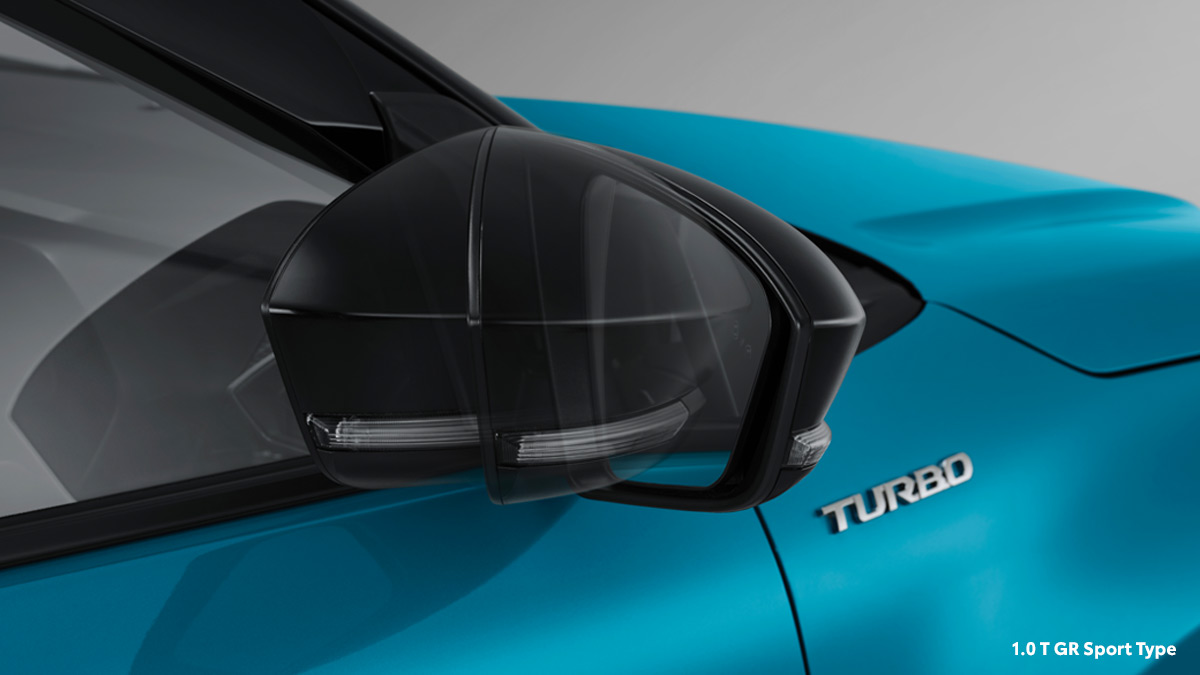 Auto Retractable Mirror
Convenient feature for the side mirrors to automatically fold after the car's locked.
(All Type)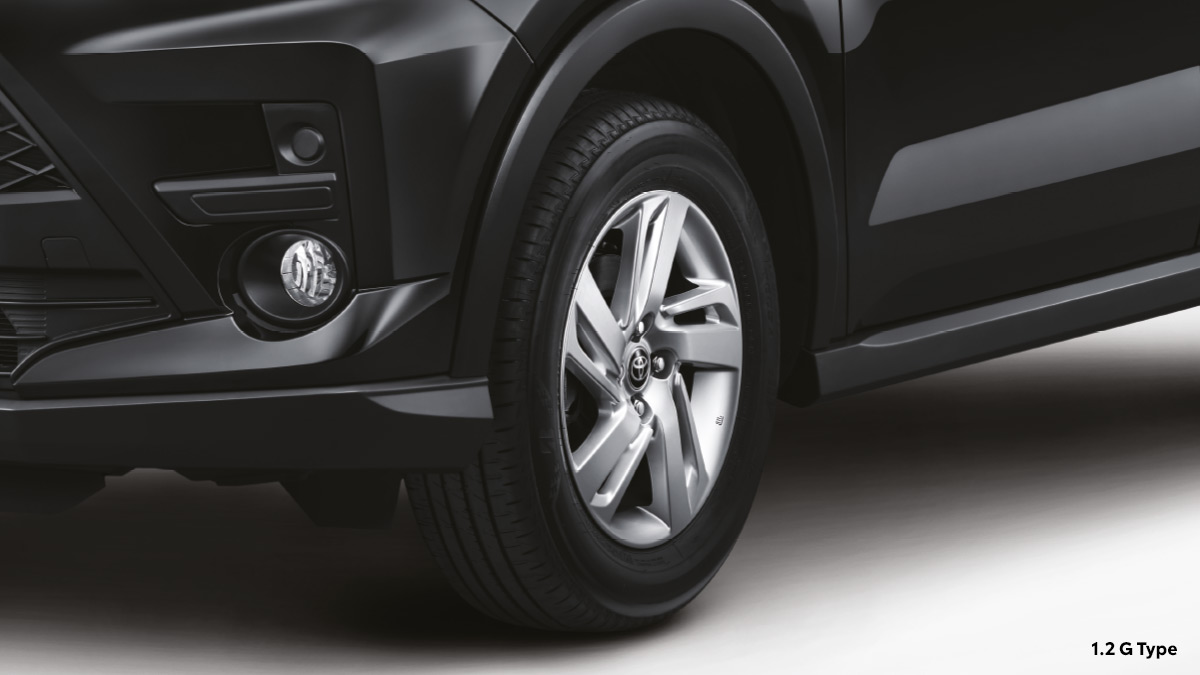 16" Silver Wheels
With robust 16 inch wheels to give you a tougher performance.
(1.2 G Type)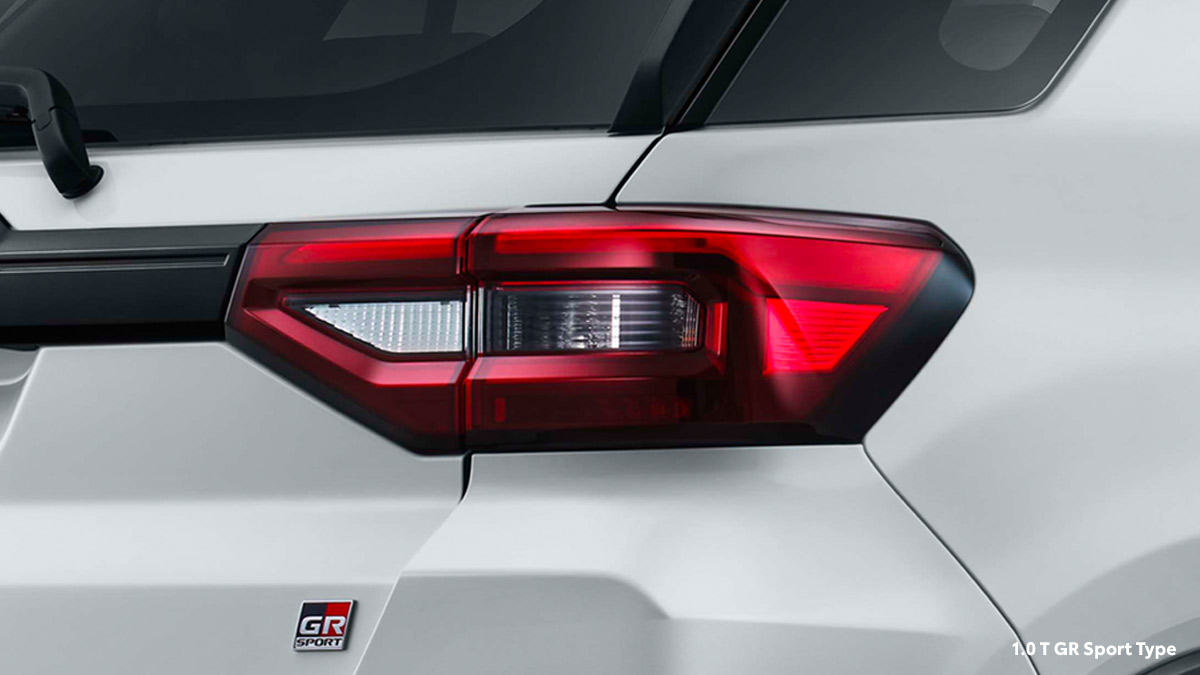 LED Rear Combi Lamp
Bright and easily visible rear lamp to alert the other car of our position.
(All Type)
Beyond Interior
Feel more power enjoy more moments.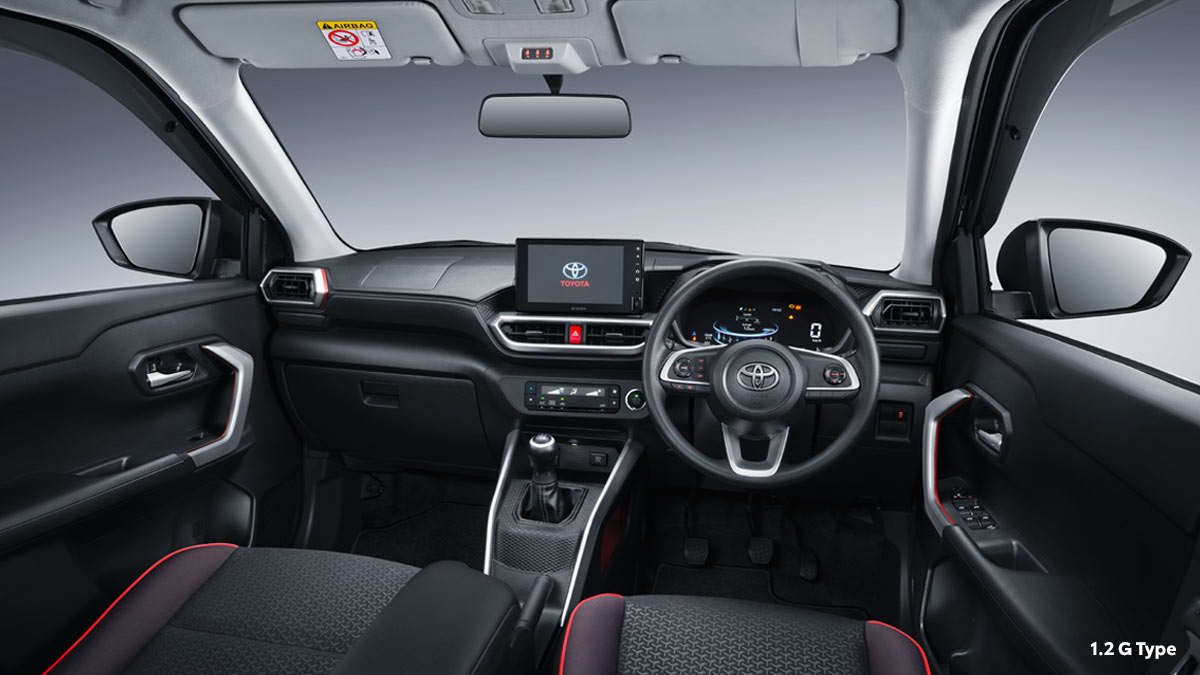 Stylish Interior Design
With a savvy design and advanced features to give a fun-to-drive atmosphere as well as an enriched driving experience.
(1.2 G & 1.0T G)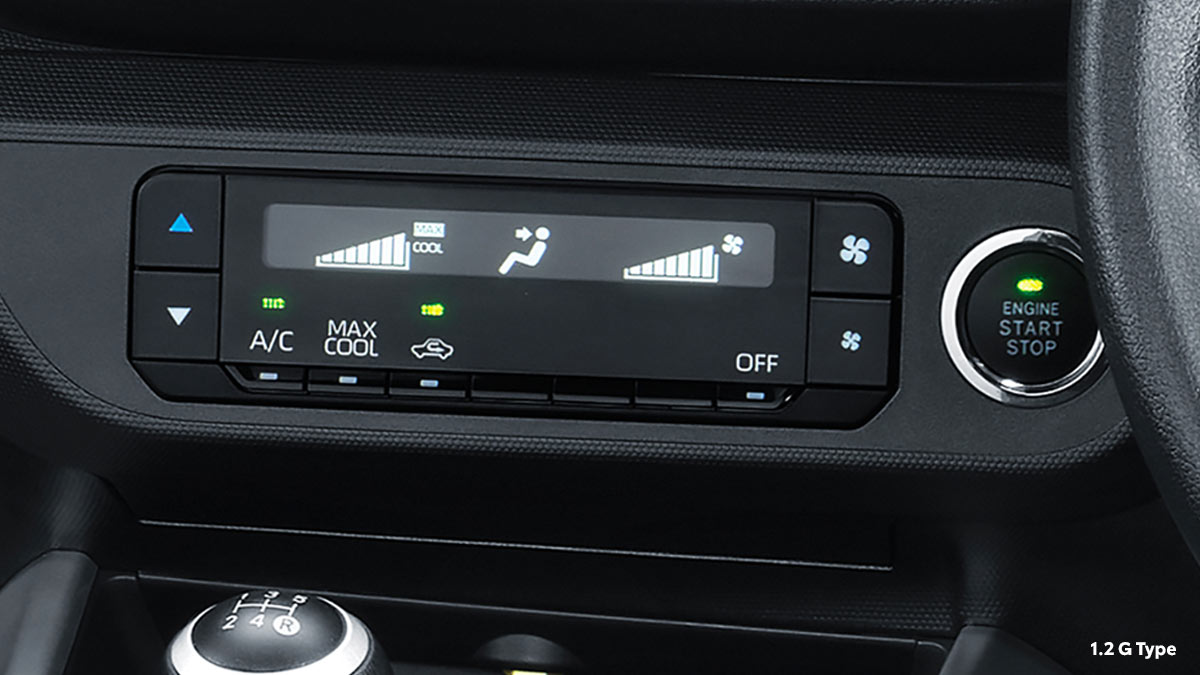 Digital A/C
With a digital display for you to adjust the temperature easier.
(1.2 G Type & 1.0T G Type)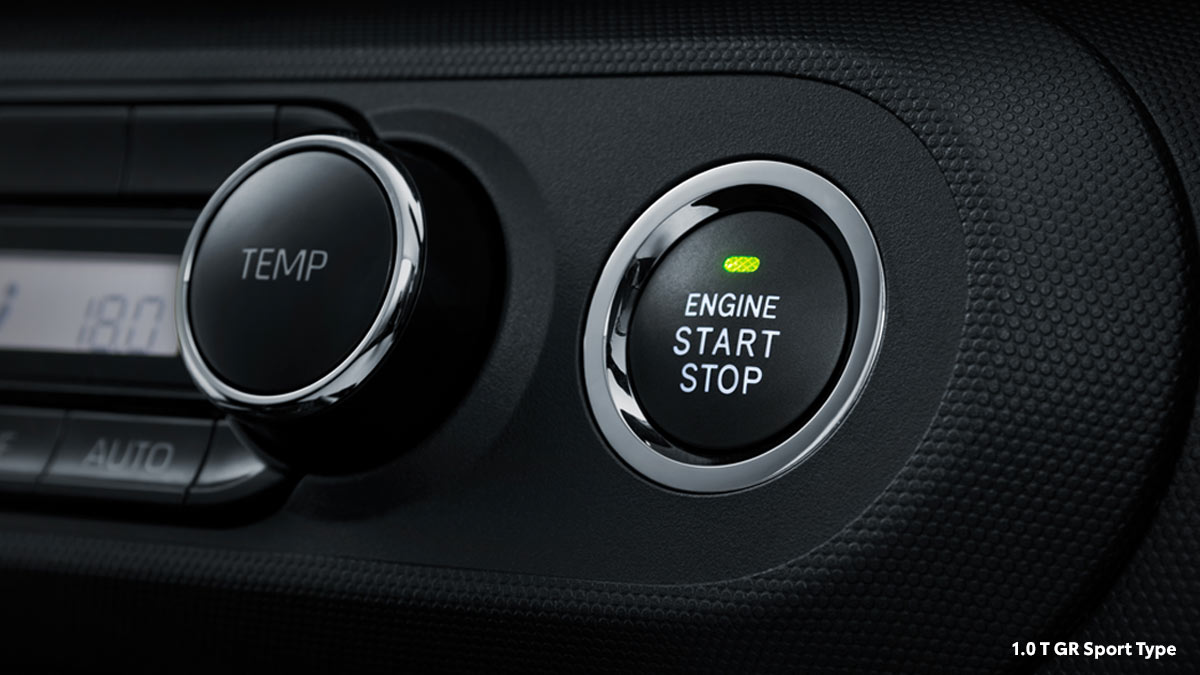 Smart Entry with Push Start Button
Keyless car door and start engine button for a more convenient entry.
(All Type)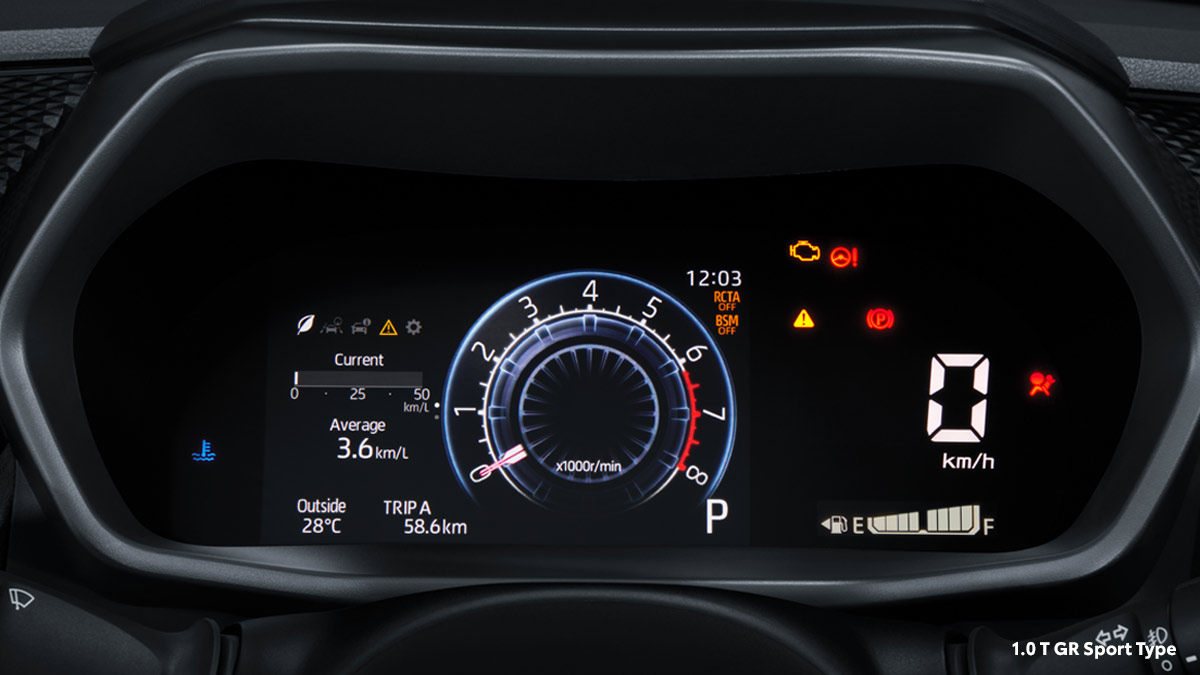 Interactive 8' Head Unit
Providing vast array of entertainments for your enjoyable driving experience.
(1.2 G Type)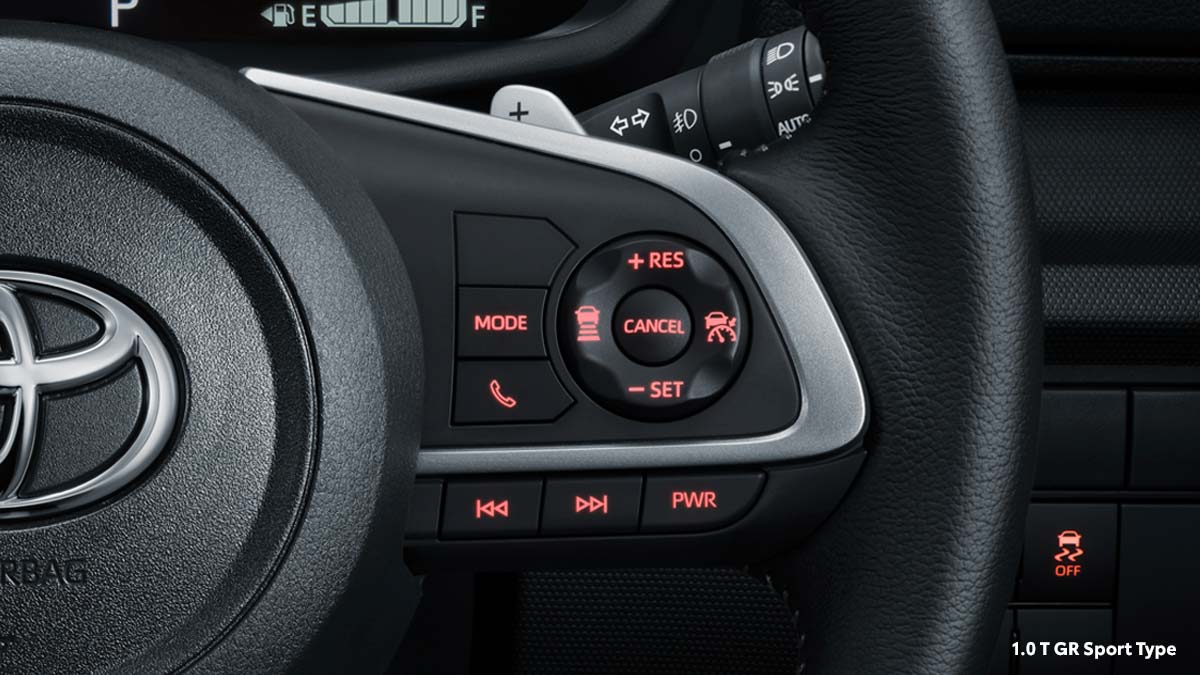 7' TFT MID
Wider screen with interactive display to give you all the essential informations you need.
(All Type)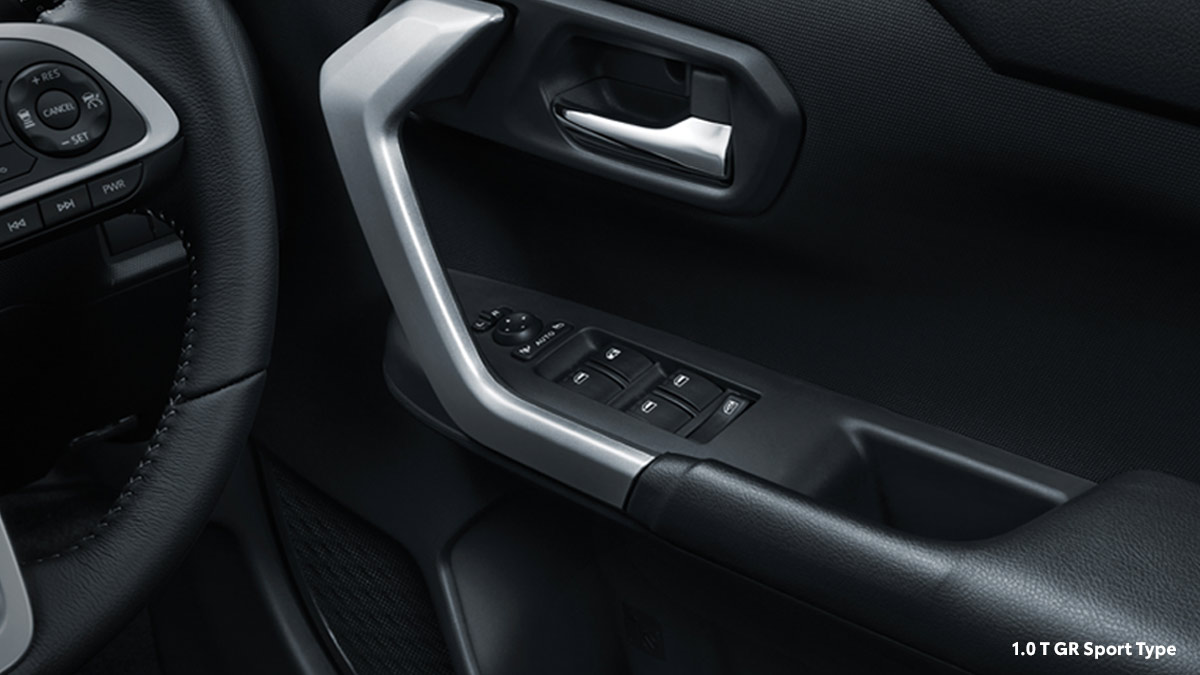 Power Mode Switch
Amp up your drive with a more precise and powerful energy distribution when you accelerate.
(All CVT Type)
Beyond Safety
Maximum safety for every passenger to provide total peace of mind and excitement in every journey.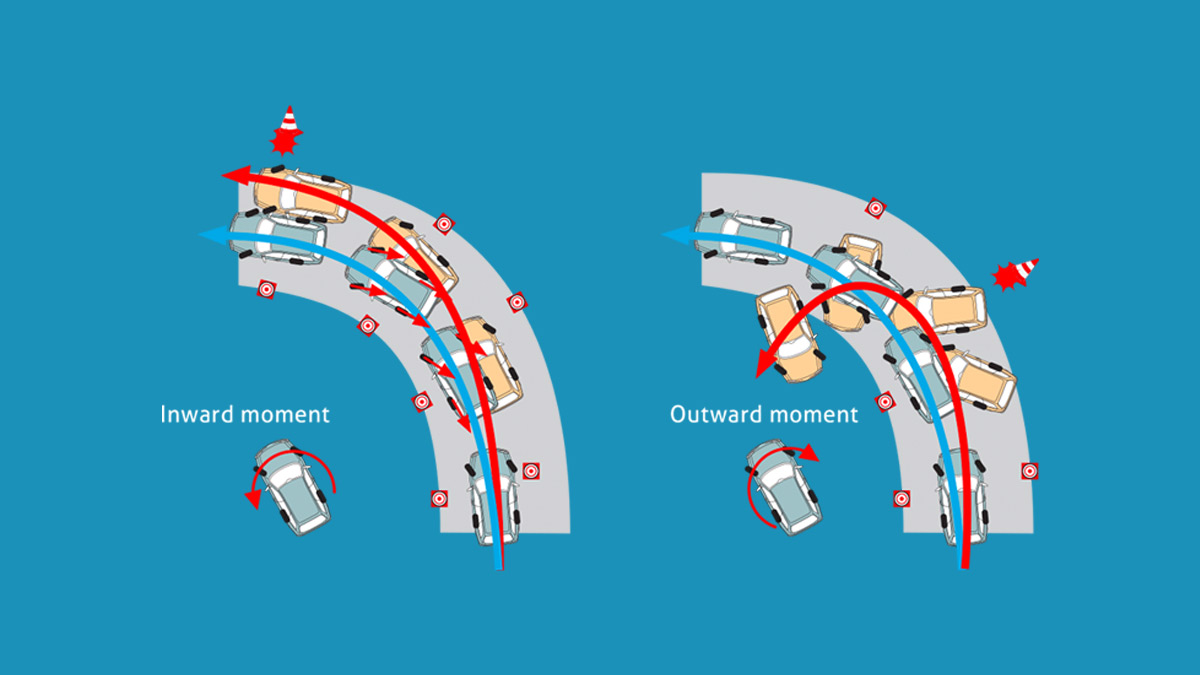 Vehicle Stability Control (VSC)
Maintaining the vehicle stability when doing a sharp turn to avoid over or under-steering
(All Type)
Hill Start Assist (HSA)
Preventing vehicle to slip backward on an uphill road.
(All Type)
Specifications
Car Type
Car Type
Price
-
-
-
Price
-
-
-
Dimension
Panjang/Overall Length (mm)
-
-
-
Panjang/Overall Length (mm)
-
-
-
Lebar/Overall Width (mm)
-
-
-
Lebar/Overall Width (mm)
-
-
-
Tinggi/Overall Height (mm)
-
-
-
Tinggi/Overall Height (mm)
-
-
-
Jarak Poros Roda/Wheelbase
-
-
-
Jarak Poros Roda/Wheelbase
-
-
-
Jarak Pijak/Tread (Depan/Front)
-
-
-
Jarak Pijak/Tread (Depan/Front)
-
-
-
Jarak Pijak/Tread (Belakang/Rear)
-
-
-
Jarak Pijak/Tread (Belakang/Rear)
-
-
-
Jarak Terendah/High Ground Clearence
-
-
-
Jarak Terendah/High Ground Clearence
-
-
-
Engine
Tipe Mesin/Engine Type
-
-
-
Tipe Mesin/Engine Type
-
-
-
No. of Cylinders & Arrangement
-
-
-
No. of Cylinders & Arrangement
-
-
-
Valve Mechanism
-
-
-
Valve Mechanism
-
-
-
Isi Silinder/Displacement (cc)
-
-
-
Isi Silinder/Displacement (cc)
-
-
-
Bore x Stroke (mm)
-
-
-
Bore x Stroke (mm)
-
-
-
Rasio Kompresi/Compression Ratio
-
-
-
Rasio Kompresi/Compression Ratio
-
-
-
Engine Power (ps/rpm)
-
-
-
Engine Power (ps/rpm)
-
-
-
Engine Torque (kgm/rpm)
-
-
-
Engine Torque (kgm/rpm)
-
-
-
Fuel
-
-
-
Fuel
-
-
-
Sistem Bahan Bakar/Fuel System
-
-
-
Sistem Bahan Bakar/Fuel System
-
-
-
Kapasitas Tangki/Fuel Tank Capacity (ltr)
-
-
-
Kapasitas Tangki/Fuel Tank Capacity (ltr)
-
-
-
Chassis
Drivetrain Type
-
-
-
Drivetrain Type
-
-
-
Transmisi/Transmission
-
-
-
Transmisi/Transmission
-
-
-
Perbandingan Gigi/Gear Ratio (1st)
-
-
-
Perbandingan Gigi/Gear Ratio (1st)
-
-
-
Perbandingan Gigi/Gear Ratio (2nd)
-
-
-
Perbandingan Gigi/Gear Ratio (2nd)
-
-
-
Perbandingan Gigi/Gear Ratio (3rd)
-
-
-
Perbandingan Gigi/Gear Ratio (3rd)
-
-
-
Perbandingan Gigi/Gear Ratio (4th)
-
-
-
Perbandingan Gigi/Gear Ratio (4th)
-
-
-
Perbandingan Gigi/Gear Ratio (5th)
-
-
-
Perbandingan Gigi/Gear Ratio (5th)
-
-
-
Perbandingan Gigi/Gear Ratio (6th)
-
-
-
Perbandingan Gigi/Gear Ratio (6th)
-
-
-
Perbandingan Gigi/Gear Ratio (7th)
-
-
-
Perbandingan Gigi/Gear Ratio (7th)
-
-
-
Perbandingan Gigi/Gear Ratio (8th)
-
-
-
Perbandingan Gigi/Gear Ratio (8th)
-
-
-
Perbandingan Gigi Mundur/Reverse Gear Ratio
-
-
-
Perbandingan Gigi Mundur/Reverse Gear Ratio
-
-
-
Perbandingan Gigi Akhir/Final Drive Gear Ratio
-
-
-
Perbandingan Gigi Akhir/Final Drive Gear Ratio
-
-
-
Sistem Kemudi/Steering System
-
-
-
Sistem Kemudi/Steering System
-
-
-
Suspensi Depan/Front Suspension
-
-
-
Suspensi Depan/Front Suspension
-
-
-
Suspensi Belakang/Rear Suspension
-
-
-
Suspensi Belakang/Rear Suspension
-
-
-
Stabilizer
-
-
-
Stabilizer
-
-
-
Rem Depan/Front Brake
-
-
-
Rem Depan/Front Brake
-
-
-
Rem Belakang/Rear Brake
-
-
-
Rem Belakang/Rear Brake
-
-
-
Alloy Wheel
-
-
-
Alloy Wheel
-
-
-
Ukuran Ban/Tire Size
-
-
-
Ukuran Ban/Tire Size
-
-
-
Interior
Veloz sub-Label
-
-
-
Veloz sub-Label
-
-
-
Veloz sub-Label
-
-
-
Veloz sub-Label
-
-
-
Safety & Security
Veloz sub-Label
-
-
-
Veloz sub-Label
-
-
-
Veloz sub-Label
-
-
-
Veloz sub-Label
-
-
-
Gallery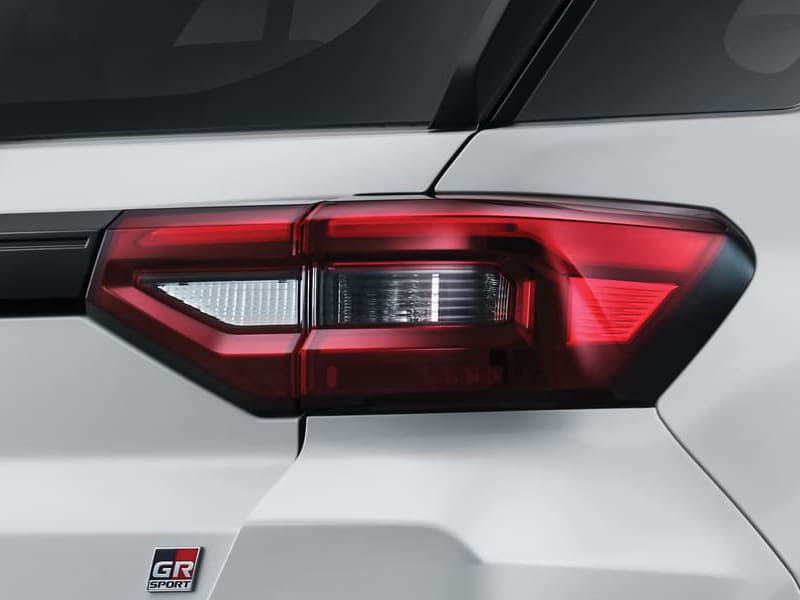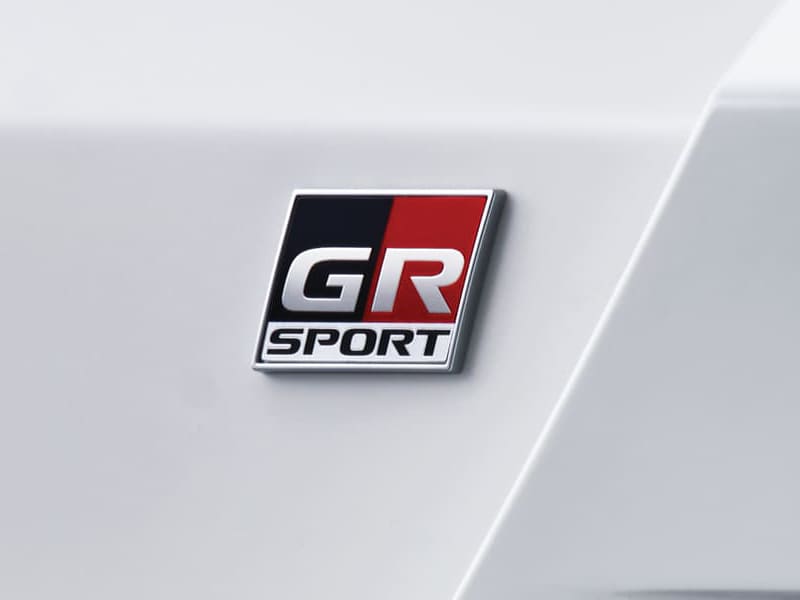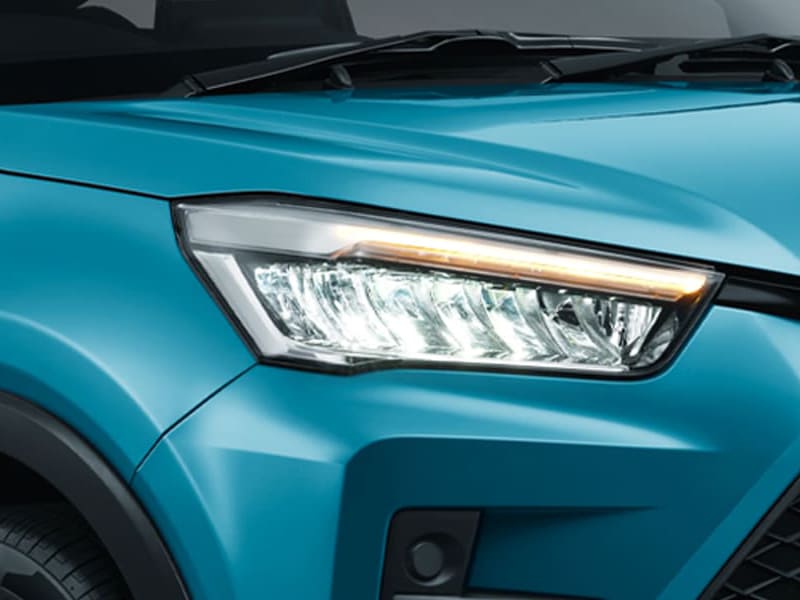 Illuminating Headlamp (All Type) DRL Sequential Turn Lamp (All 1.0T GR Sport Type)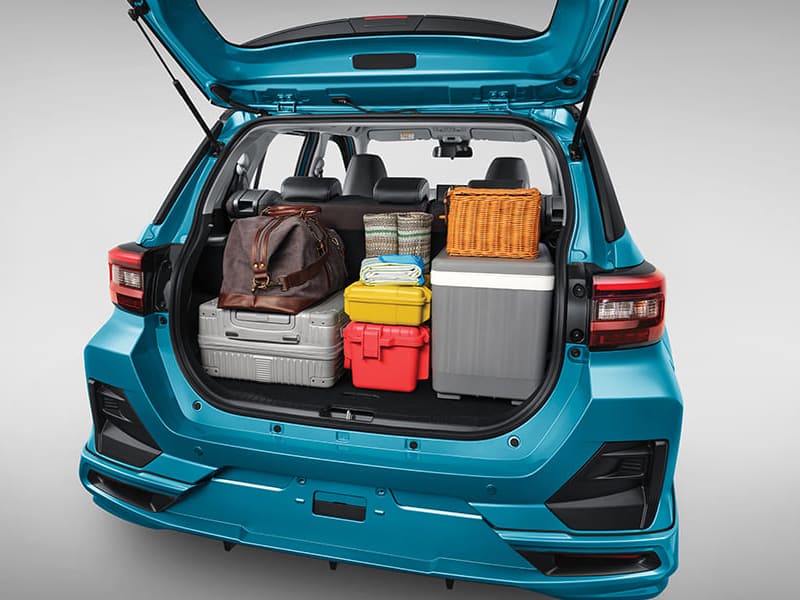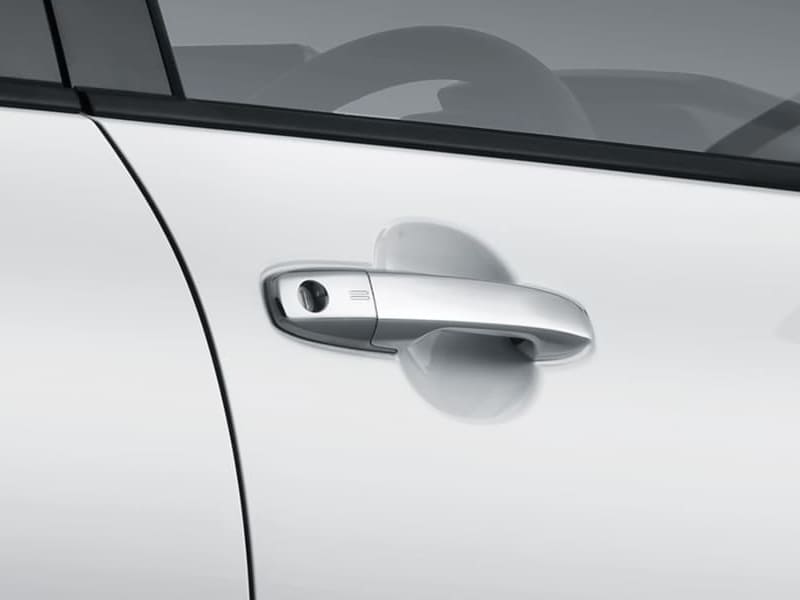 Chrome Door Outside Handle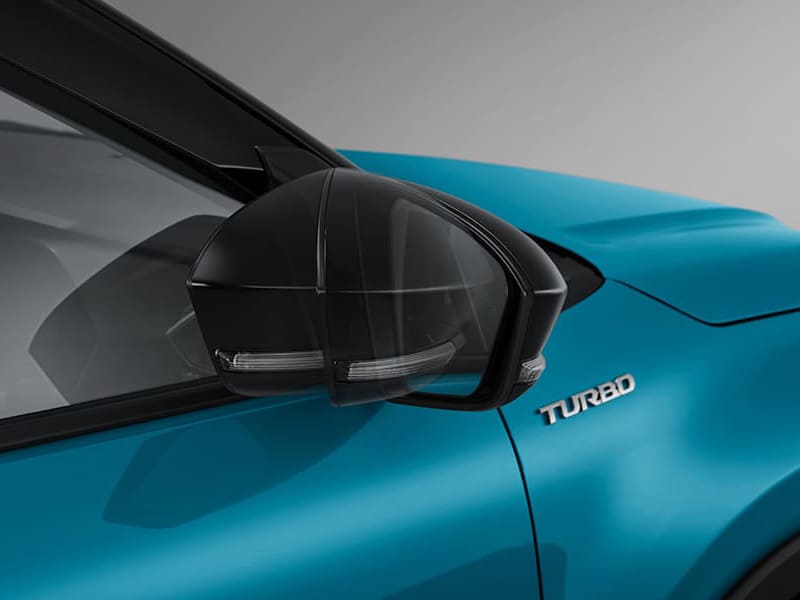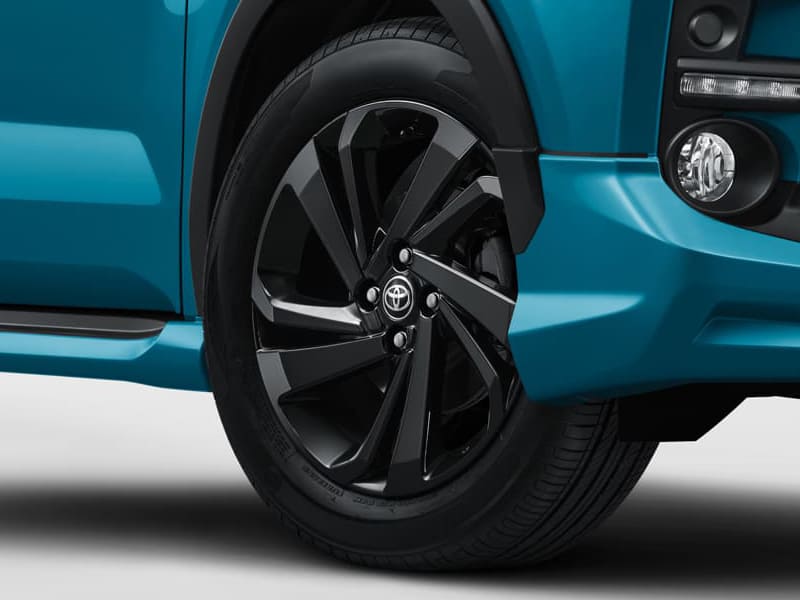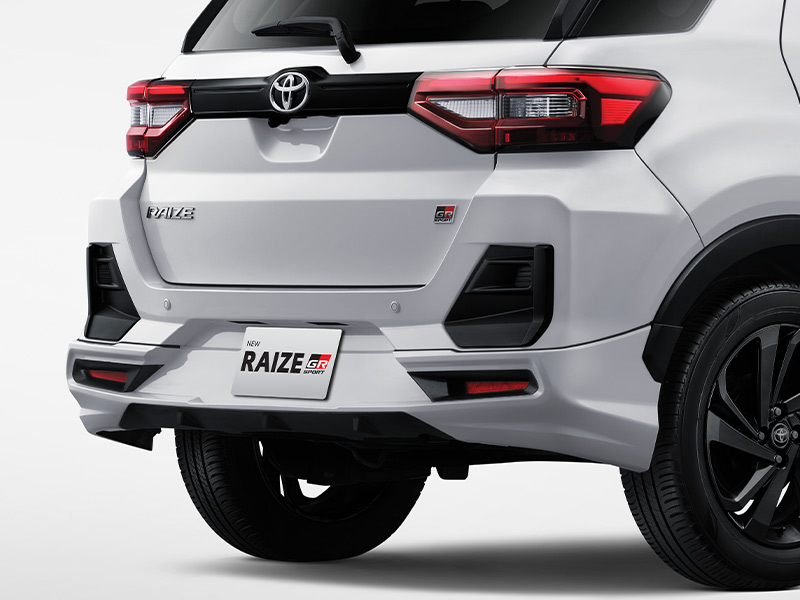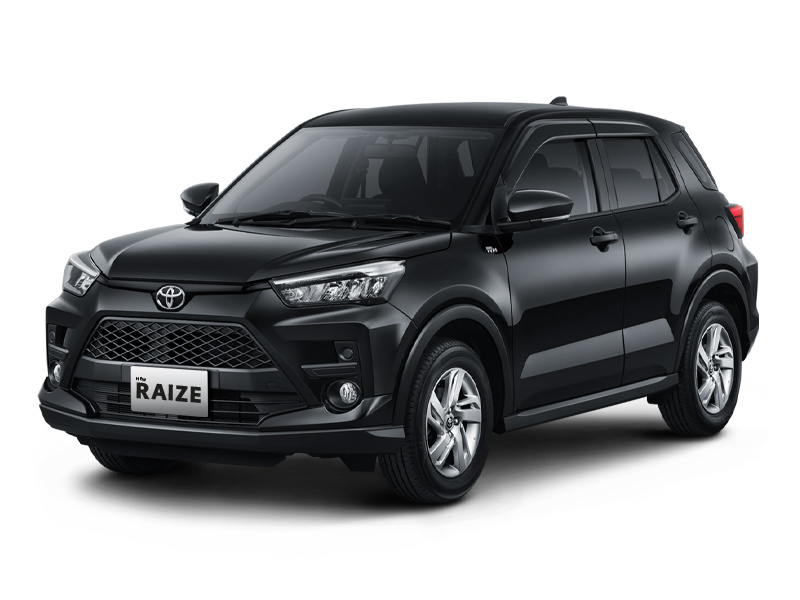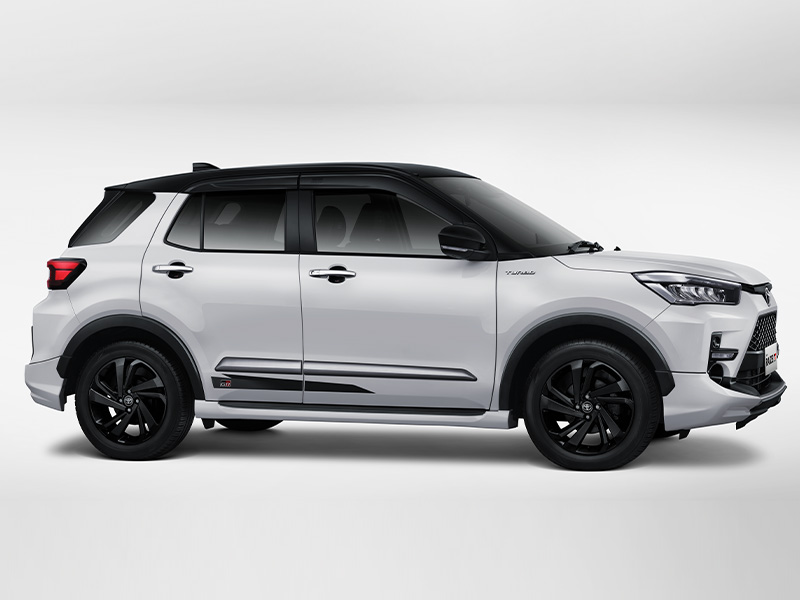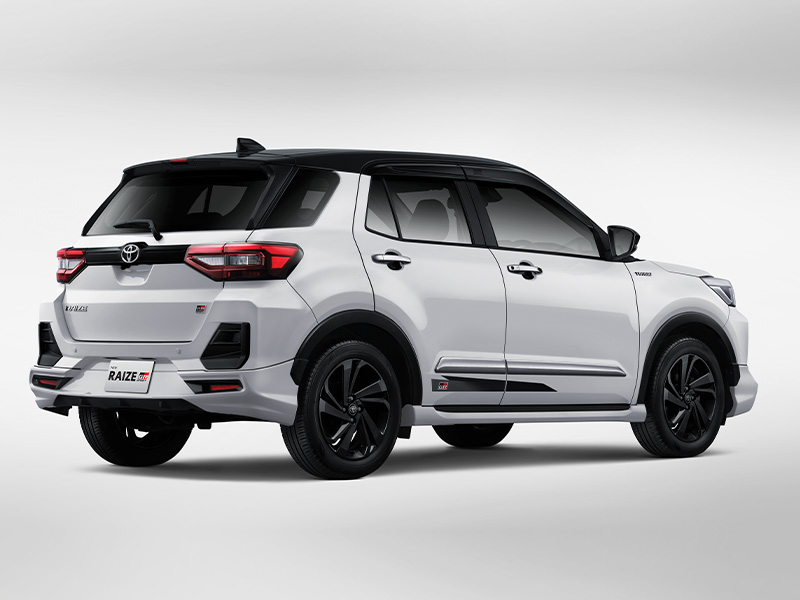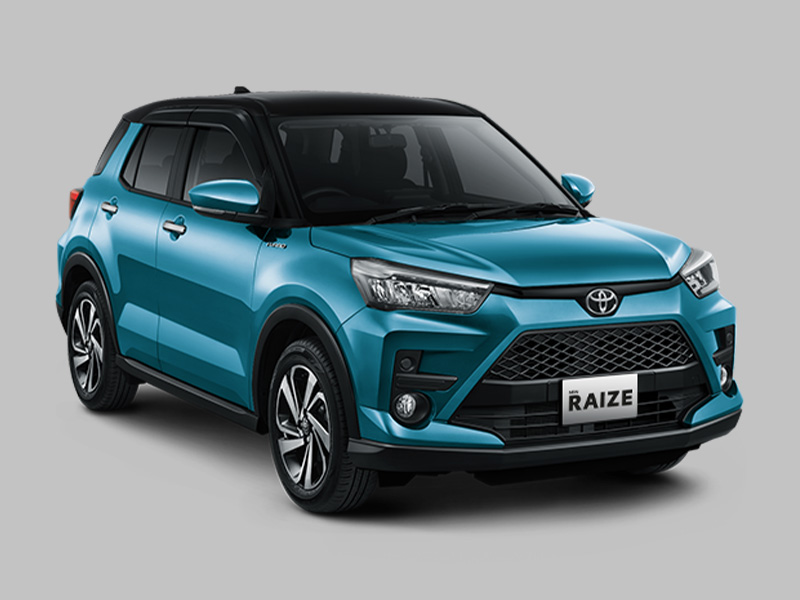 1.0T GR Type Black Turquiose MM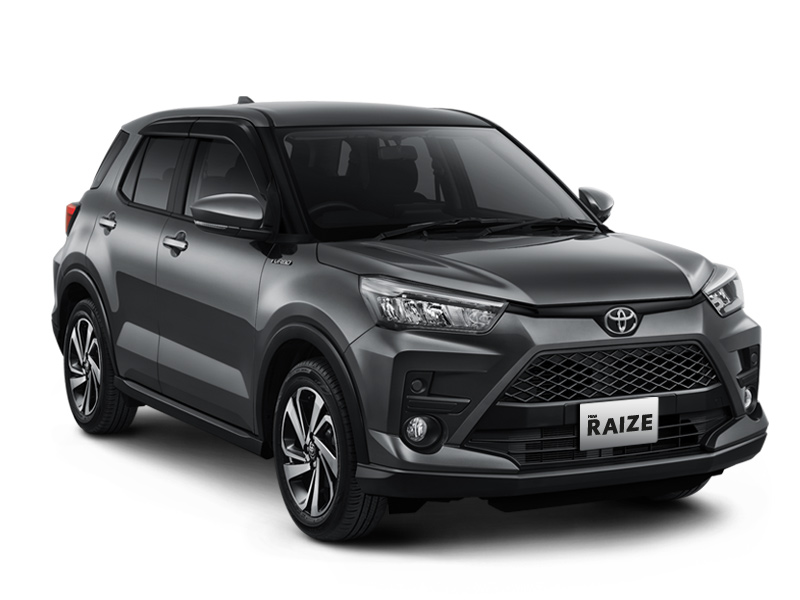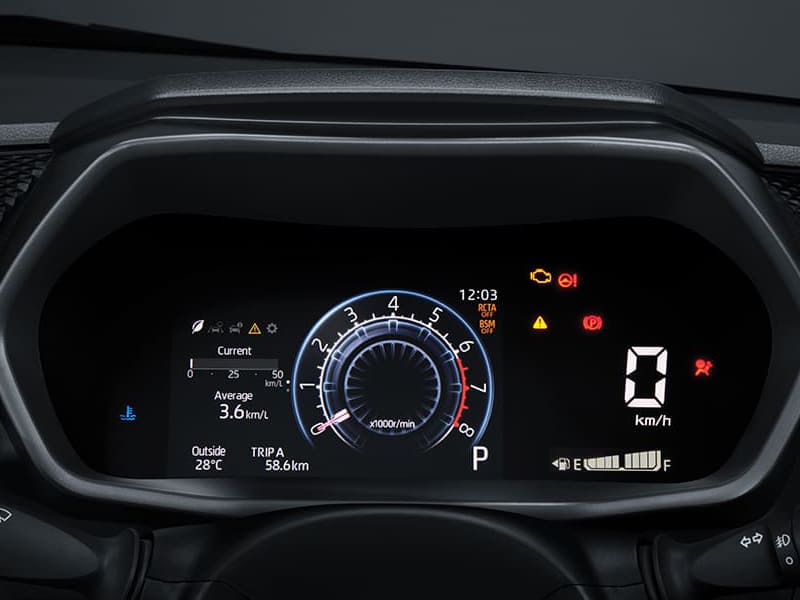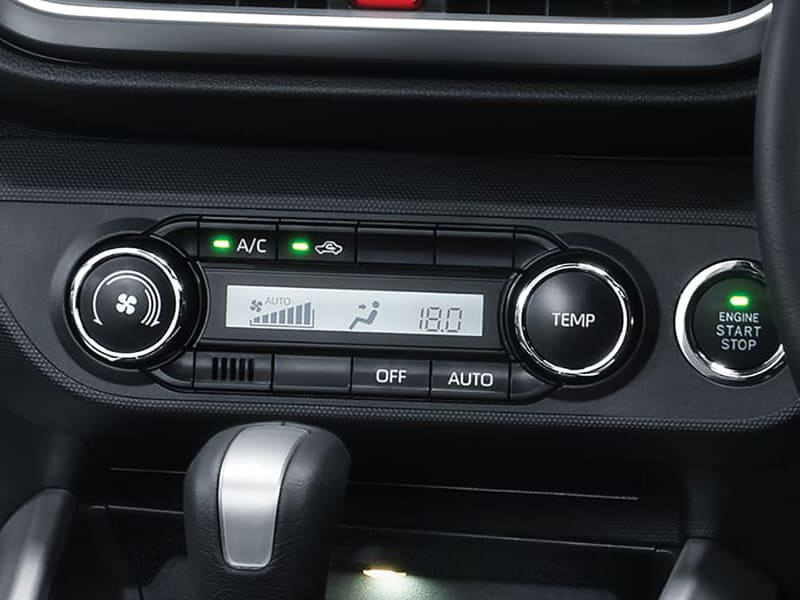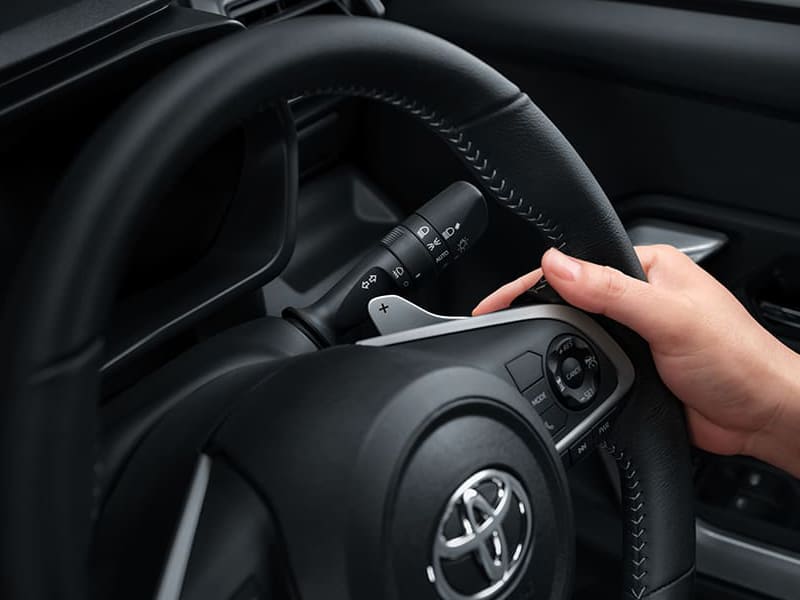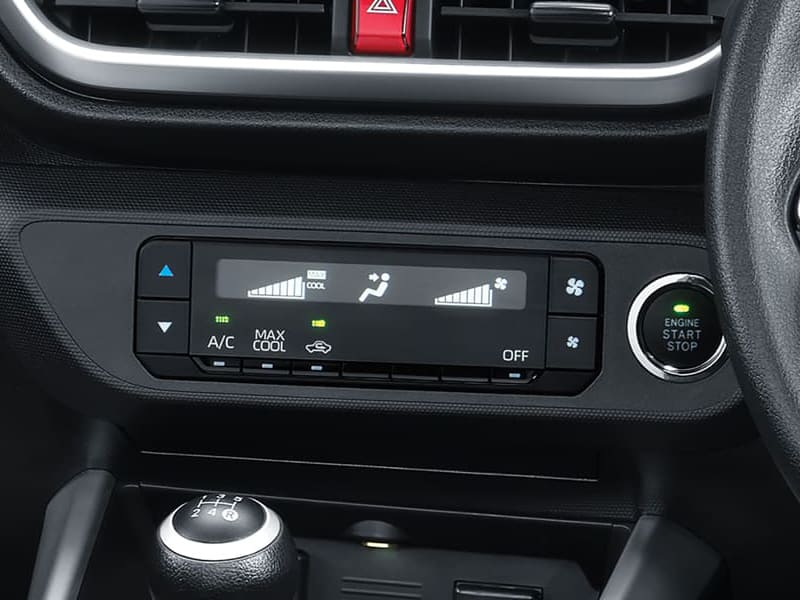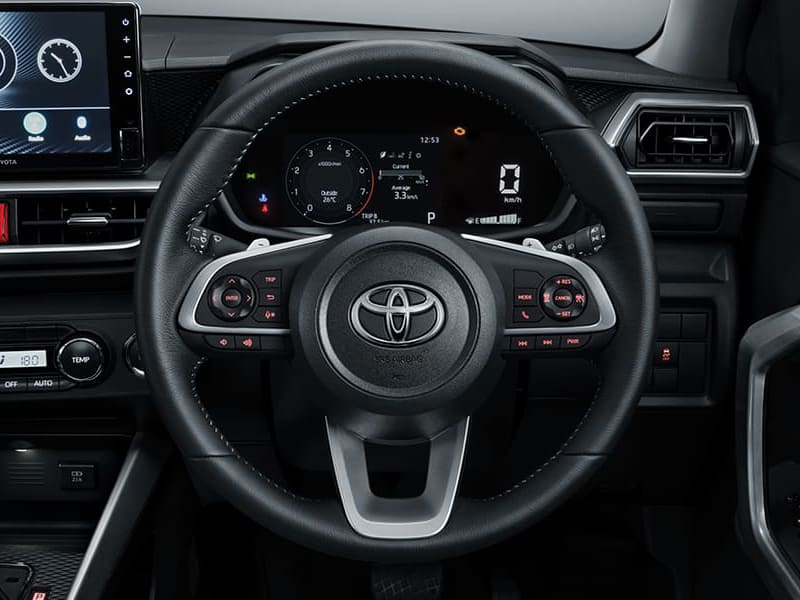 Exclusive Leather Steering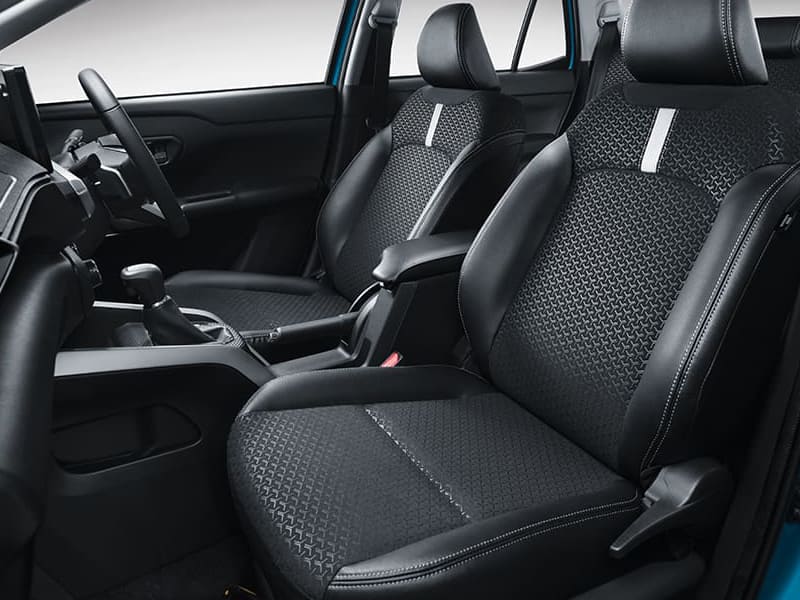 Fabric Leather Combi Seat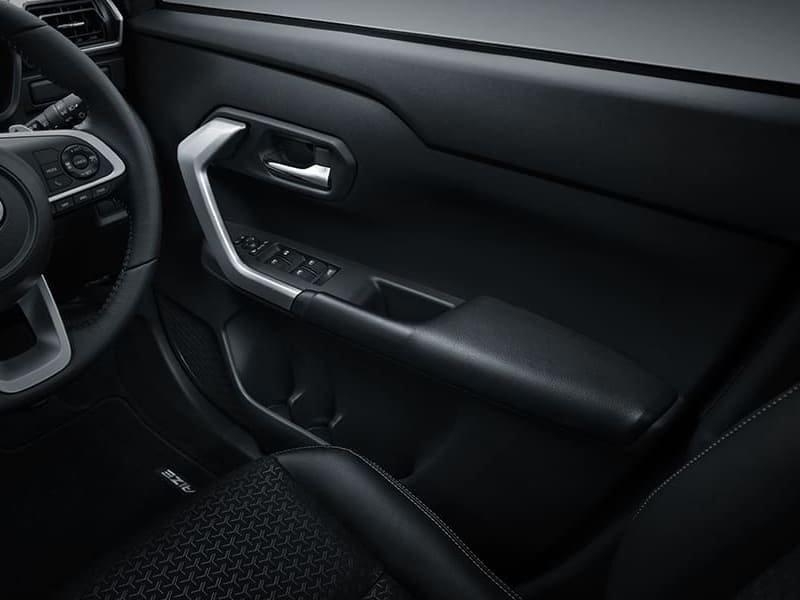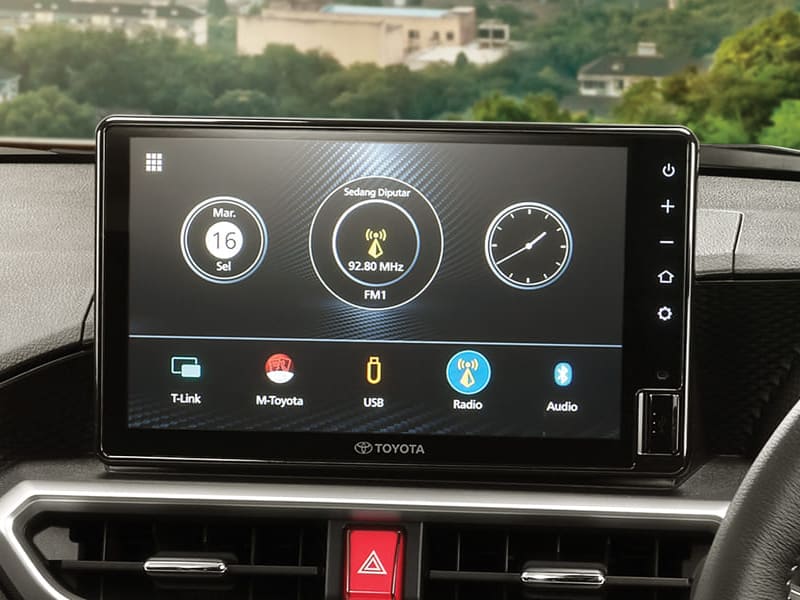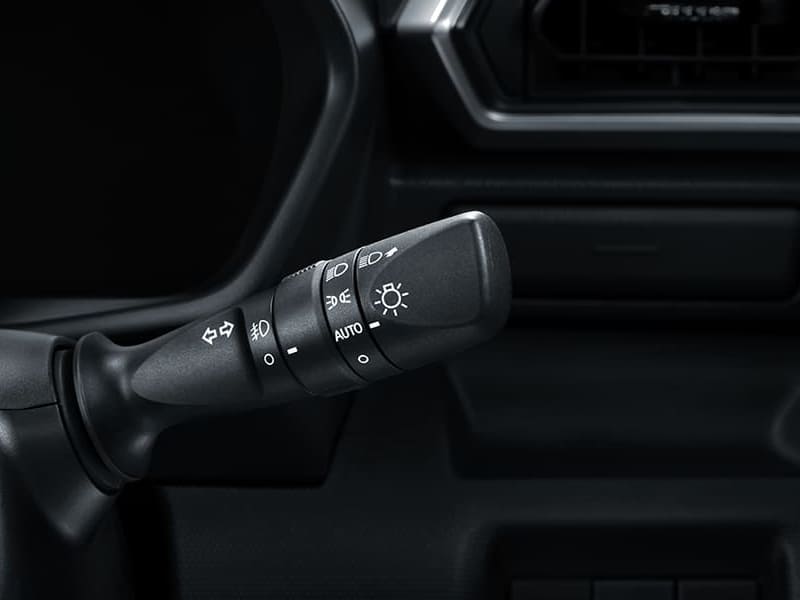 Perceptive Auto Headlight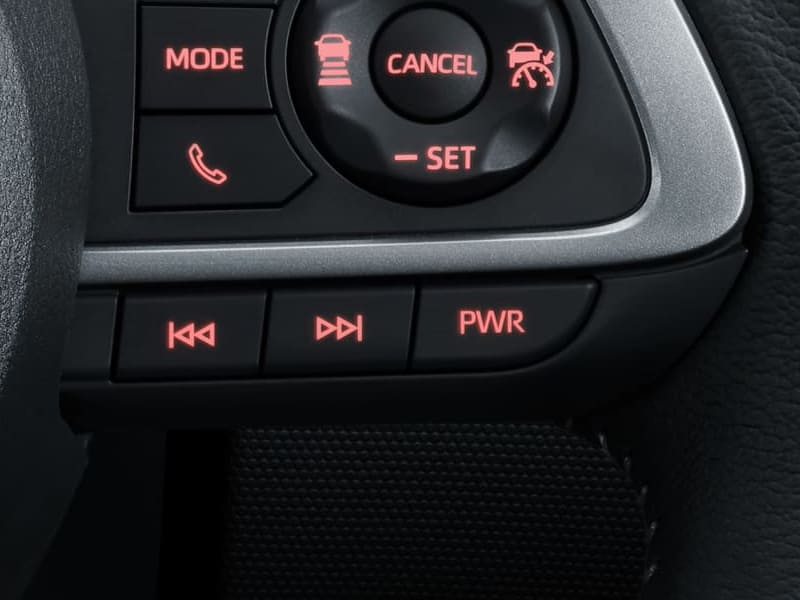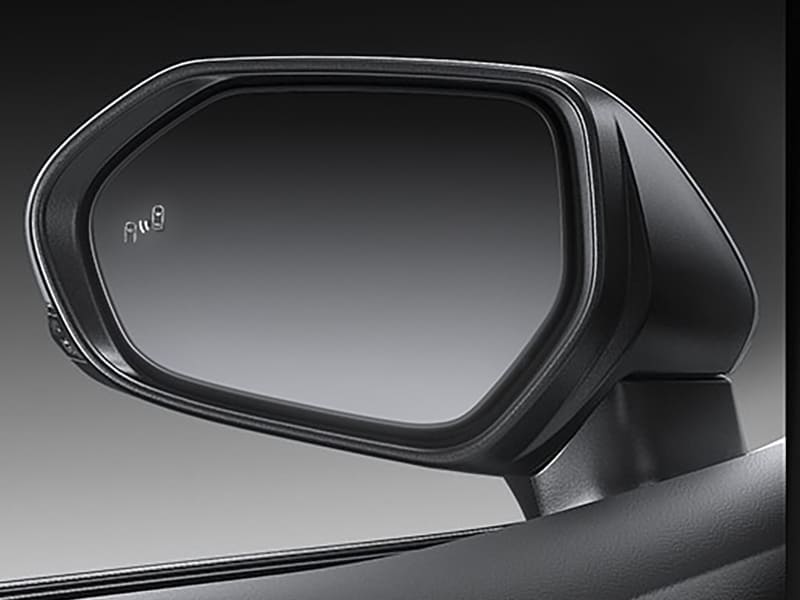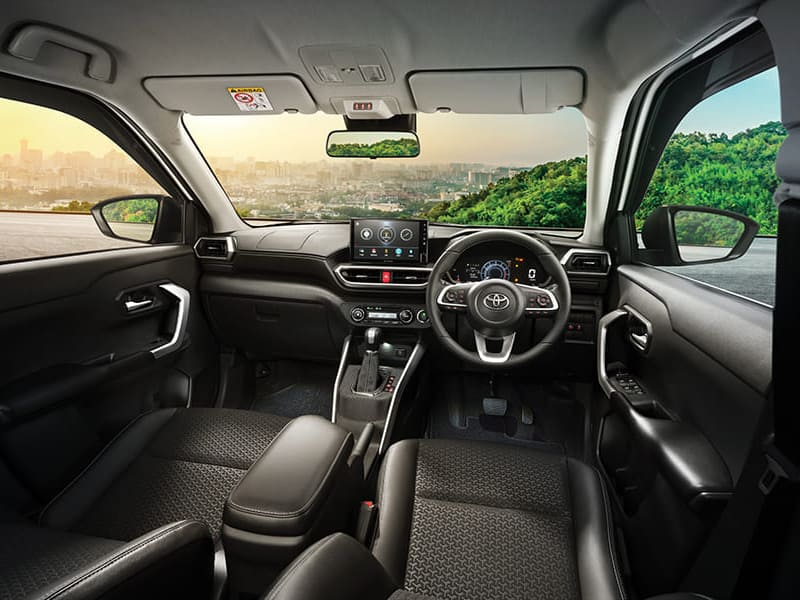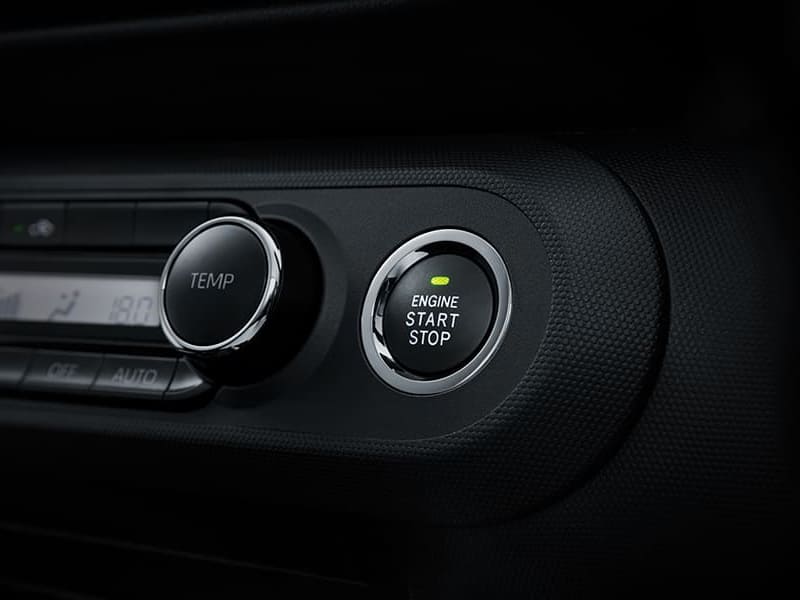 Smart Entry with Push Start Button