ALL NEW KIJANG INNOVA ZENIX
ALL NEW KIJANG INNOVA ZENIX
Discover Your All New Kijang Innova Zenix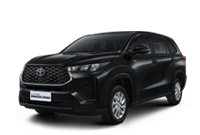 G Gasoline Type
New Crossover Front Looks
New Stunning Led Headlamp
New Captivating 16" Alloy Wheel
New 9" Head Unit with Smartphone Connectivity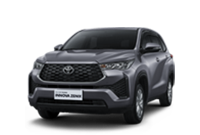 V Gasoline Type
New Crossover Front Looks
New 10" Head Unit with Smartphone Connectivity
New 10" Dual Rear Seat Entertainment
New Electric Parking Brake & Brake Hold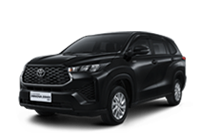 G Hybrid Type
New Crossover Front Looks
New Captivating 16" Alloy Wheel
New Two-tone Design Dashboard
New 9" Head Unit With Smartphone Connectivity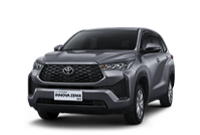 V Hybrid Type
New Crossover Front Looks
New 17" Alloy Wheel
New Panoramic Retractable Roof
New 10" Head Unit with Smartphone Connectivity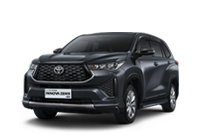 V Hybrid Modellista Type
New Grille Ornament Modellista
New Front Bumper Spoiler Modellista
New Side Body Moulding with Side Skirt Modellista
New Rear Bumper Spoiler Modellista
Q Hybrid Type
New Crossover Front Looks
New Fascinating 18" Alloy Wheel
New 10" Head Unit with Smartphone Connectivity
New Power Backdoor with Voice Command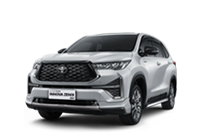 Q Hybrid Modellista Type
New Grille Ornament Modellista
New Front Bumper Spoiler Modellista
New Side Body Moulding with Side Skirt Modellista
New Rear Bumper Spoiler Modellista
Unit Spot Order, Indent Time minimal 3 bulan (timing dapat berubah sewaktu-waktu tergantung keadaan Pabrik)
Harga OTR DKI Jakarta, Bekasi, Banten per 10 Agustus 2023
Harga jual ditetapkan masing-masing dealer
Untuk informasi harga terkini dapat menghubungi Dealer Toyota terdekat Anda
---
Color Options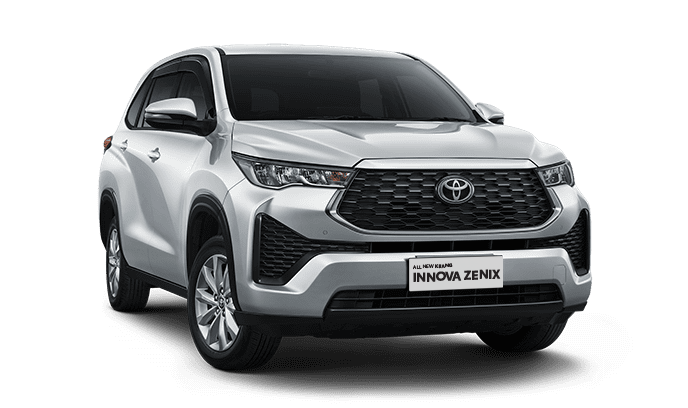 Platinum White Pearl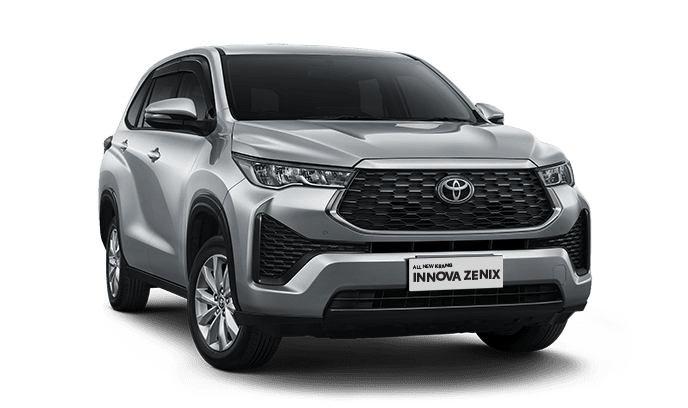 Silver Metallic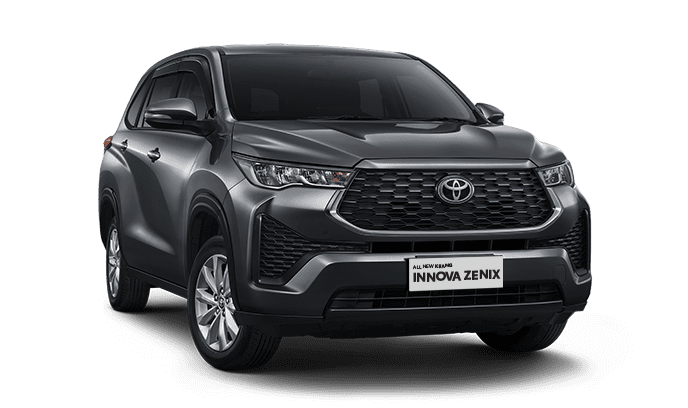 Gray Metallic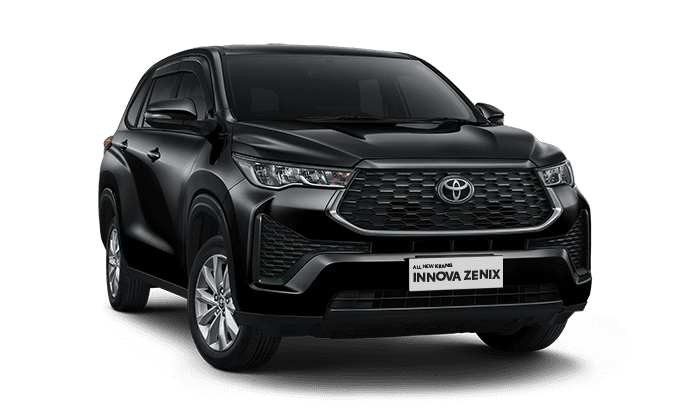 Attitude Black
360º Visualizations
360º Exterior
360º Interior

*The exterior preview may differ slightly from actual car shape
360º Visualizations
360º Exterior
360º Interior

Type
*The interior preview may differ slightly from actual car shape
Beyond Exterior
Cross Over to Energize Today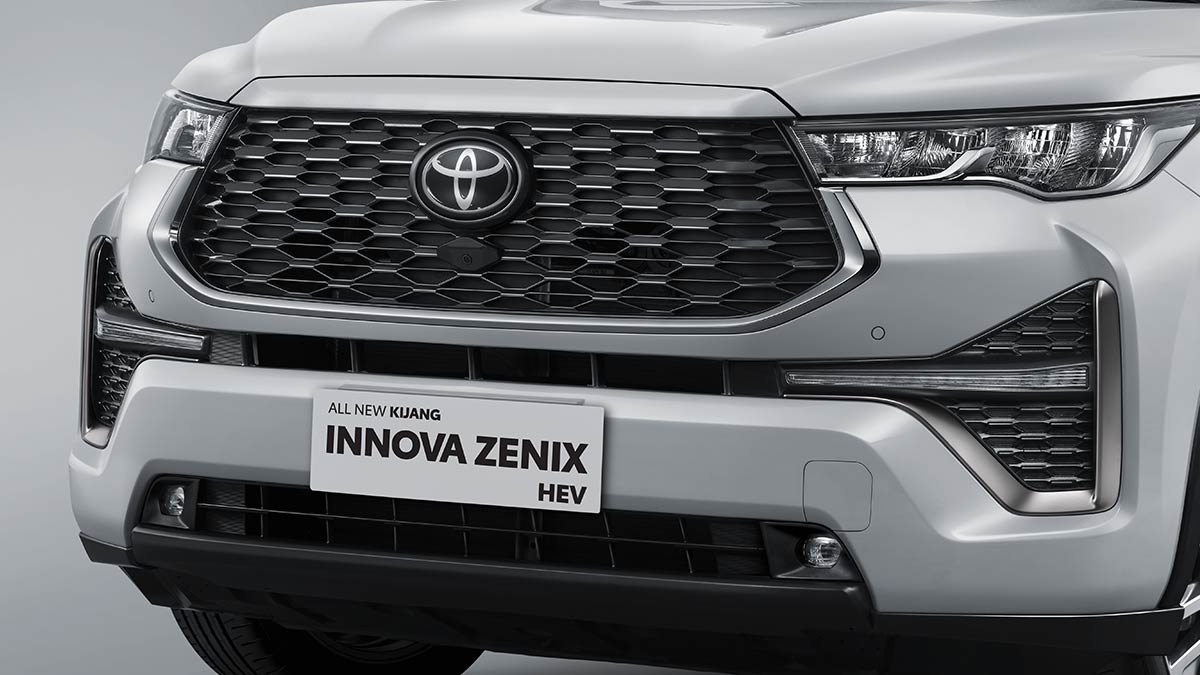 New Crossover Front Looks (All Type)
Expanse your delicate driving moment with the new Front Grille design where the LED Headlamp (All Type), DRL, & Foglamp (Q HV Type) made flawlessly to make every head turn for your greater journey.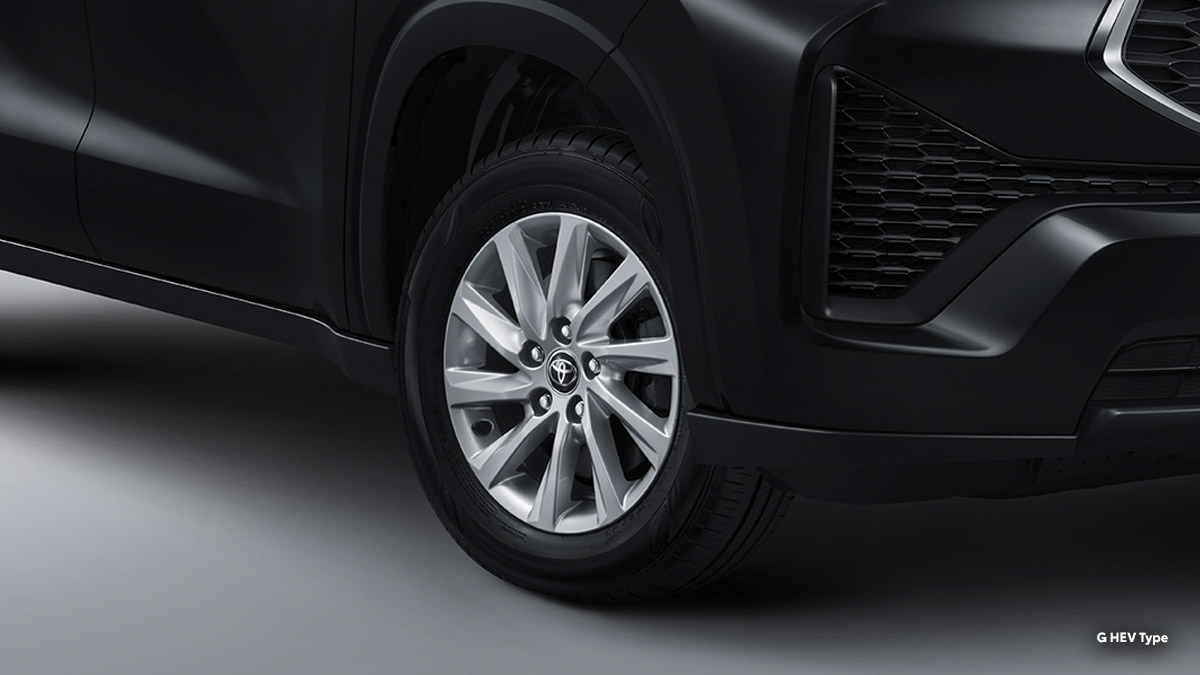 New Captivating 16" Alloy Wheel (All G Type)
Boost your crossing journey with the captivating silver-painted 16" Alloy Wheel.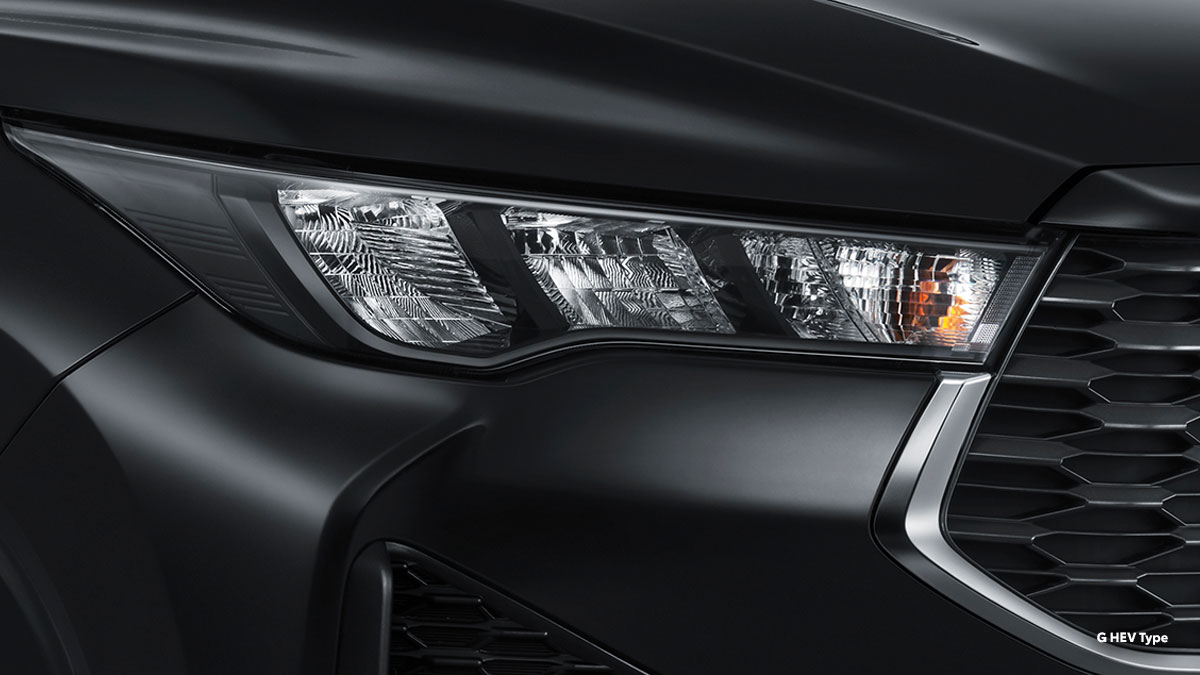 New Stunning LED Headlamp (All G Type)
Enhance your presence with the LED Headlamp to ignite all the outstanding routes.
Beyond Interior
Cross Over to The New Breathtaking Space
New Remarkable Dashboard (V Gasoline Type)
Feel the wonderful journey created by the enhanced Full Dashboard with a two-tone colour design and luxurious Soft Pad.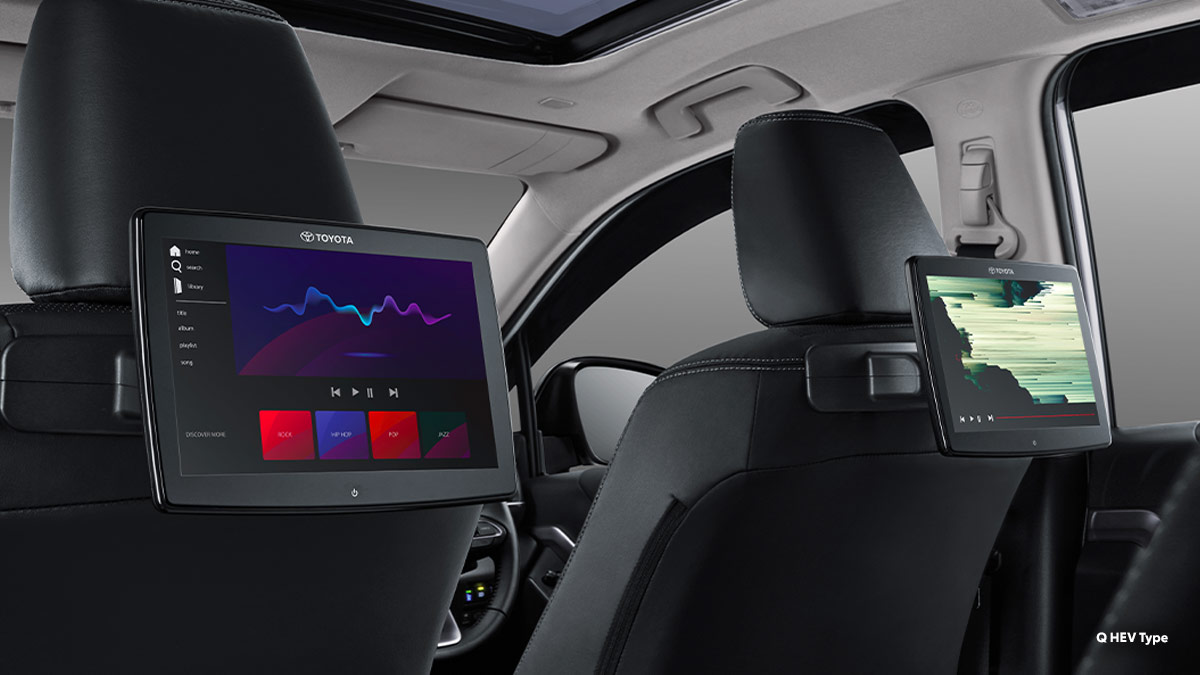 New 10" Dual Rear Seat Entertainment (All Q HEV & All V Type)
The first in class 10" Dual Rear Seat Entertainment with internet connection that can be played independently.
*Also Available without RSE in V Gasoline Type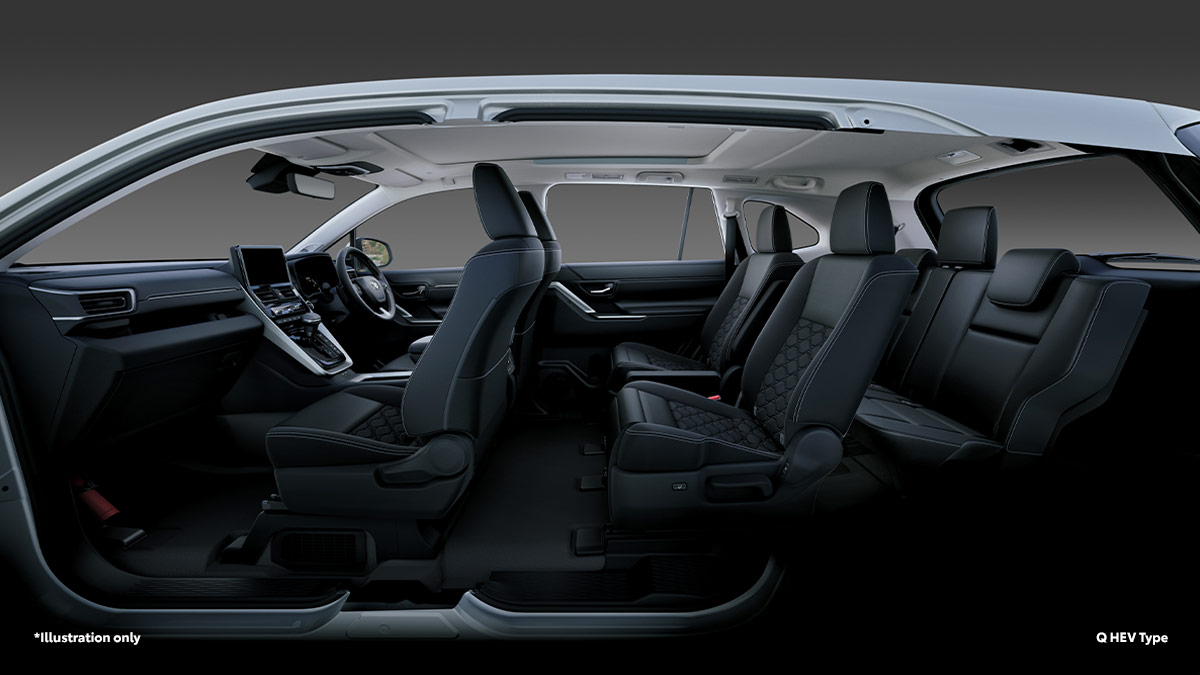 New Impressive Cabin (All Type)
The rigidity form and equal comfort in all seat rows are perfectly emphasized by the more spacious cabin for the 2nd and 3rd rows, along with the light feel and the driving stability that is created by the finer suspension.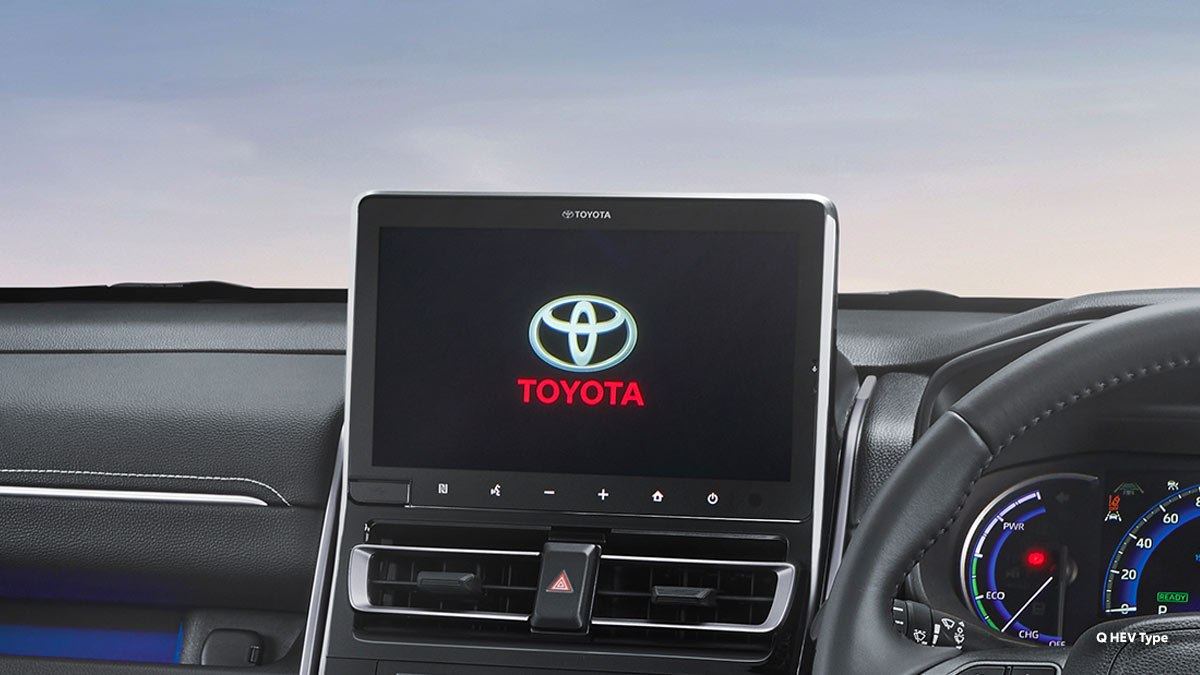 New 10" Head Unit with Smartphone Connectivity (All Q HEV & All V Type)
Control all entertainment through Bluetooth, Wi-Fi, and Voice Recognition or navigate your daily life easier with smartphone connectivity and NFC E-Toll Card Checking (e-Money & Flazz) for your comfortable journey.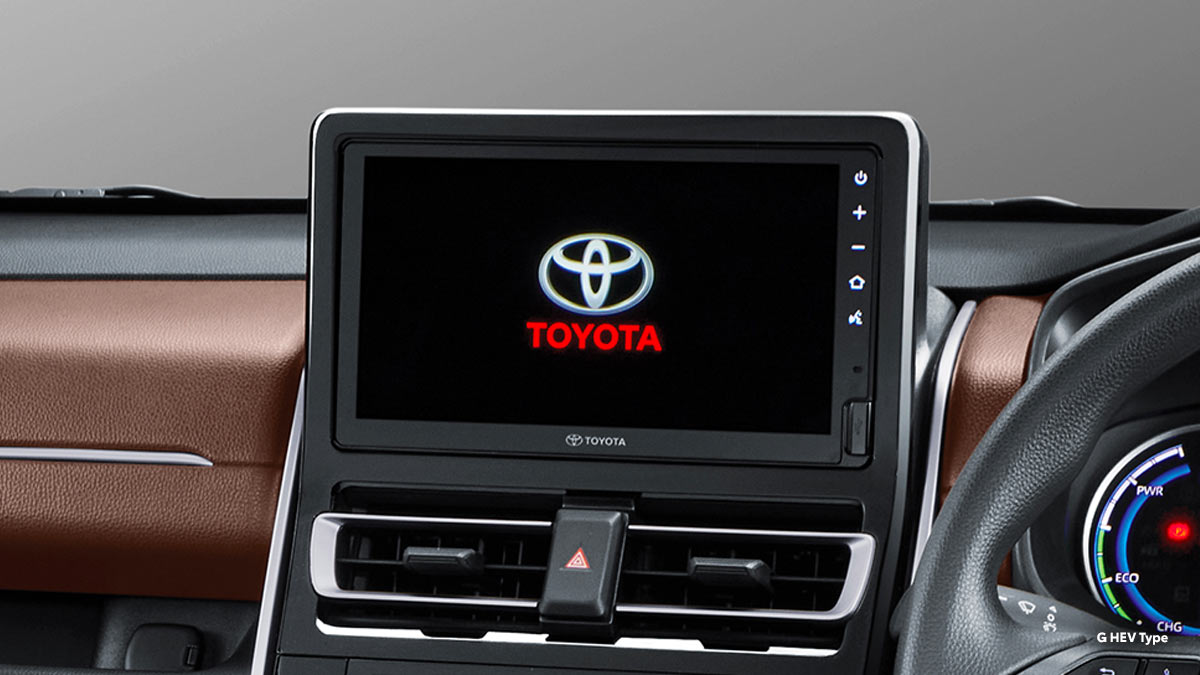 New 9" Head Unit with Smartphone Connectivity (All G Type)
The enormous entertainment bundle is injected with the Smartphone Connectivity function and NFC for checking e-Toll card (e-Money & Flazz) to deliver your convenience in every journey.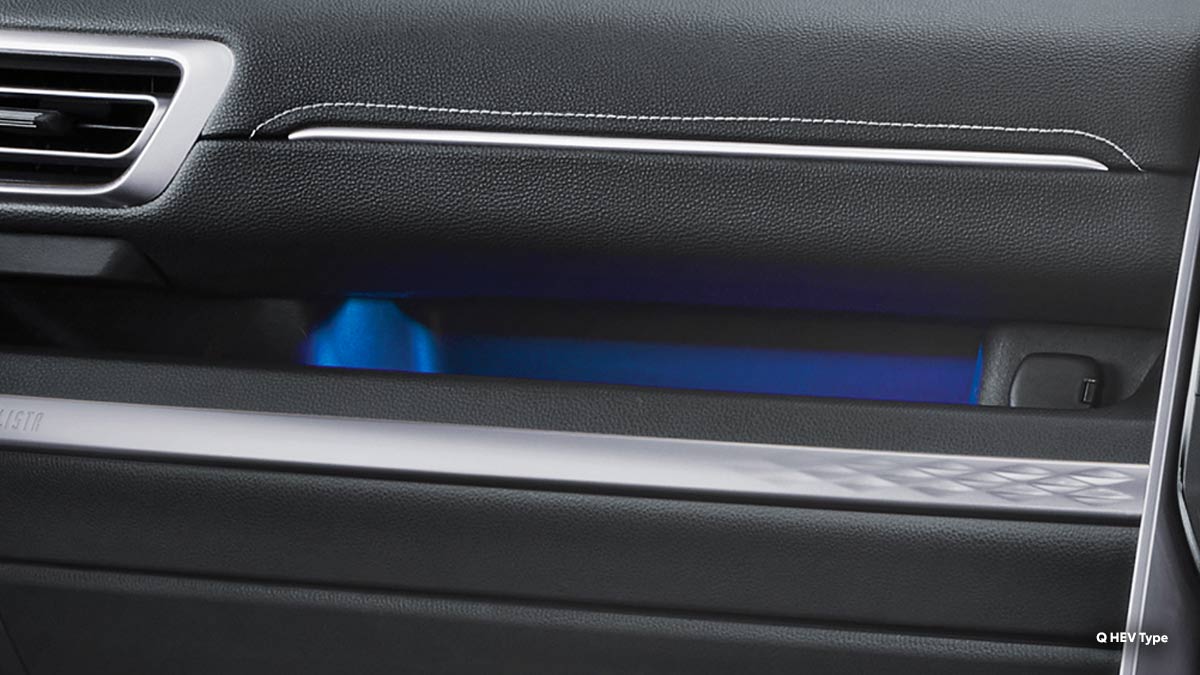 New Illumination Light Instrument Panel (All Q HEV & All V Type)
Embedded with convenience lamp covered on the black premium leather material will bring a pleasant experience in every voyage.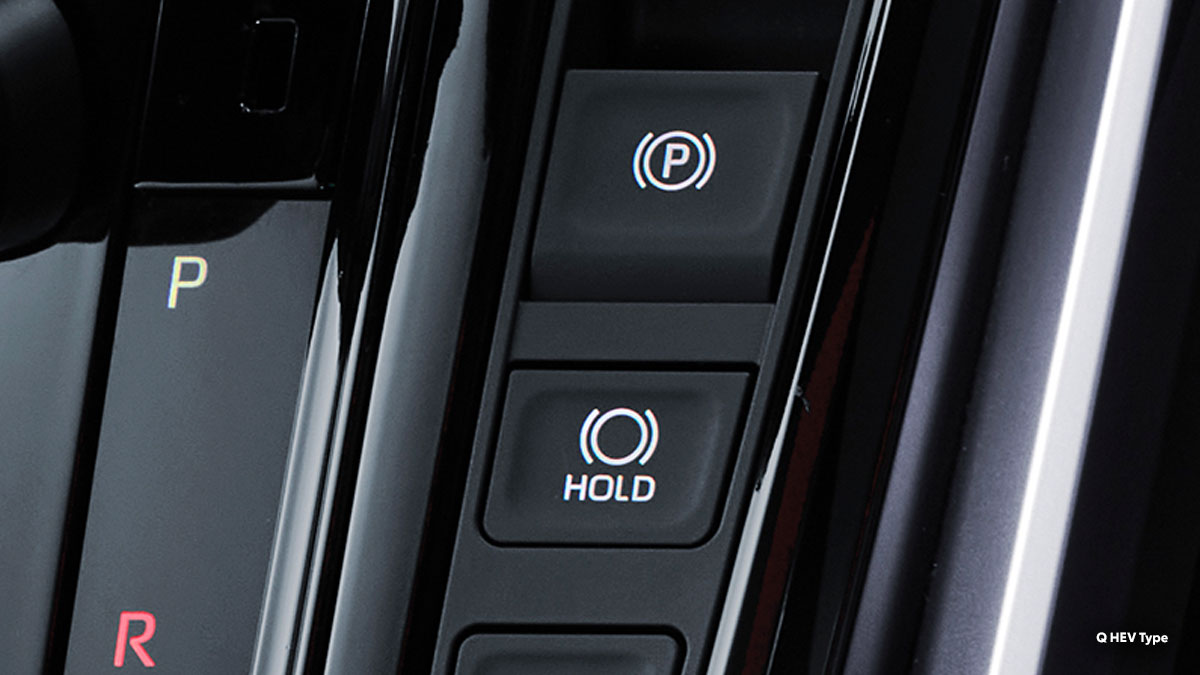 New Electric Parking Brake & Brake Hold (All Type)
Begin your wonderful journey with just a simple touch as the parking brake is now installed with electric functionality.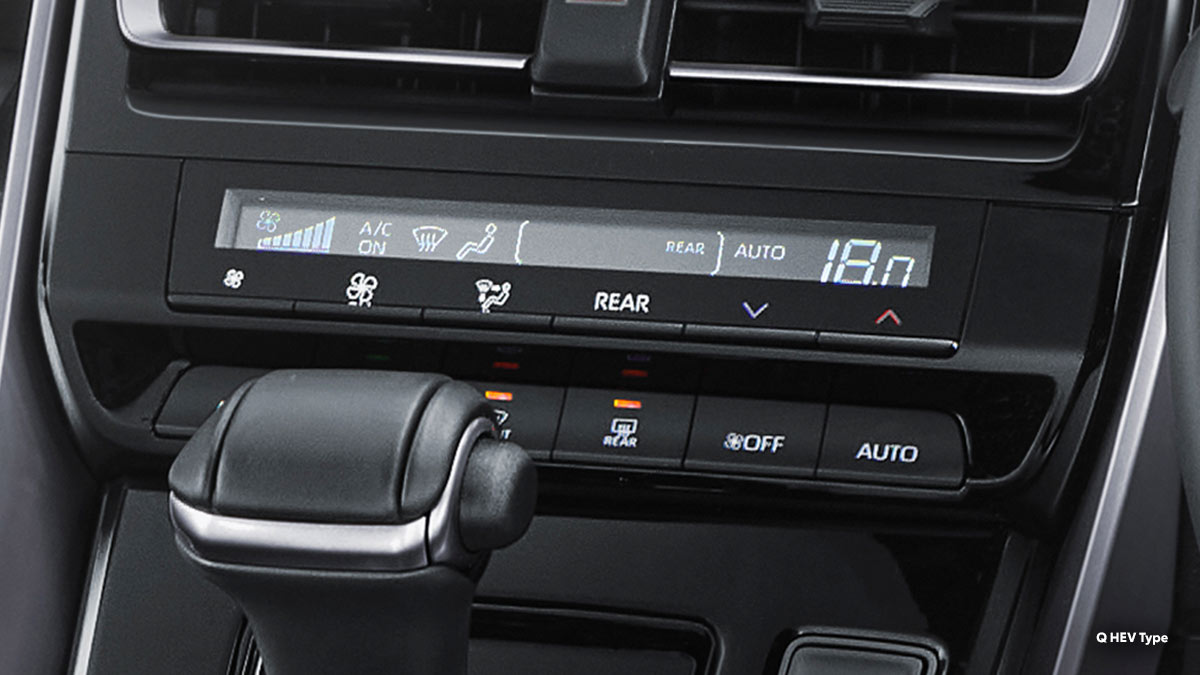 New Digital Auto AC (All Type)
Command all the temperature, airflow, and air distribution inside the cabin, as The Air Purifier (All Q HEV & All V Type) will ensure your desirable journey.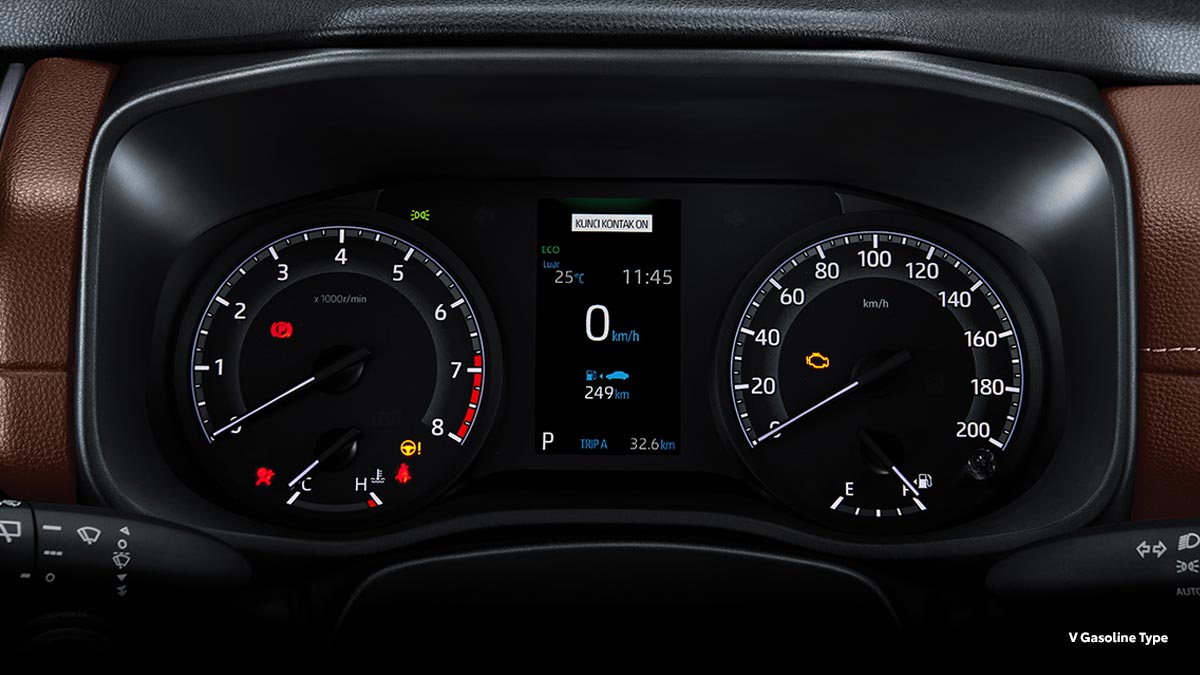 New 4.2" TFT MID (All Gasoline Type)
An engaging visual to keep you enlightened for the essential information on the road.

Beyond Safety
Cross with The Advanced Safety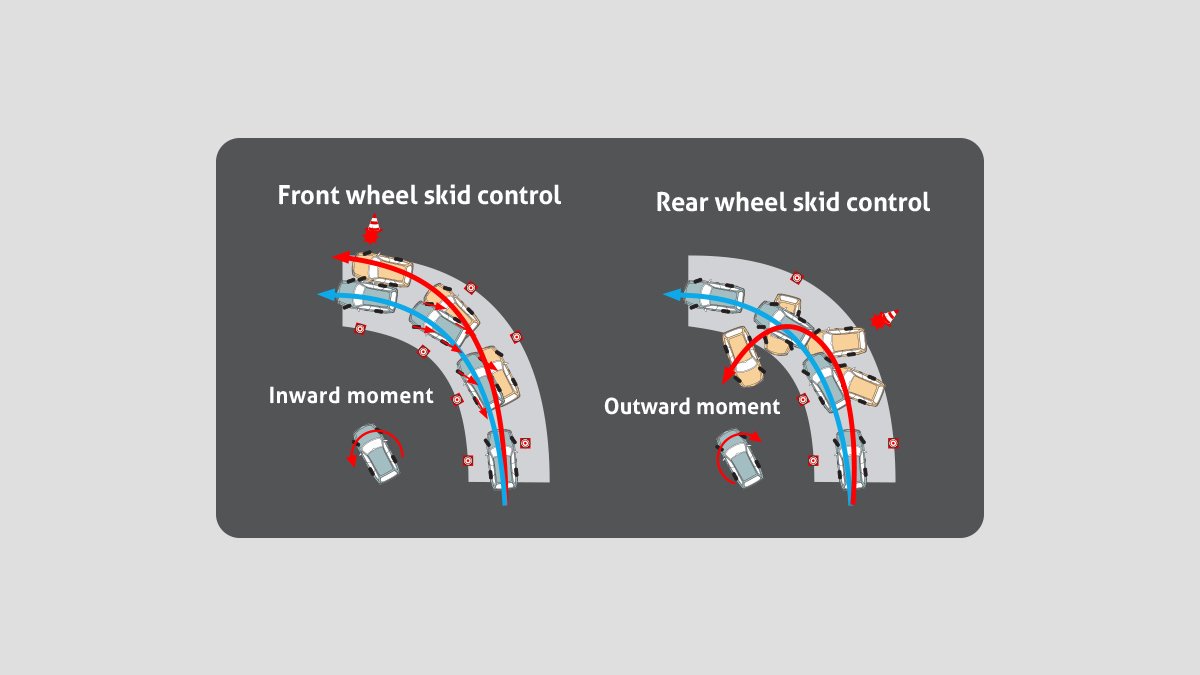 Vehicle Stability Control (All Type)
Prevents the risk of wheel slip by reducing power and applying brake force.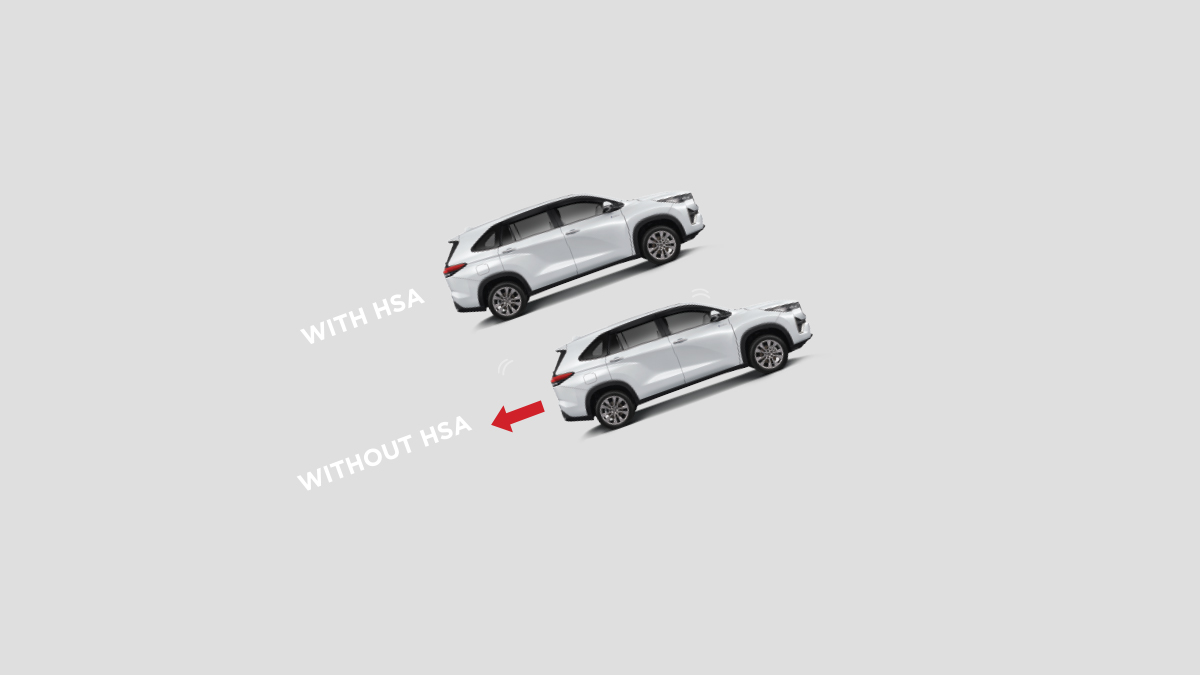 Hill Start Assist (All Type)
Prevents the vehicle from rolling back on steep hills.

Beyond Performance
Toyota's mission in continuosly making "Ever Better Cars". The improved car's core strength components enhance the vehicle's performance and emphasive car personality that accentuates every model's unique features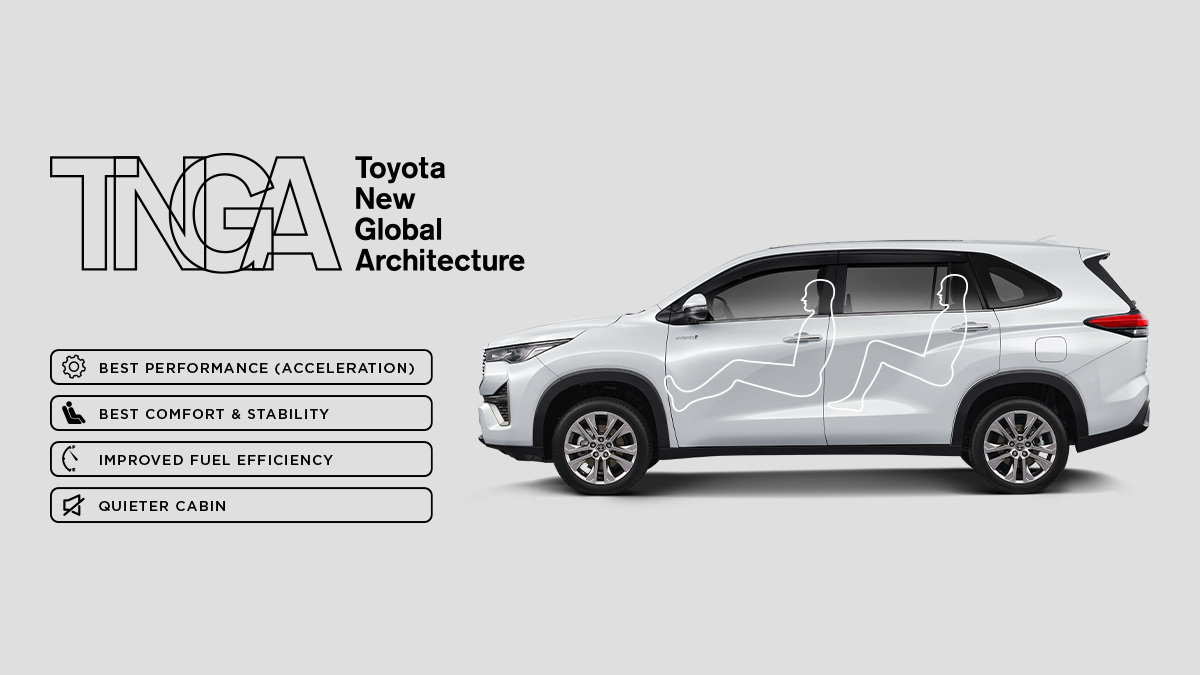 New TNGA Platform
The Invention of Innovation

In a constant search of improvements, Toyota New Global Architecture aims to achieve the fundamental vehicle platform. All newly created structure is made to maximize driving experience uniting the drive and vehicle.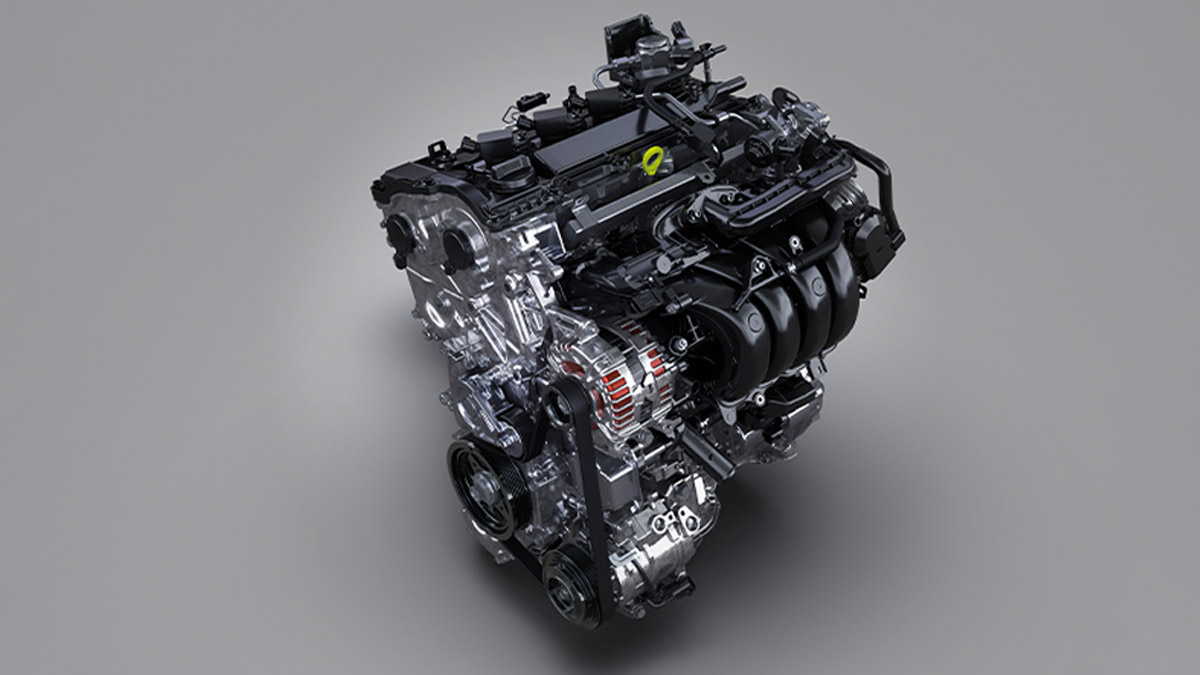 New Gasoline Engine
Altering an advanced system, it creates flawless combustion, achieves dynamic performance, and more efficient fuel consumption for a fascinating journey.

Beyond Connected
An integration solution that you can access through mTOYOTA application. Giving you comfort, providing peace of mind, and keeping you stay connected with your car.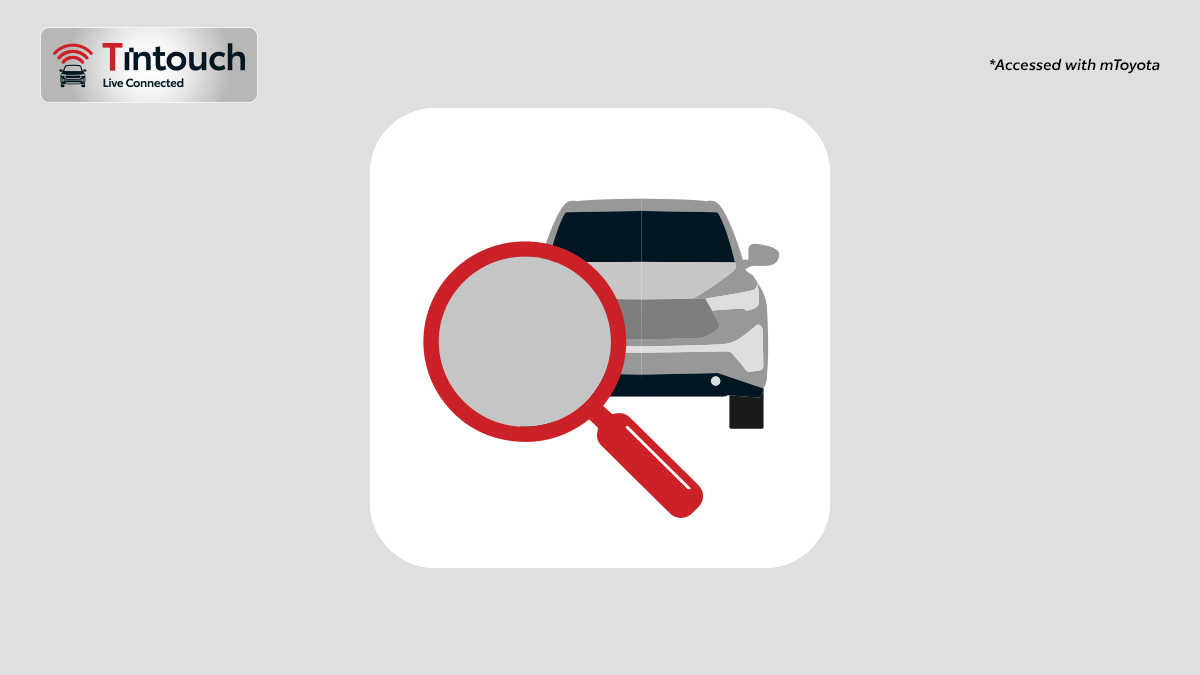 Find My Car
Accurately know where the vehicle is parked to provide you feeling of safety and convenience.
Geofencing
Giving alert if your vehicle is outside the authorized zone to ensure your security at all times.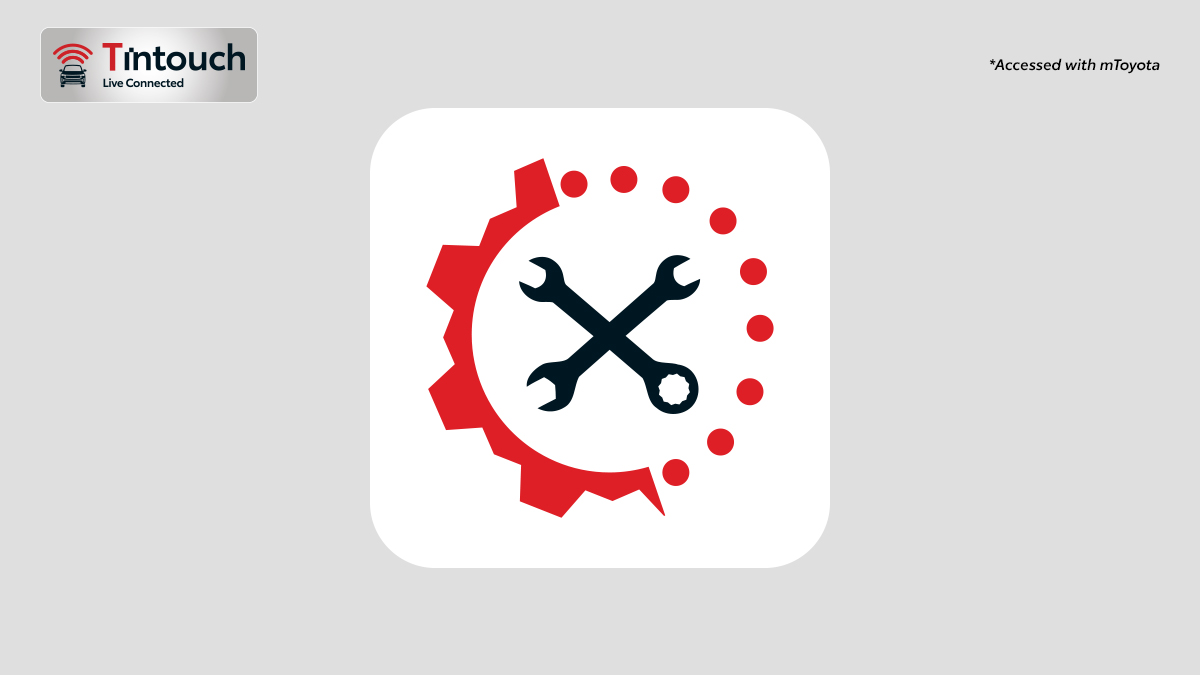 E-Care (Maintenance)
A reminder to you for periodic vehicle maintenance to make your vehicle always in the best performance.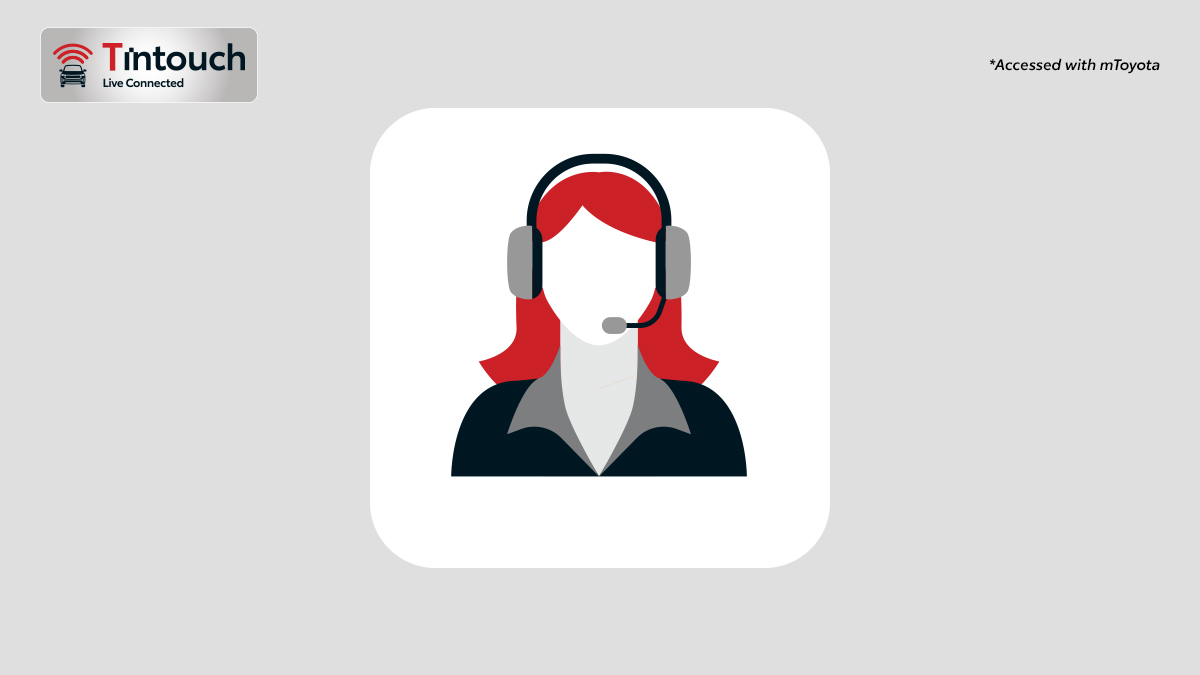 Inquiry & Support Center
Direct assistance from Toyota Call Center to solve your problems. Give you more ability to keep moving forward.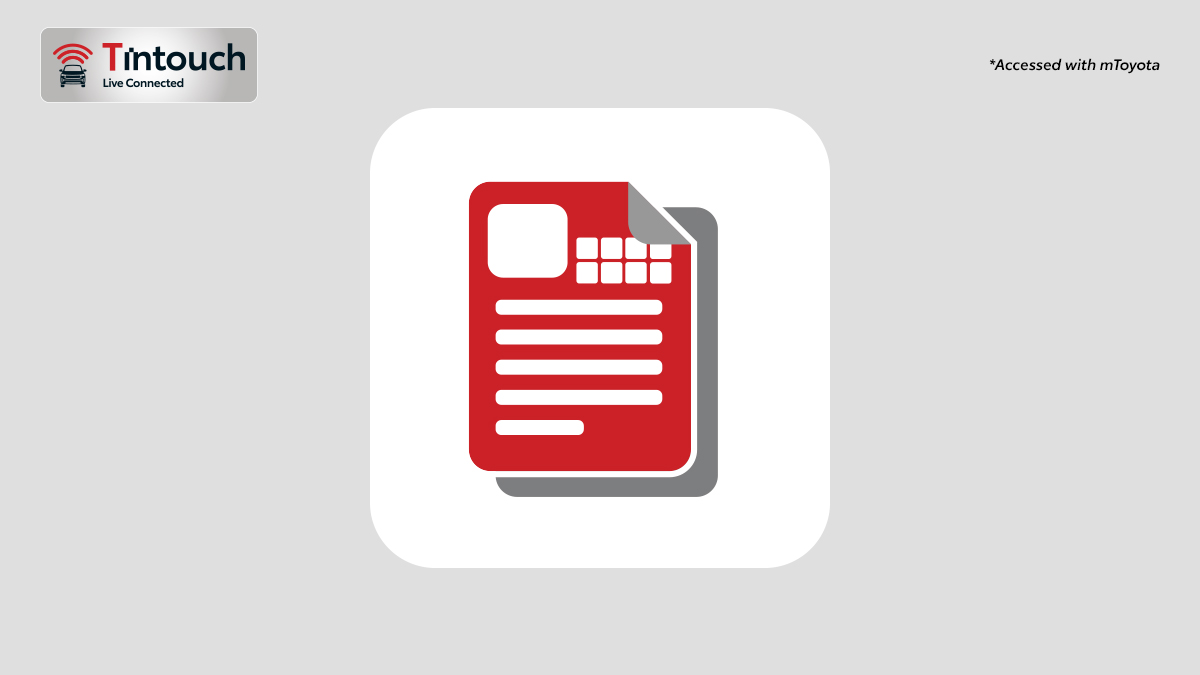 Driving Report
Summarize your driving sessions by daily & monthly report.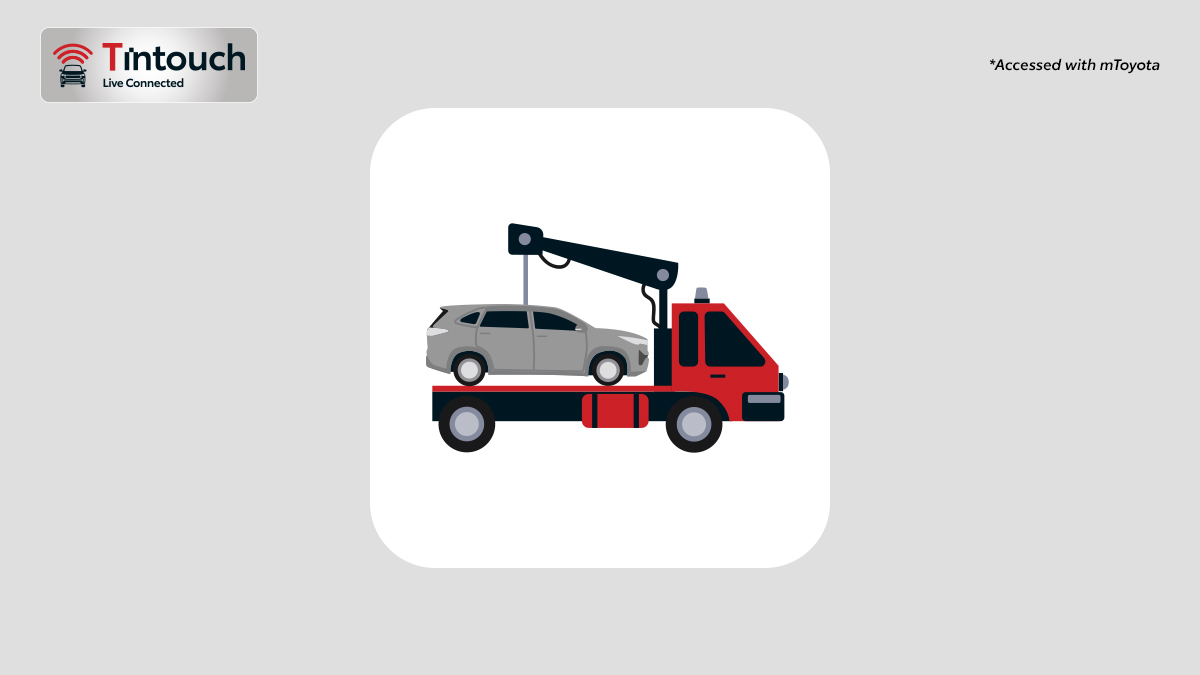 Road Assistance
Provide an SOS button if you get in an accident. You will be assisted by the Toyota Call Center to be directed to the Emergency Road Assistance (ERA) provider to make you feel safer while driving.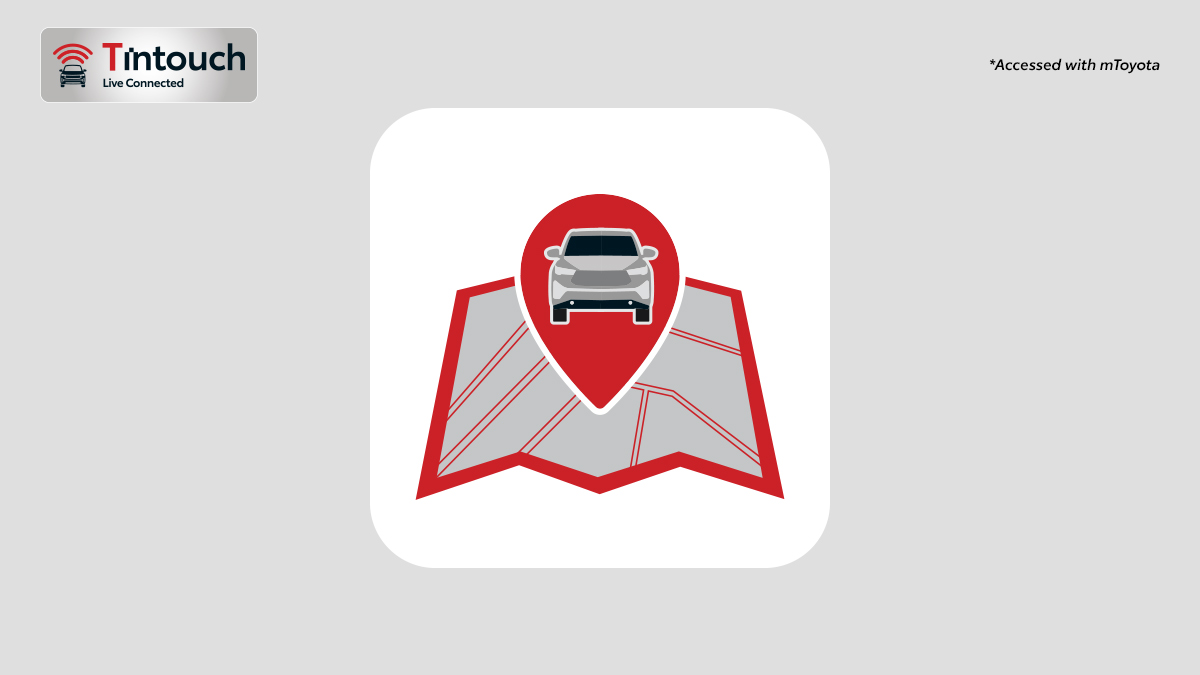 Stolen Vehicle Tracking
Know your vehicle location assisted by Toyota Call Center to provide you security all the time.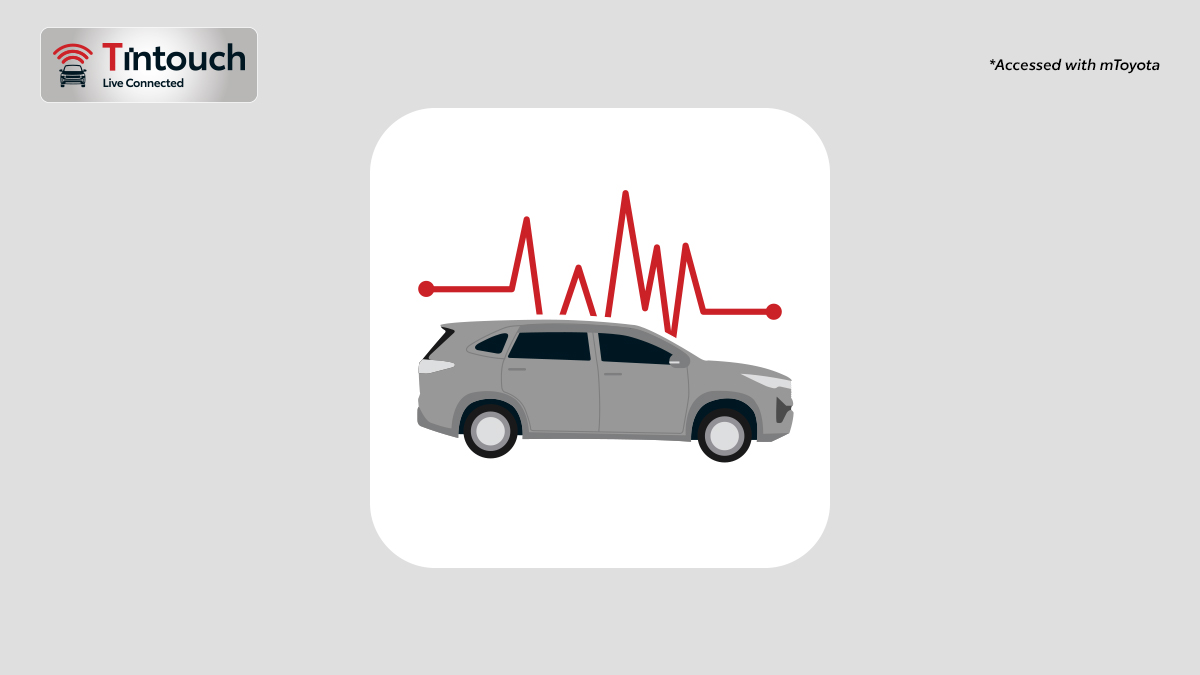 Vehicle Info
Provide your vehicle's condition and warning notification to give you more convenience while driving.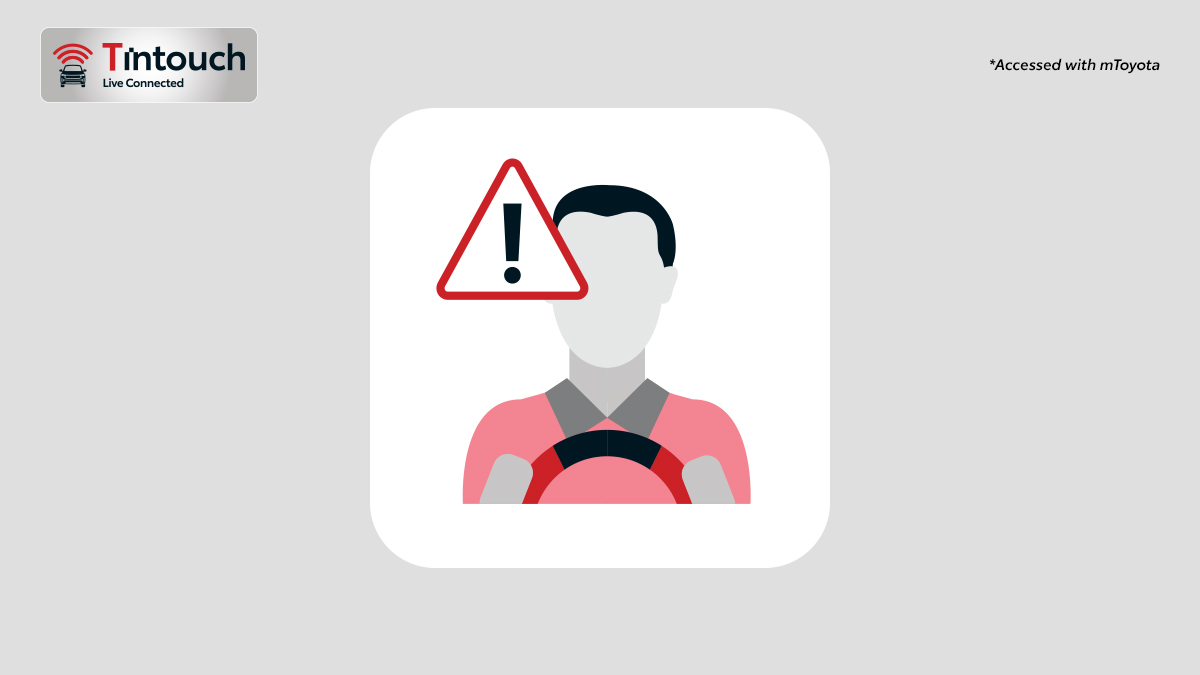 Guest Driver Alert
Enable specific push notification settings (Distance Radius, Max. Speed, and Max. Idle Time) when you permit other driver to use the vehicle (Ex. Valet Parking).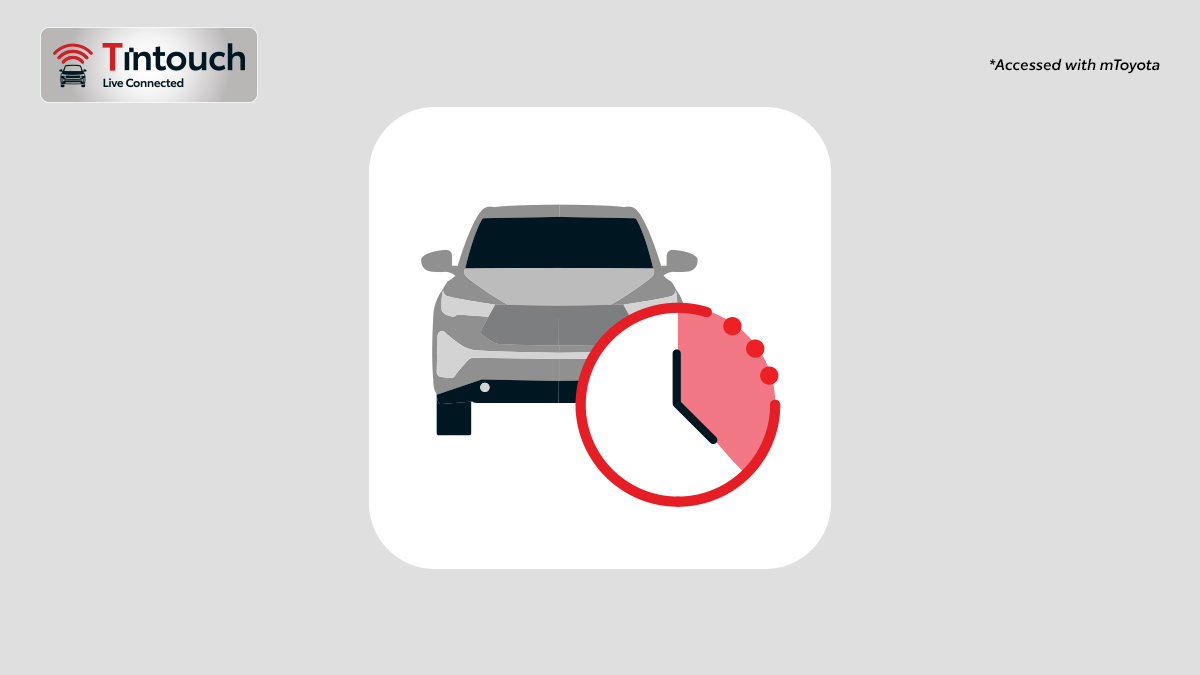 Time Fencing
Get push notification when your vehicle is being used (Engine On) during specified time period based on your preference.
Speed & Idle Alert
Get push notification when your vehicle exceeds the defined speed limit & engine idle duration based on your performance.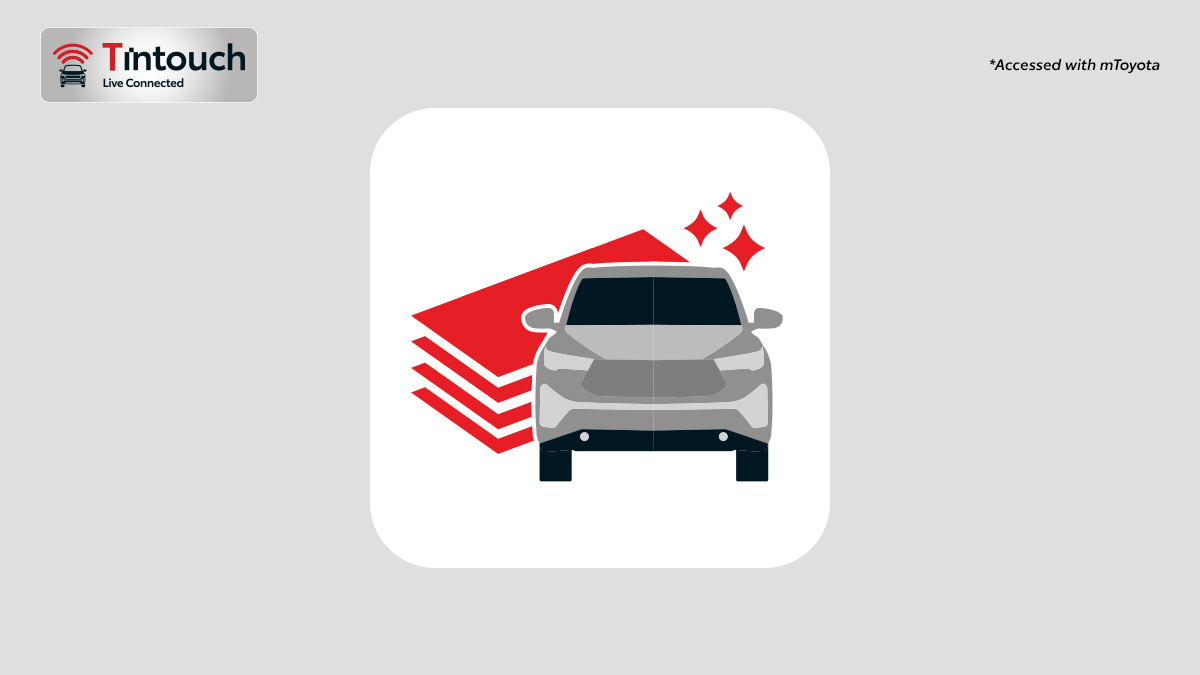 Self Driving Reward
Drive safely by reducing Harsh Acceleration, Harsh Braking, and Harsh Cornering and get applicable reward/benefit* for your next Insurance Policy** renewal.
*Benefit may varies and given from your insurance provider.
**Please contact your nearest dealer for more detail.
Beyond Accessories
Toyota exclusive parts as an option for people to custom their car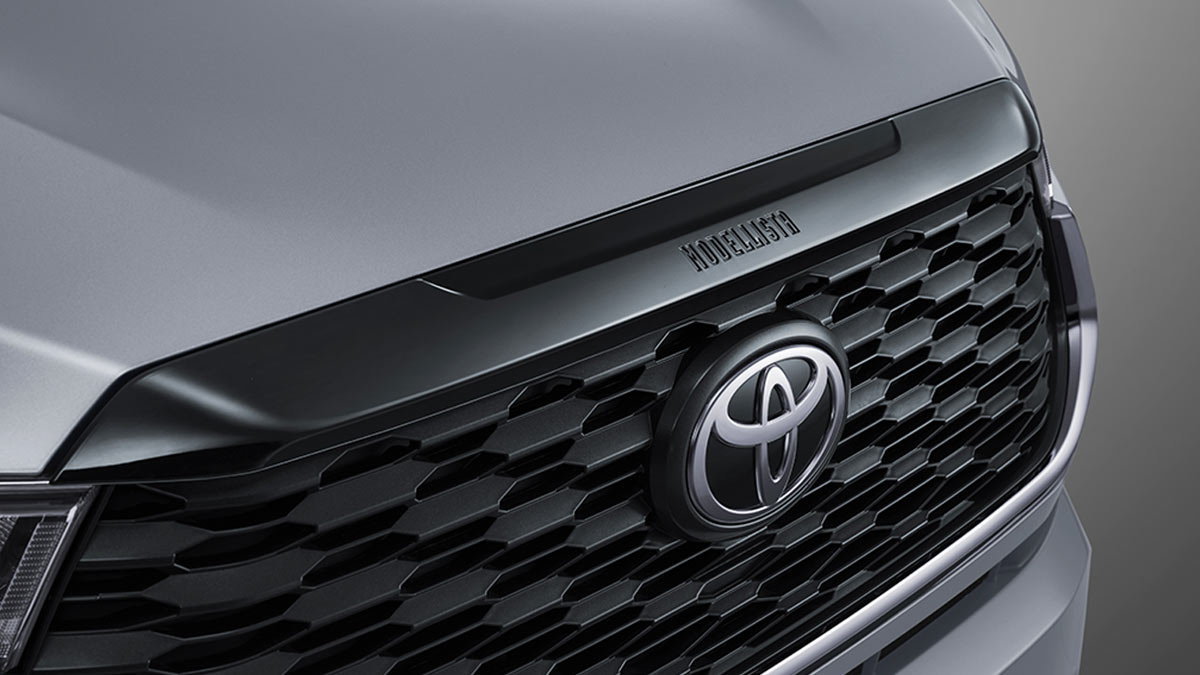 Upper Grille Ornament Modellista (All Type)
P5401-0KA0Q
Rp 1.149.500
*Hanya tersedia untuk 1 kombinasi warna untuk semua warna kendaraan
**Hanya tersedia untuk outlet area Jabodetabek, Jawa Barat, dan Lampung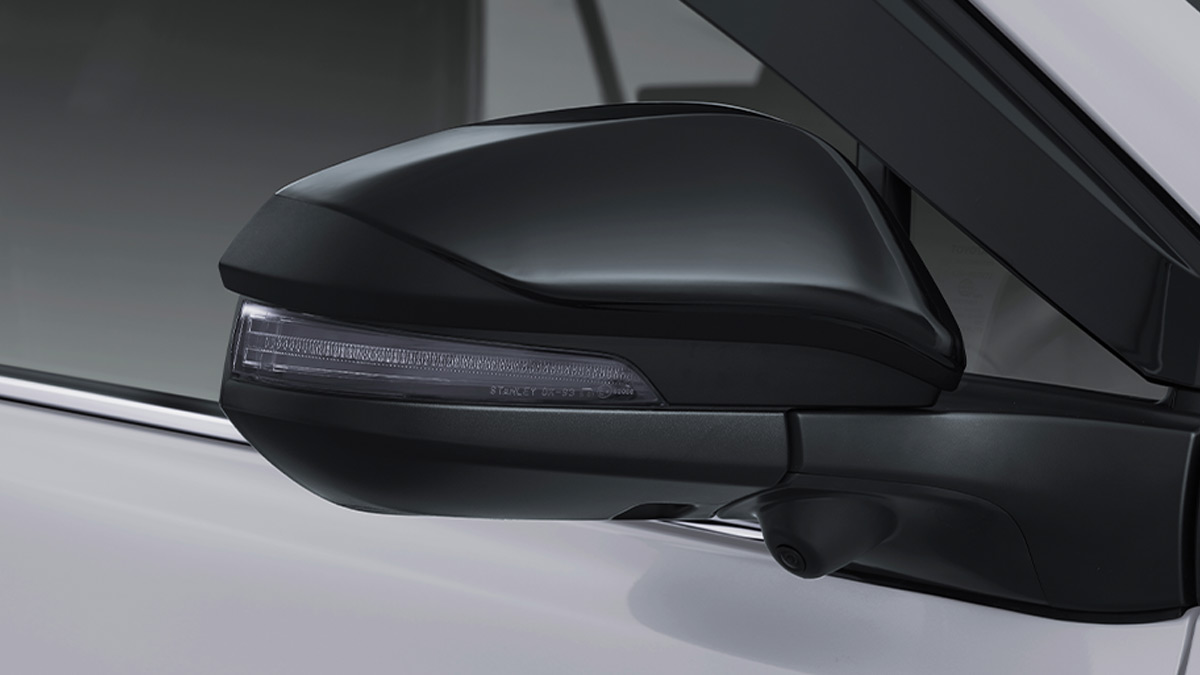 Outlet Mirror Ornament (All Type)
64102-TA560
Rp 350.900
*Hanya tersedia untuk 1 kombinasi warna untuk semua warna kendaraan
**Hanya tersedia untuk outlet area Jabodetabek, Jawa Barat, dan Lampung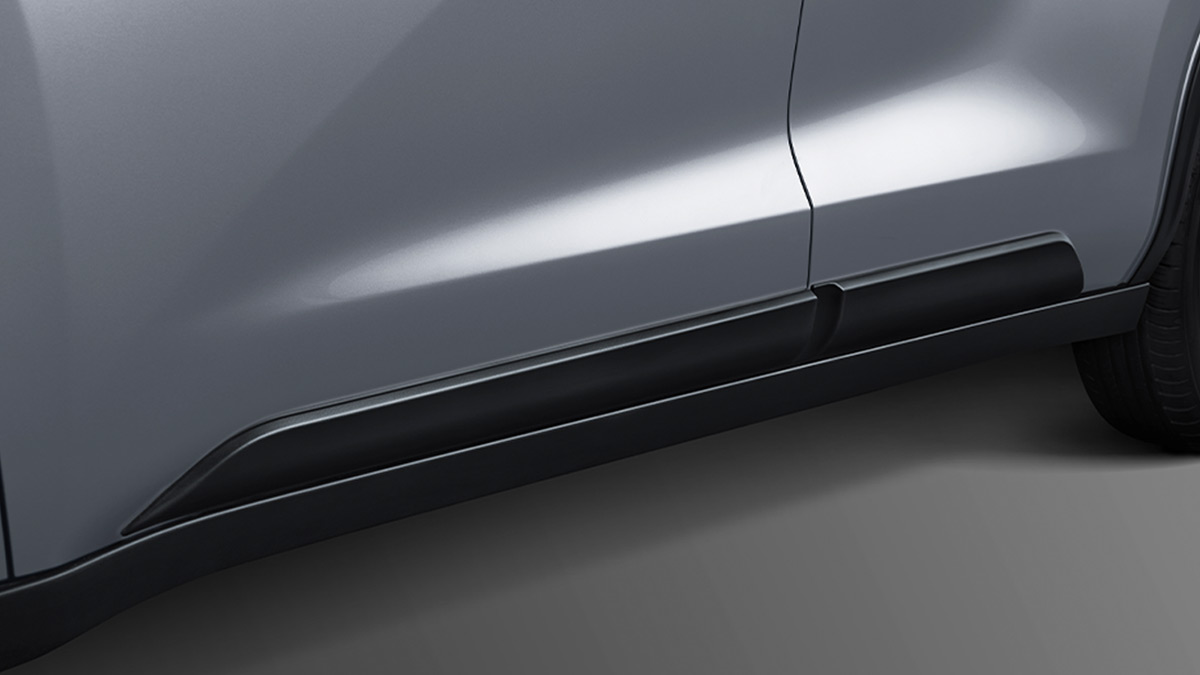 Side body Moulding (V Gasoline & G Type)
P5170-0KA0G
Rp 1.452.000
*Hanya tersedia untuk 1 kombinasi warna untuk semua warna kendaraan
**Hanya tersedia untuk outlet area Jabodetabek, Jawa Barat, dan Lampung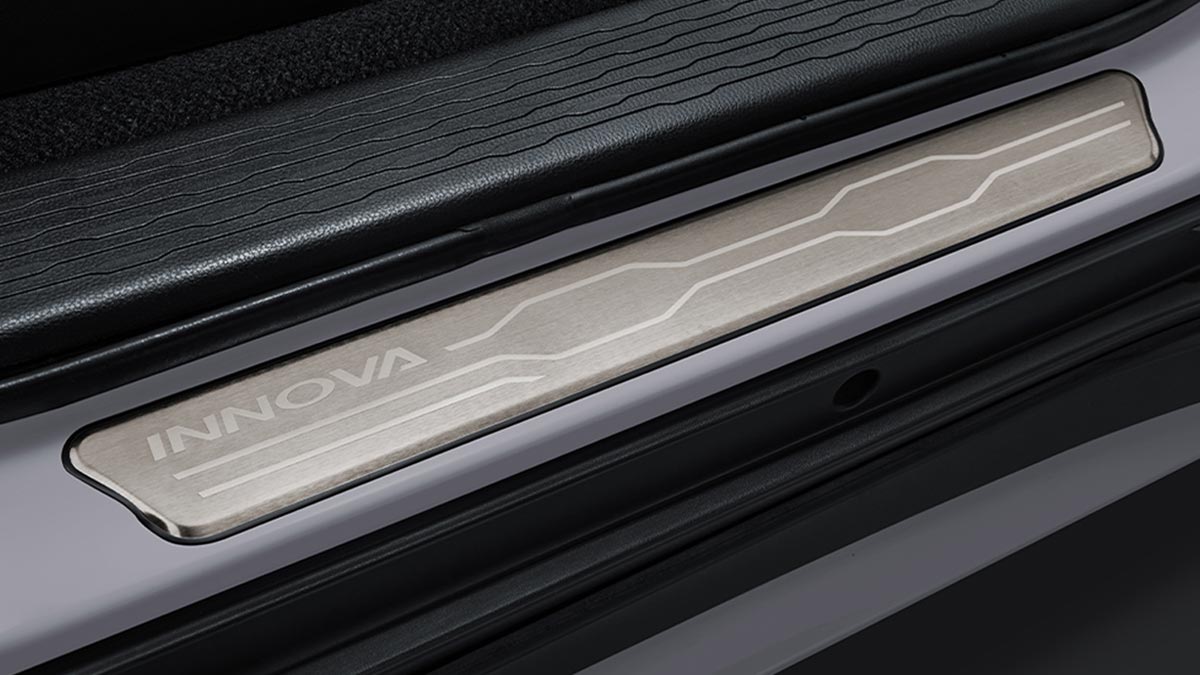 Scuff Plate (All Type)
PC382-0K01J
Rp 1.210.000
*Hanya tersedia untuk 1 kombinasi warna untuk semua warna kendaraan
**Hanya tersedia untuk outlet area Jabodetabek, Jawa Barat, dan Lampung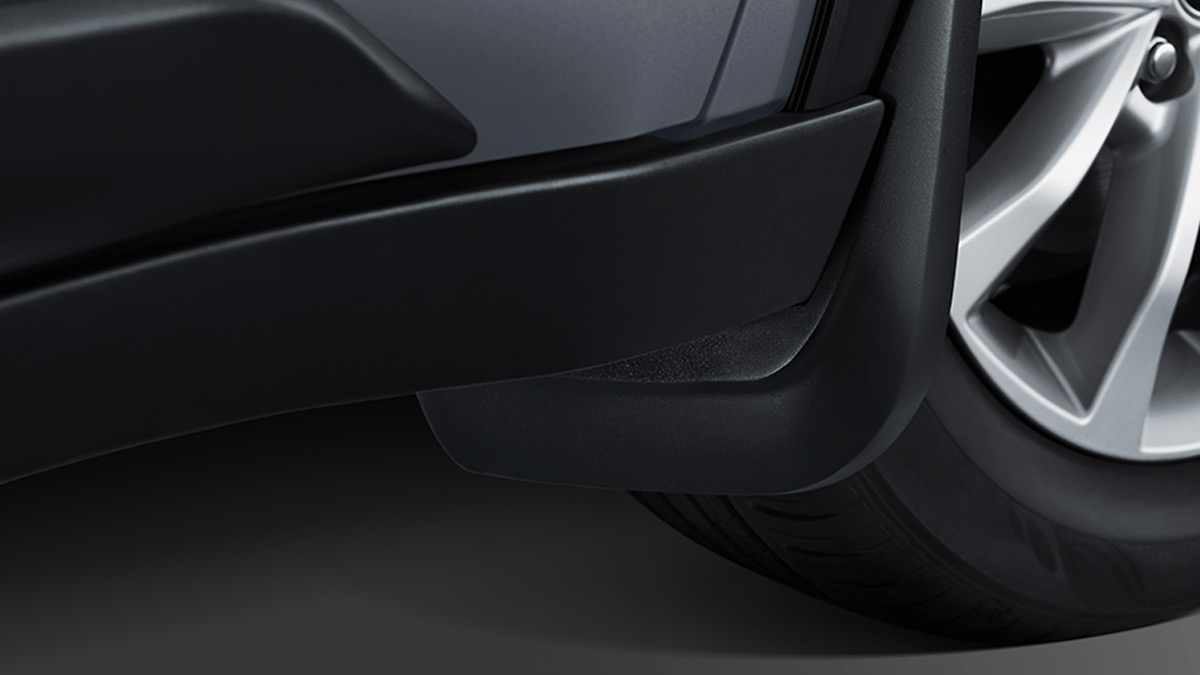 Mudguard (V Gasoline & G Type)
P5389-0KA08
Rp 387.200
*Hanya tersedia untuk 1 kombinasi warna untuk semua warna kendaraan
**Hanya tersedia untuk outlet area Jabodetabek, Jawa Barat, dan Lampung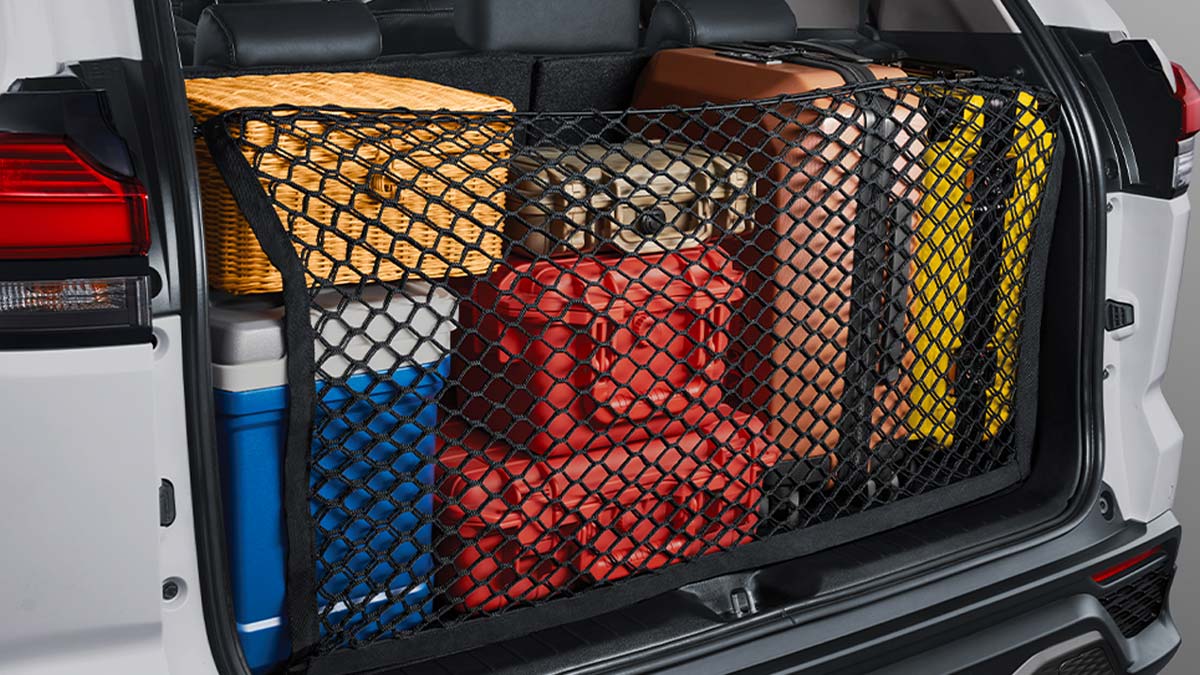 Cargo Net (All Type)
24602-TA560
Rp 429.000
*Hanya tersedia untuk 1 kombinasi warna untuk semua warna kendaraan
**Hanya tersedia untuk outlet area Jabodetabek, Jawa Barat, dan Lampung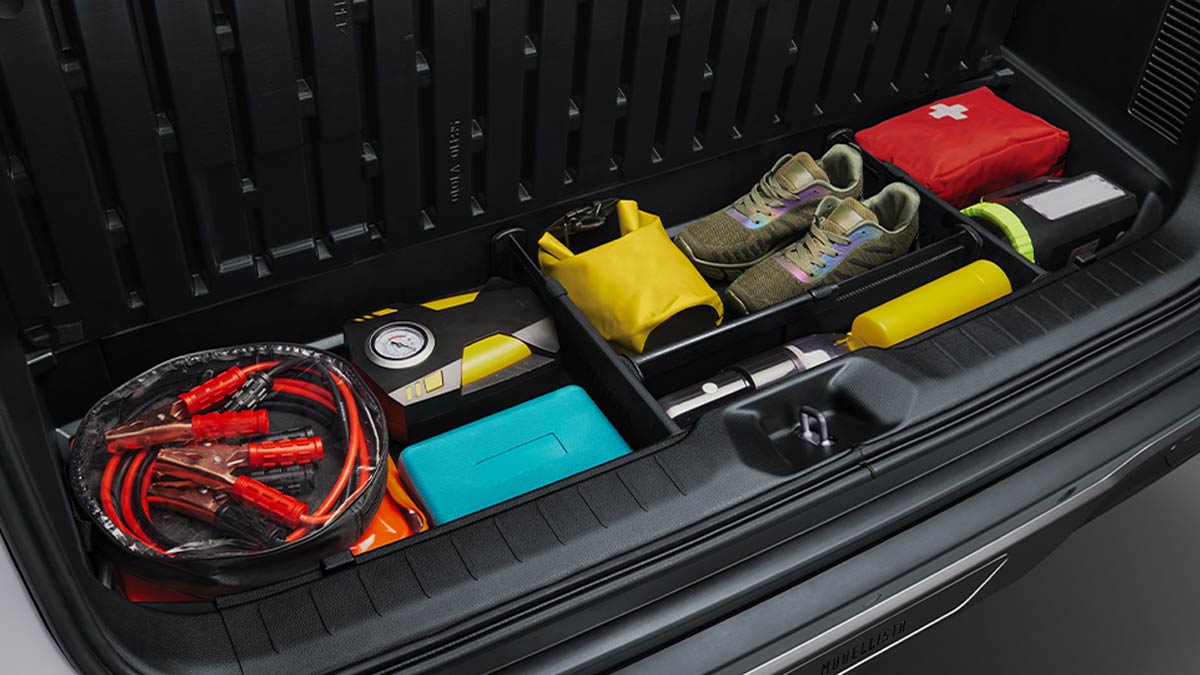 Integrated Car Storage Organizer (All Type)
24606-TA560
Rp 385.000
*Hanya tersedia untuk 1 kombinasi warna untuk semua warna kendaraan
**Hanya tersedia untuk outlet area Jabodetabek, Jawa Barat, dan Lampung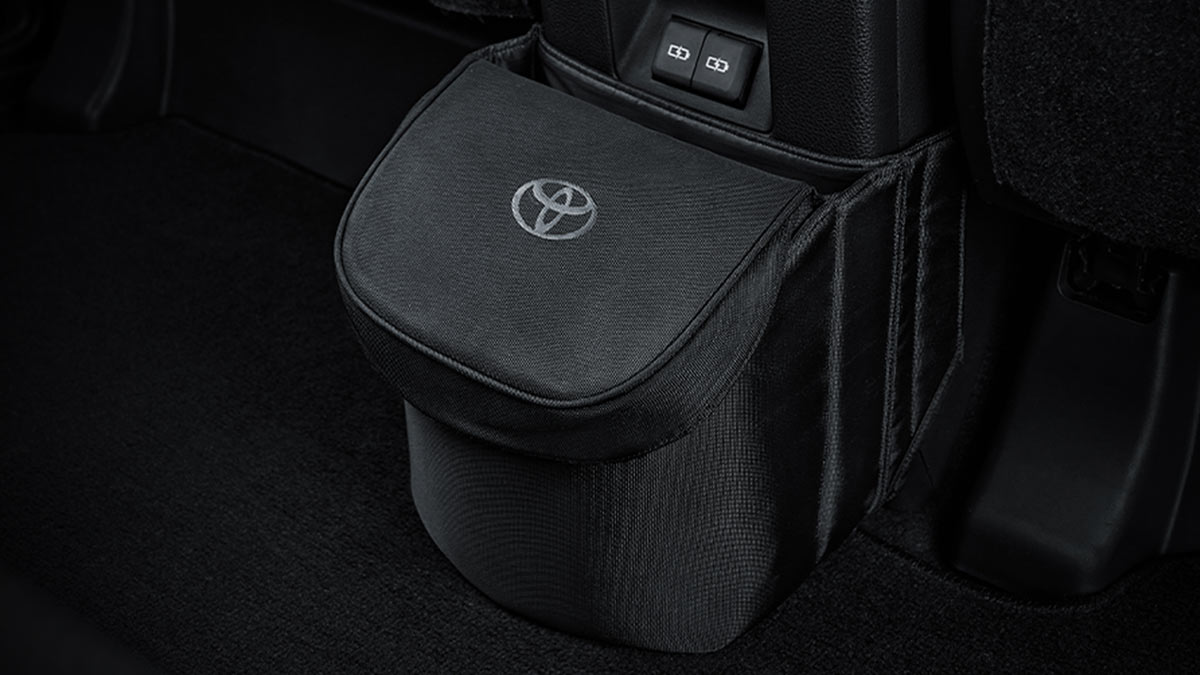 Multifunction Box (All Type)
05502-TA560
Rp 242.000
*Hanya tersedia untuk 1 kombinasi warna untuk semua warna kendaraan
**Hanya tersedia untuk outlet area Jabodetabek, Jawa Barat, dan Lampung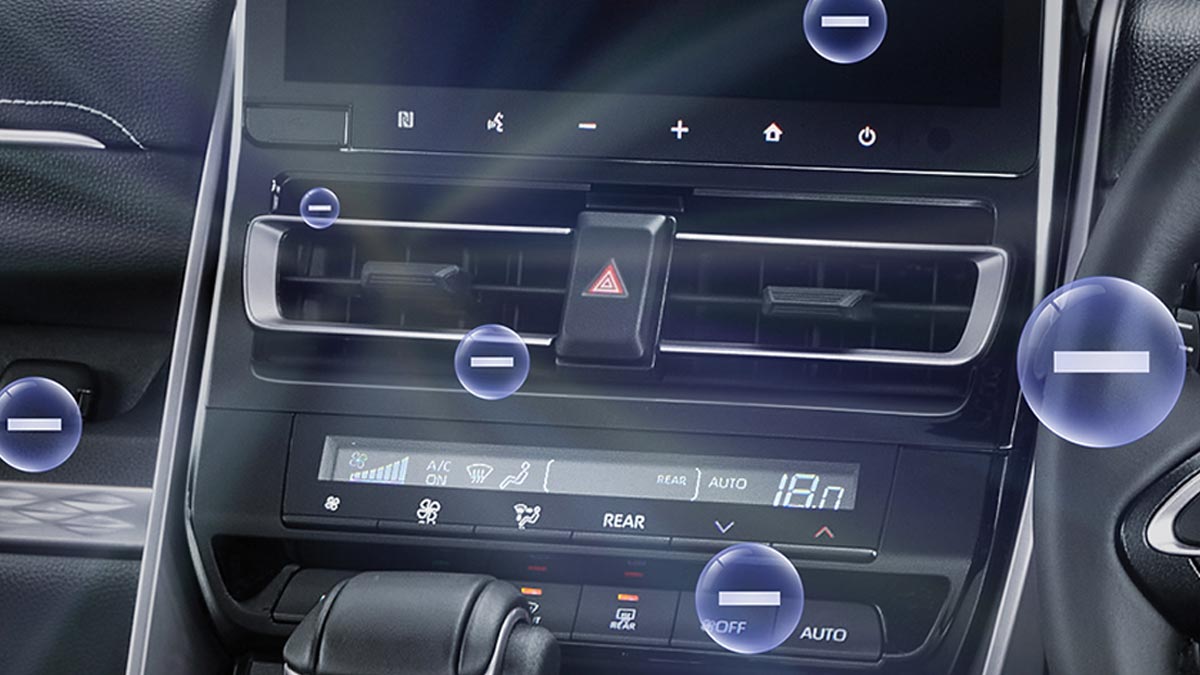 Air Purifier (G Type)
P55B0-0KA0F
Rp 1.754.500
*Hanya tersedia untuk 1 kombinasi warna untuk semua warna kendaraan
**Hanya tersedia untuk outlet area Jabodetabek, Jawa Barat, dan Lampung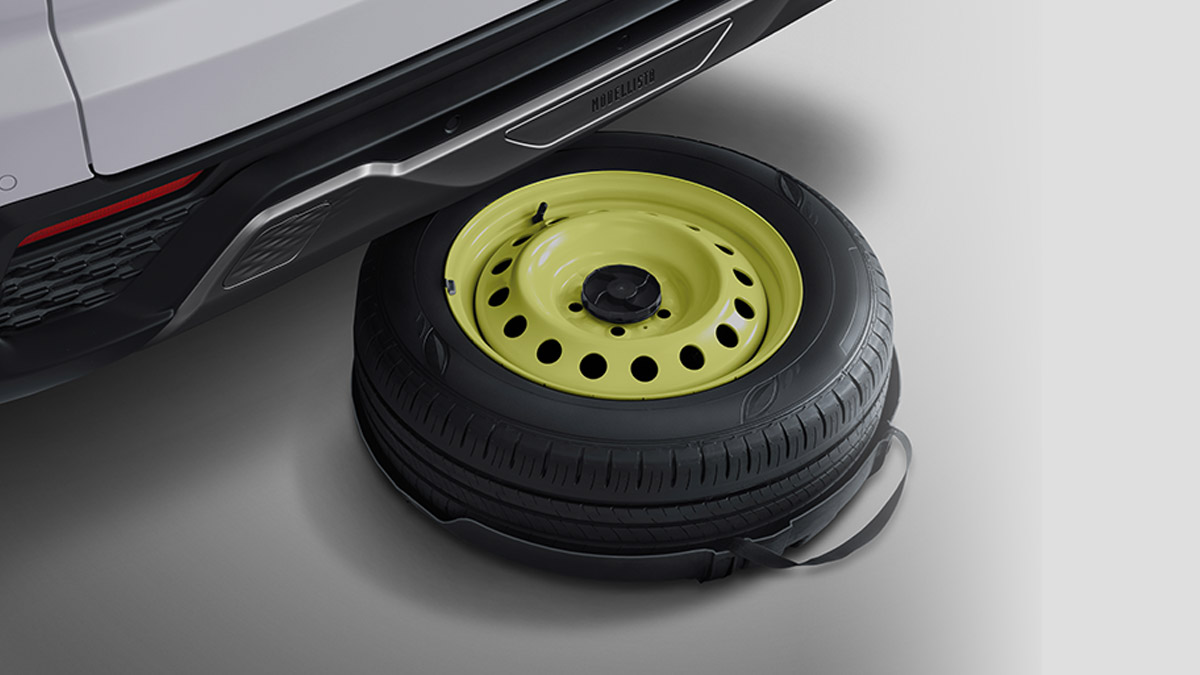 Spare Tire Cover (All Type)
45802-TA560
Rp 883.300
*Hanya tersedia untuk 1 kombinasi warna untuk semua warna kendaraan
**Hanya tersedia untuk outlet area Jabodetabek, Jawa Barat, dan Lampung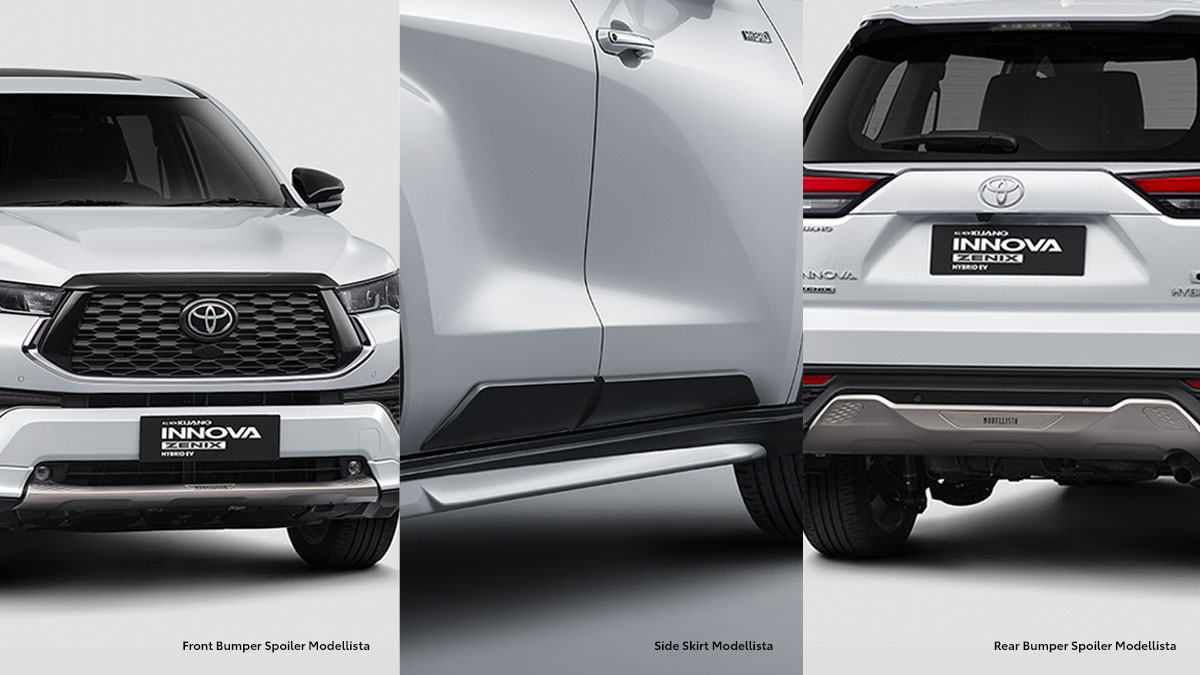 Modellista Package (Gasoline Type)
Rp 9.600.000
*Hanya tersedia untuk 1 kombinasi warna untuk semua warna kendaraan
**Hanya tersedia untuk outlet area Jabodetabek, Jawa Barat, dan Lampung

Specifications
Car Type
Car Type
Price
-
-
-
Price
-
-
-
Dimension
Panjang/Overall Length (mm)
-
-
-
Panjang/Overall Length (mm)
-
-
-
Lebar/Overall Width (mm)
-
-
-
Lebar/Overall Width (mm)
-
-
-
Tinggi/Overall Height (mm)
-
-
-
Tinggi/Overall Height (mm)
-
-
-
Jarak Poros Roda/Wheelbase
-
-
-
Jarak Poros Roda/Wheelbase
-
-
-
Jarak Pijak/Tread (Depan/Front)
-
-
-
Jarak Pijak/Tread (Depan/Front)
-
-
-
Jarak Pijak/Tread (Belakang/Rear)
-
-
-
Jarak Pijak/Tread (Belakang/Rear)
-
-
-
Jarak Terendah/High Ground Clearence
-
-
-
Jarak Terendah/High Ground Clearence
-
-
-
Engine
Tipe Mesin/Engine Type
-
-
-
Tipe Mesin/Engine Type
-
-
-
No. of Cylinders & Arrangement
-
-
-
No. of Cylinders & Arrangement
-
-
-
Valve Mechanism
-
-
-
Valve Mechanism
-
-
-
Isi Silinder/Displacement (cc)
-
-
-
Isi Silinder/Displacement (cc)
-
-
-
Bore x Stroke (mm)
-
-
-
Bore x Stroke (mm)
-
-
-
Rasio Kompresi/Compression Ratio
-
-
-
Rasio Kompresi/Compression Ratio
-
-
-
Engine Power (ps/rpm)
-
-
-
Engine Power (ps/rpm)
-
-
-
Engine Torque (kgm/rpm)
-
-
-
Engine Torque (kgm/rpm)
-
-
-
Fuel
-
-
-
Fuel
-
-
-
Sistem Bahan Bakar/Fuel System
-
-
-
Sistem Bahan Bakar/Fuel System
-
-
-
Kapasitas Tangki/Fuel Tank Capacity (ltr)
-
-
-
Kapasitas Tangki/Fuel Tank Capacity (ltr)
-
-
-
Chassis
Drivetrain Type
-
-
-
Drivetrain Type
-
-
-
Transmisi/Transmission
-
-
-
Transmisi/Transmission
-
-
-
Perbandingan Gigi/Gear Ratio (1st)
-
-
-
Perbandingan Gigi/Gear Ratio (1st)
-
-
-
Perbandingan Gigi/Gear Ratio (2nd)
-
-
-
Perbandingan Gigi/Gear Ratio (2nd)
-
-
-
Perbandingan Gigi/Gear Ratio (3rd)
-
-
-
Perbandingan Gigi/Gear Ratio (3rd)
-
-
-
Perbandingan Gigi/Gear Ratio (4th)
-
-
-
Perbandingan Gigi/Gear Ratio (4th)
-
-
-
Perbandingan Gigi/Gear Ratio (5th)
-
-
-
Perbandingan Gigi/Gear Ratio (5th)
-
-
-
Perbandingan Gigi/Gear Ratio (6th)
-
-
-
Perbandingan Gigi/Gear Ratio (6th)
-
-
-
Perbandingan Gigi/Gear Ratio (7th)
-
-
-
Perbandingan Gigi/Gear Ratio (7th)
-
-
-
Perbandingan Gigi/Gear Ratio (8th)
-
-
-
Perbandingan Gigi/Gear Ratio (8th)
-
-
-
Perbandingan Gigi Mundur/Reverse Gear Ratio
-
-
-
Perbandingan Gigi Mundur/Reverse Gear Ratio
-
-
-
Perbandingan Gigi Akhir/Final Drive Gear Ratio
-
-
-
Perbandingan Gigi Akhir/Final Drive Gear Ratio
-
-
-
Sistem Kemudi/Steering System
-
-
-
Sistem Kemudi/Steering System
-
-
-
Suspensi Depan/Front Suspension
-
-
-
Suspensi Depan/Front Suspension
-
-
-
Suspensi Belakang/Rear Suspension
-
-
-
Suspensi Belakang/Rear Suspension
-
-
-
Stabilizer
-
-
-
Stabilizer
-
-
-
Rem Depan/Front Brake
-
-
-
Rem Depan/Front Brake
-
-
-
Rem Belakang/Rear Brake
-
-
-
Rem Belakang/Rear Brake
-
-
-
Alloy Wheel
-
-
-
Alloy Wheel
-
-
-
Ukuran Ban/Tire Size
-
-
-
Ukuran Ban/Tire Size
-
-
-
Interior
Veloz sub-Label
-
-
-
Veloz sub-Label
-
-
-
Veloz sub-Label
-
-
-
Veloz sub-Label
-
-
-
Safety & Security
Veloz sub-Label
-
-
-
Veloz sub-Label
-
-
-
Veloz sub-Label
-
-
-
Veloz sub-Label
-
-
-
Gallery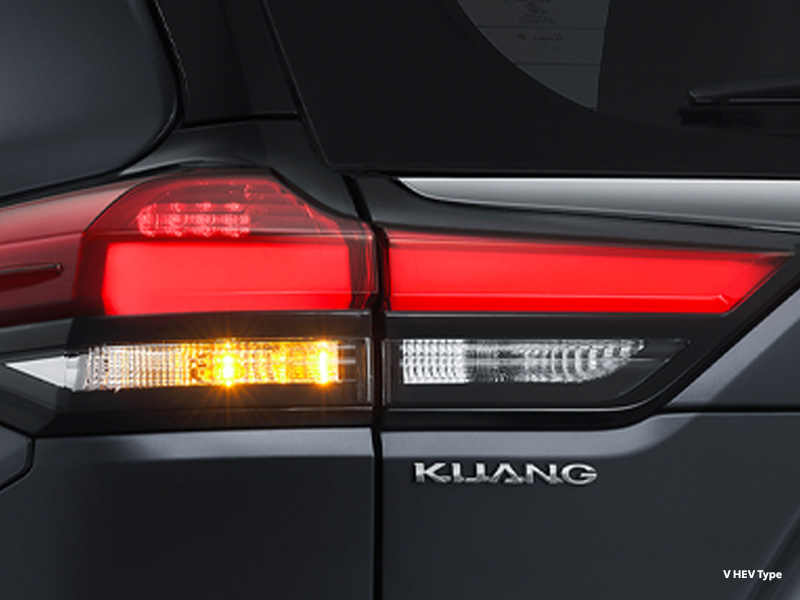 New Rear Combination Lamp (All Q HEV & All V Type)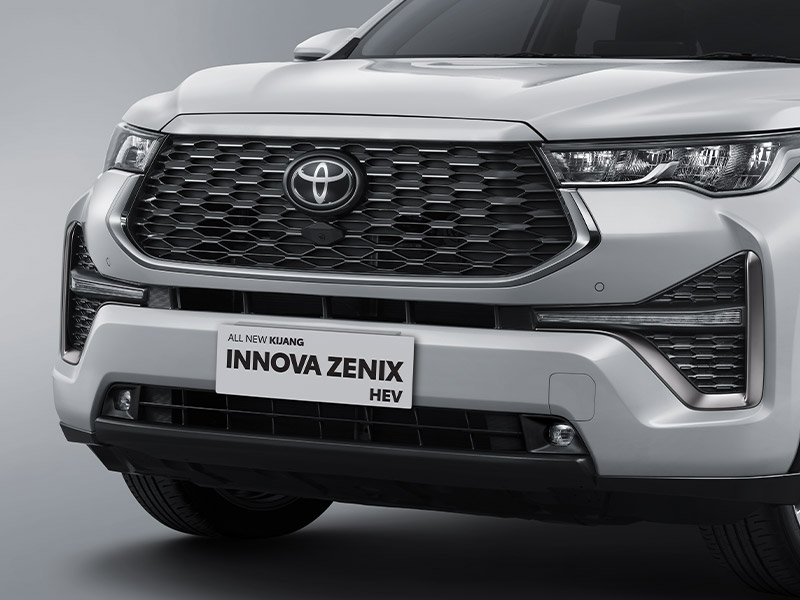 New Crossover Front Looks (All Type)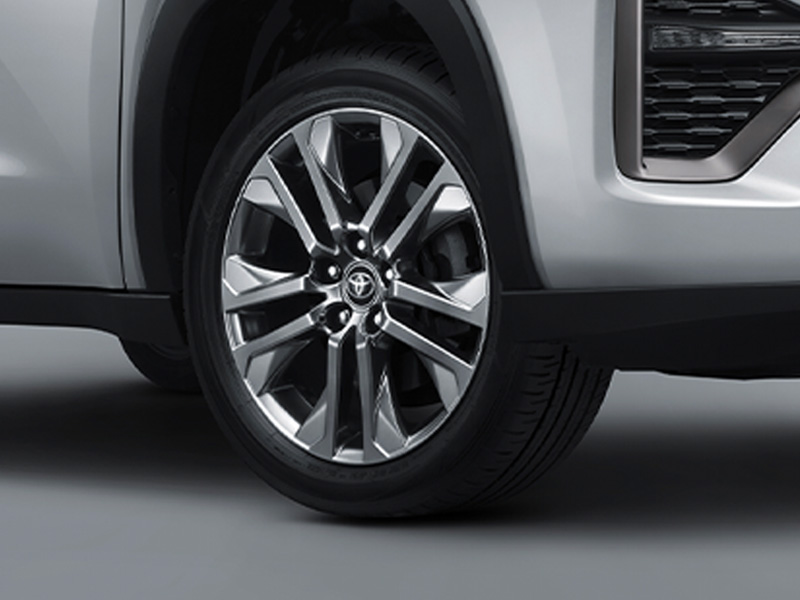 New Captivating 16" Alloy Wheel (All G Type)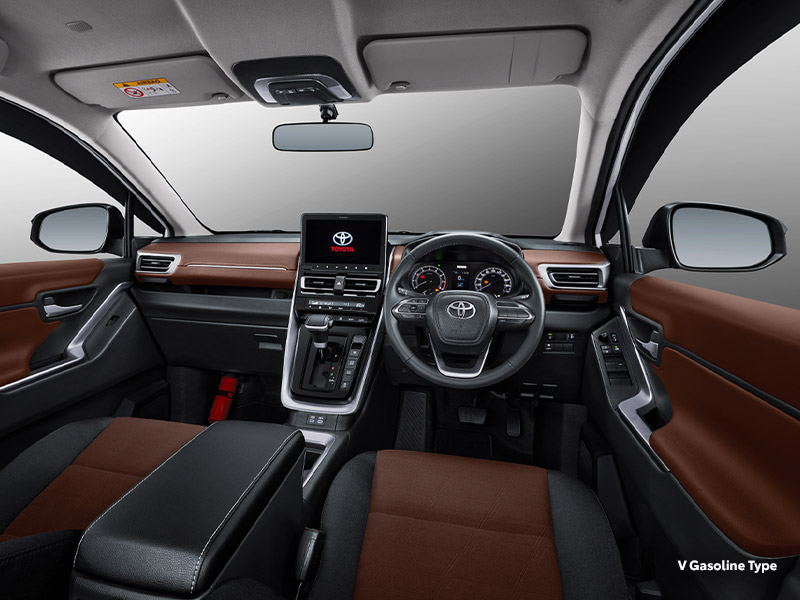 New Remarkable Dashboard (V Gasoline Type)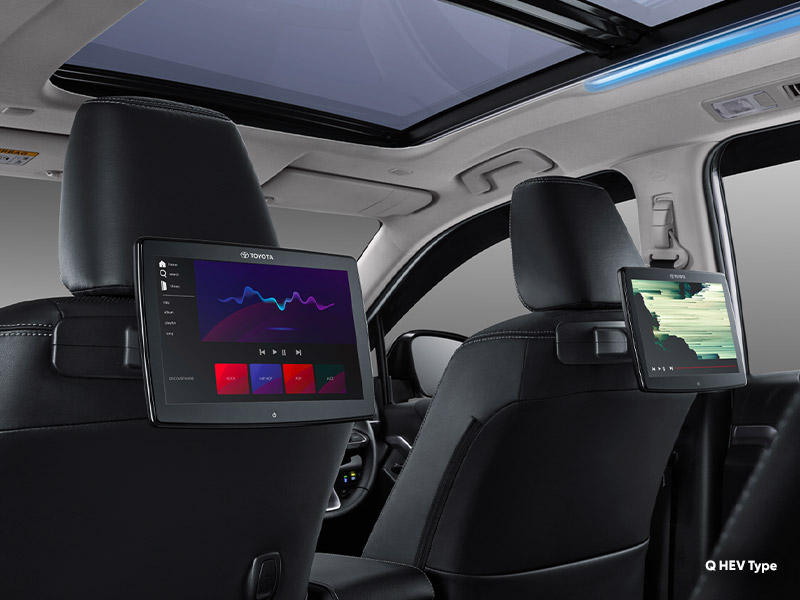 New 10" Dual Rear Seat Entertainment (All Q HEV & All V Type)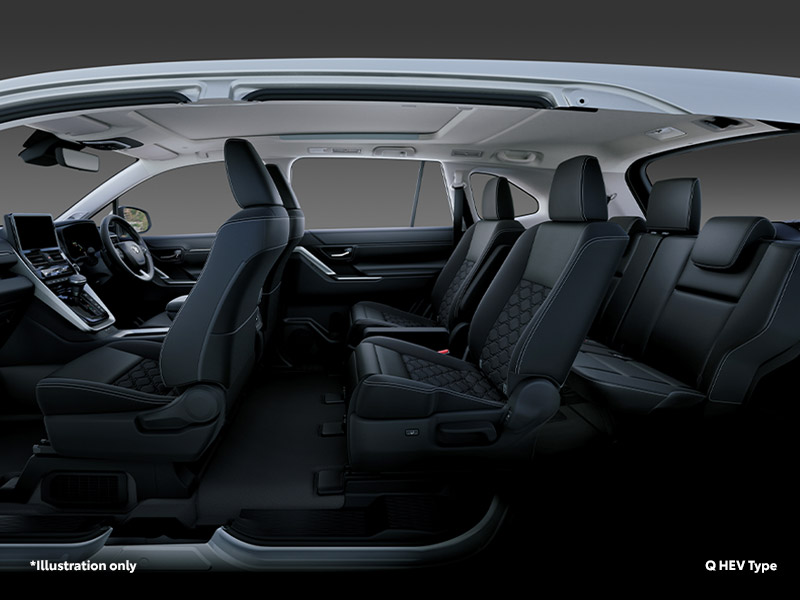 New Impressive Cabin (All Type)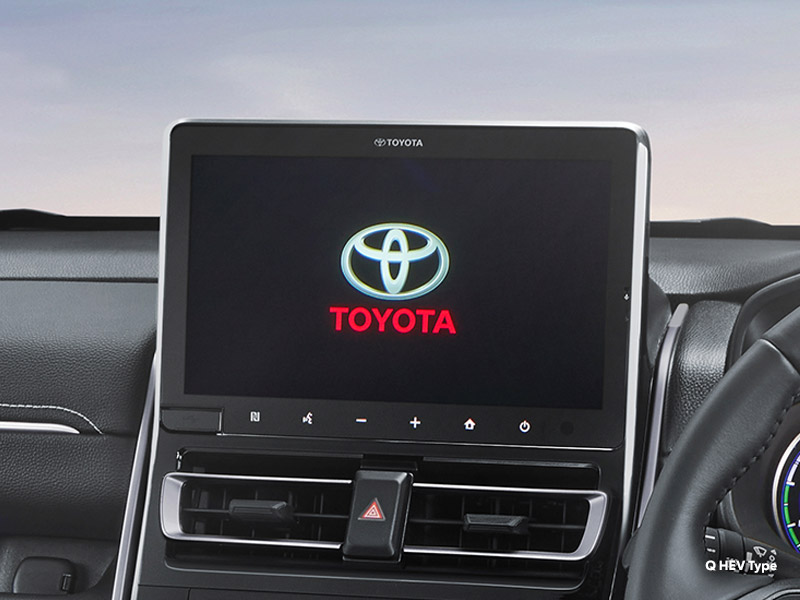 New 10" Head Unit with Smartphone Connectivity (All Q HEV & All V Type)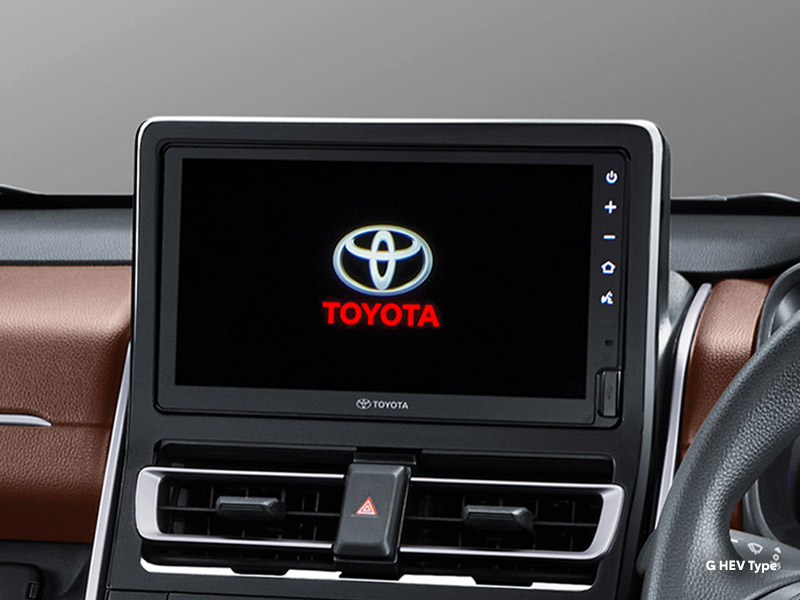 New 9" Head Unit with Smartphone Connectivity (All G Type)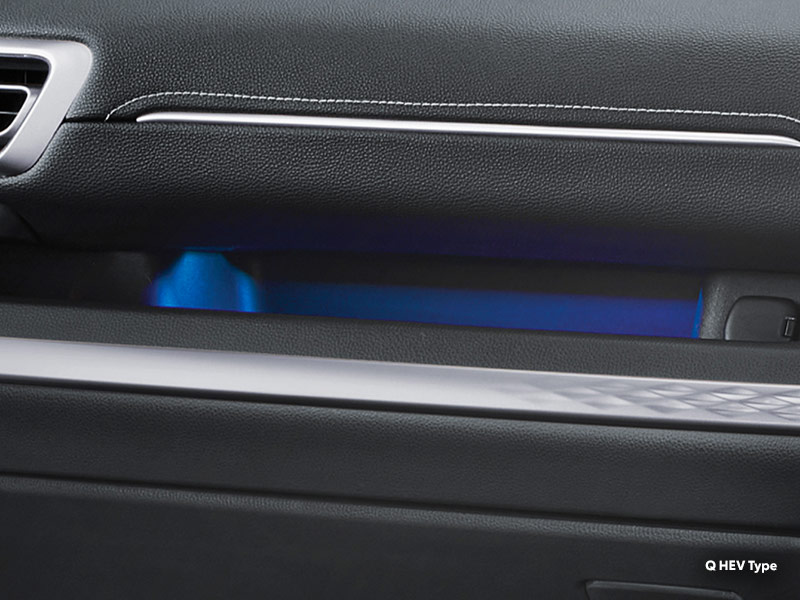 New Illumination Light Instrument Panel (All Q HEV & All V Type)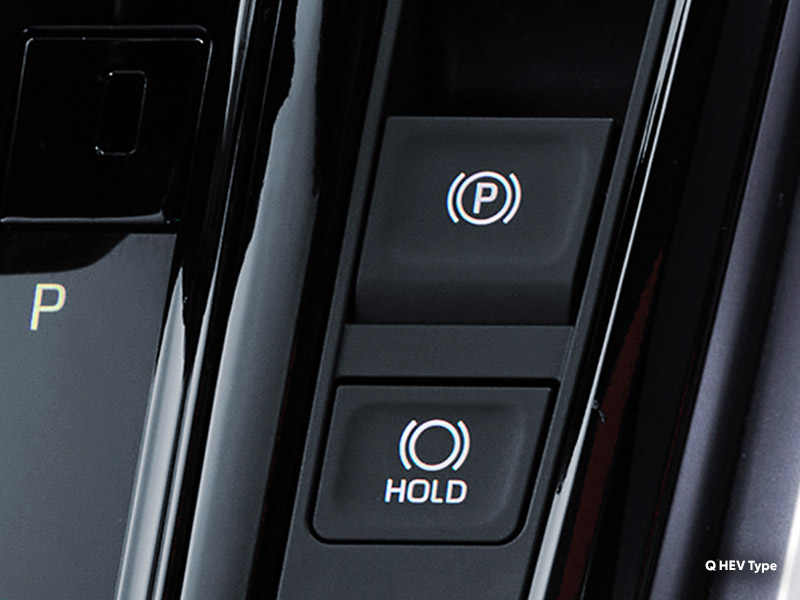 New Electric Parking Brake & Brake Hold (All Type)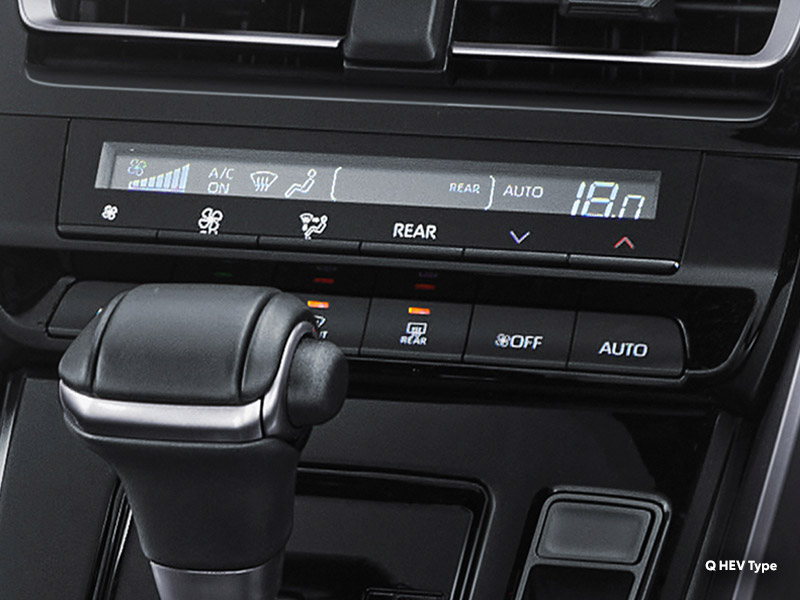 New Digital Auto AC (All Type)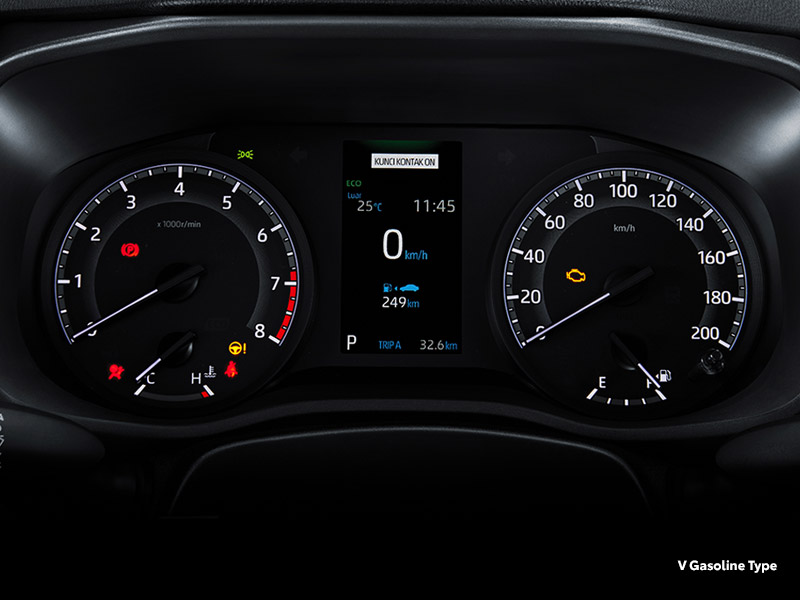 New 4.2" TFT MID (All Gasoline Type)